With many businesses recently encouraging their employees to work from home, it's no wonder homeowners are looking for ways to transform their home office into an innovative and creative space. Whether you are going for a modernized look or a cozy haven, the experts at Alair Homes have put together some of our favorite home office remodel projects to serve as inspiration.
If you're searching for home office design expertise paired with professional remodeling skills in Plano, TX, look no further than Alair Homes. Call us to discuss your upcoming remodel at 214-278-6261 or contact us online to schedule a consultation today!
Inspiration for Your Plano, TX Home Office
The concept of home offices has evolved greatly over the years, and with the recent shift in work-from-home demands, it's the perfect time to opt for an upgrade. Your home office should inspire productivity and reflect your unique style. Here are some of our favorites that are sure to get your creative juices flowing.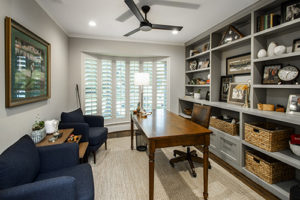 The Cliffbrook: Traditional & Modern
If you consider yourself a purist when it comes to your home's aesthetic, but occasionally like to incorporate hints of modern design, the Cliffbrook remodel is a great resource for you!This room utilizes cool tones paired with beautiful natural light to strike a tone that is both professional and contemporary.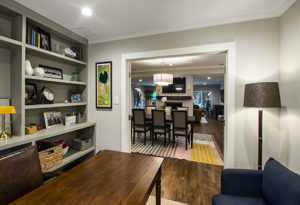 The open shelving and creative display emphasize personality, the perfect foil to the minimalist desk and seating arrangement. The single image hung behind guest seating strikes a balance with the overall palette, while effectively introducing green into the mix. This could be a perfect remodel for your home office if you are looking for a room that prioritizes functionality while melding modern and traditional design.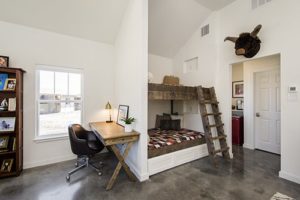 The Fairview: Playful & Practical
This remodel transforms a unique space in a practical way, inspiring the feelings of escape and adventure. The distressed wood trim of the built-in bunk bed paired with a modern sawbuck desk give this room a "summer camp meets creative nook" feel.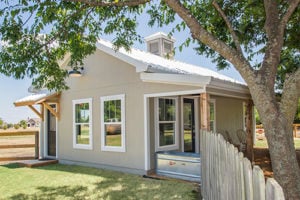 Another great takeaway from this remodel is the ingenious concept of utilizing a guest house as a home office. This room still serves the practical purpose of housing overnight visitors, but the strategic decision to elevate its functionality will make work feel like a mini-vacation.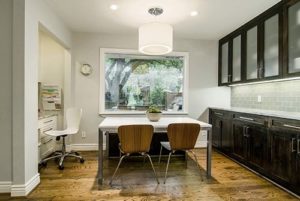 The Maplecrest: Functionality & Flair
The kitchen often acts as the unspoken hub of your home. So, incorporating a home office space seems both practical and efficient in terms of use. Having the ability to serve as a space for household management and professional workflow, this remodel is a less invasive approach to meeting your home office needs.This office space exudes functionality while playing up hints of mid-century modern flair. Great lighting in your kitchen is an even better excuse to jump on this remodel. Not only does it provide an office with a view, but it also has the added benefit of nearby snacks!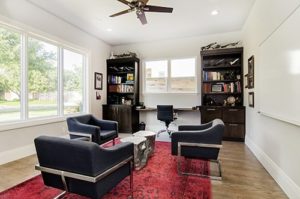 The Purdue: Mood & Contrast
Natural light plays well with bold colors, paving the way for the perfect contrast between dark hues and pops of color. In this case, the red rug is the ideal companion to the moody shelves and seating.If you're going for a sleek, professional aesthetic, consider black, navy, or dark gray. Then, introduce a single vibrant color into the mix to bolster the overall tone. A wall-mounted whiteboard can also serve as a functional addition, especially if you are in the business of strategizing with co-workers or clients.  With the perfect amount of seating and shelving, this room strikes a balance that says modern professional.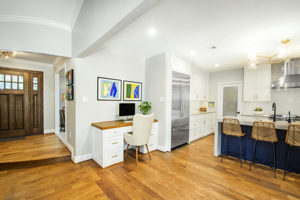 The Roundrock: Contemporary & Artistic
Here is another great example of kitchen-office functionality with a twist. The contemporary color scheme of the kitchen contrasts nicely with the muted tones of the desk area, while the artistic touches add an enhanced level of playfulness.This space is great for someone who needs to transform their existing space in a practical yet meaningful way. This desk's contemporary seating echoes that of the kitchen chairs while elevating the feel to be slightly more professional.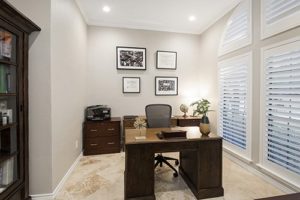 The Scott Circle: Classic & Balanced
This elegant remodel is ideal for those searching for a way to strike a tone between classic design and professional functionality. Minimal hues of dark cherrywood and black elevate the singular gallery wall and desk décor, while breathtaking floor to ceiling windows create a feeling of spaciousness.The high ceiling, equipped with recessed lighting, allows for a naturally open ambiance, compounded by the soft neutral color of the floor's tiling. With the incredibly clean and professional aesthetic this home office exudes, don't be surprised if you still feel inspired to wear your suit to work.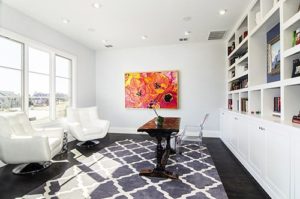 The Study: Artistic & Modern
The light and airy feeling that this artistic home office exudes was carefully cultivated through bright monotones paired with singular pops of warm colors. Open shelving creates an environment of trust and personality, while the minimal desk and modern white chairs reflect the simple windows and natural light.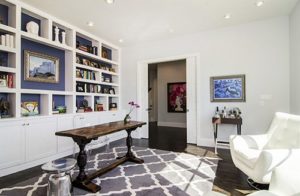 Pairing a large, high-contrast rug with this dark hardwood floor adds softness, while the rug's lattice pattern enhances the room's modern appeal.If you're looking for home office inspiration in the form of sophistication, artistry, and contemporary charm, this room is a great reference to have!
If you'd like to discuss your home office renovation plans, call us at 214-278-6261 or schedule your consultation online! We even offer virtual video consultations for your convenience!
Choose Alair Homes Plano for Your Next Home Remodel
Whether you need an updated home office, additional space, or an entire home remodel, the professionals at Alair Homes Plano have the solutions you're looking for. Founded in 2005, Alair Homes Dallas, located in Plano knows exactly what it takes to put together a successful home remodel project, from start to finish. Our team specializes in creating truly unique spaces that you will enjoy for years to come. From the initial consultation to final walk-through, we are committed to providing the homeowners of North Dallas with end results that are better than imagined.
Don't put off your dream home remodel any longer – let Alair Homes make it a reality! Living better really does start here.  Call us at 214-278-6261 to discuss your project or conveniently contact us online to schedule your initial consultation today!