In the home improvements realm, color can be a game-changer. New paint can renew an aging house and enhance its beautiful character. Natural light pooling in from the windows can make your not-so-large living room feel not only brighter, but large and airy. A well-balanced room can make you and your guests feel calm. But, how exactly do you use color and natural light to make your Chandler property invitingly picturesque? Here are four color choices and how they work as secret mood boosters in your home.
Energizing Yellow
Need a pick-me-up? Choose yellow for the kitchen or dining room for a quick fix. If the color of sunflowers invoke a sense of happiness, you're not alone. Yellow can make smaller rooms seem joyful and energizing like the shining sun. Be warned, though, too much yellow in a bedroom, for example, may sour your mood. It's a color better for enhancing moods in smaller spaces or rooms, like hallways, kitchens, or dining rooms. If you don't have a lot of opportunities for natural light in a particular room, this is a great color to bring the sense of sunshine inside.
Rich Red
Create a rich interior with red in the entryway or master bedroom. Would you like to make a statement in your entryway? Consider painting it red. If you just don't feel bold enough to coat the walls in a rosy hue, use eye-catching red window treatments, red picture frames, or a few red knick knacks that add pops of color that your guests can't help but notice when they step in the door. Red doesn't always work in other tinier spaces, but it can transform a spacious room into a lavish, intimate retreat. As light retreats from the windows at night, the red becomes even more dramatic.
Tranquil Blue
Exude a sense of calmness in blue bedrooms. This is also a great option to bring a soft sense of comfort to the guest room. Many shades of blue trigger your brain to feel calm, so it may be the perfect color for relaxing in bedrooms and the guest room. Take care to find the perfect shade for the room. Darker blues on the walls can be chic but in an already shaded room, it may feel dreary instead. Cooler blues can make the room seem uninviting if not balanced out with warmer-colored furnishings and lots of natural light. If you choose a cooler blue shade for the walls, for best results ensure that your windows take in a lot of light and your furniture's hues compliment the room color. To pair with blue walls, richer browns or medium to dark grays are popular choices for decor and finishings.
Lush Green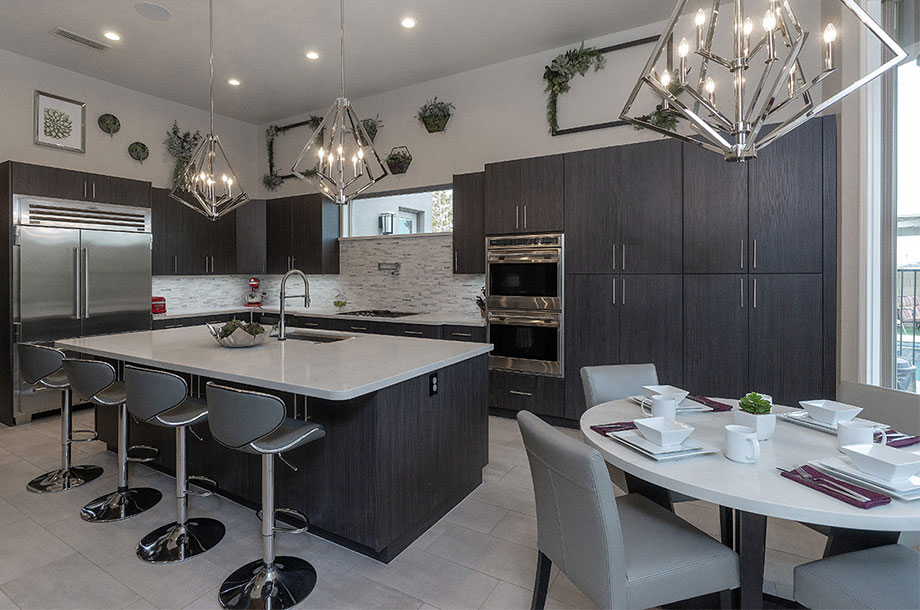 Make your neighbors positively green with envy! Since green is a combination of blue and yellow, it suits itself to work in almost any room or area in your home. Walls covered in the right shade of green may be just as calm and restful as blue ones. Green can energize a room like yellow, so consider this for the main color scheme in your Chandler home.
Bottom Line
Adding the right colors can tie everything together and make up for many of your home's shortcomings like low ceilings, lack of natural light, or small rooms. With a combination of the right colors, your custom home may give off a relaxing mood that you and your guests will appreciate for years to come. If you just can't see yourself slathering your walls in bold colors, don't forget about using pops of colors in window treatments, pillows, or other decorative items. Making home improvements requires money, patience, and a lot of planning but Alair Homes is here to help. You can feel the effects of embracing color and natural lighting in your home instantly! This is one home improvements journey will be well worth the commitment, so contact Alair Homes Chandler to get started.