Natural grass is patchy, thirsty, and fades to brown in the winter. Artificial turfgrass solves all those problems, giving you an evergreen garden that never needs mowing. Though no product is perfect, turfgrass has become largely popular due to its overwhelming benefits. Natural and plastic turf have their own benefits and pitfalls, but there are ways to amplify those positive features making any negatives seem minimal.
Pet Friendly
Using pesticides on your lawn exposes your pets to dangerous toxins. Such exposure is known to raise canine lymphoma risk by up to 70%. Turfgrass doesn't need to be treated, but if you're buying a custom built home in a hot climate, it may burn too warm for your pets and children. Some synthetic grass products have heat reflective pigments and U.V. inhibitors to keep their surface temperature safe. You can also cool your turf with a sprinkler system and awning. Turfgrass is known, however, to have a cooler surface temperature compared to concrete or asphalt counterparts.
Traffic
Turfgrass responds to mechanical stress. Artificial fibers wear down, loosen, and lose their upright position. Polyester and plastic are hard materials, prone to breakage. Nylon is more durable, but more recent fabrications are softer and stronger, recovering their upright position more efficiently than alternatives.
Your backing material is just as important. Latex, jute, and polyester are materials most frequently used. Rated highly amongst them, polyester tire cord offers a durable, high-drainage solution.
Foam Underlays
Foam underlays make your turf soft and springy. This makes turfgrass more comfortable underfoot and protects children from impact falls. Not all foams are free-draining, so if you're choosing this kind of backing, look for a porous product that won't absorb odors.
Drainage
Drainage is critical for your custom built home. It prevents microbial build up that can encourage odors. If you have pets, you can't afford to skimp on this feature, so choose several layers of substrate. A sub-base of stone chippings will allow fluids to drain into the earth below it, but if the turf itself is nonporous, drainage will be severely limited. Your top layer can be punched with holes or fabricated using a flow-through material. The latter option allows for a denser turf pile which gives it a more natural aesthetic.
Blade Technology
Blade technology can provide a natural aesthetic and improve strength. While the material you choose has a dramatic impact on looks and strength, don't neglect blade shape. Your custom built home yard will look new for longer if it has a natural blade profile. S-shaped blades look more natural than flat ones and have a reduced surface area for sunlight reflection. They tend to feel softer, too, but C and V-shaped blades resist wear more efficiently. They recover their shape well, so use them in your high-traffic areas. U shapes are popular for playgrounds and sports fields because they're both soft and durable. M shapes are light-reflecting and look remarkably similar to real lawn. They don't have much sheen, but W-shaped blades are even more natural and disperse heat more efficiently.
Bottom Line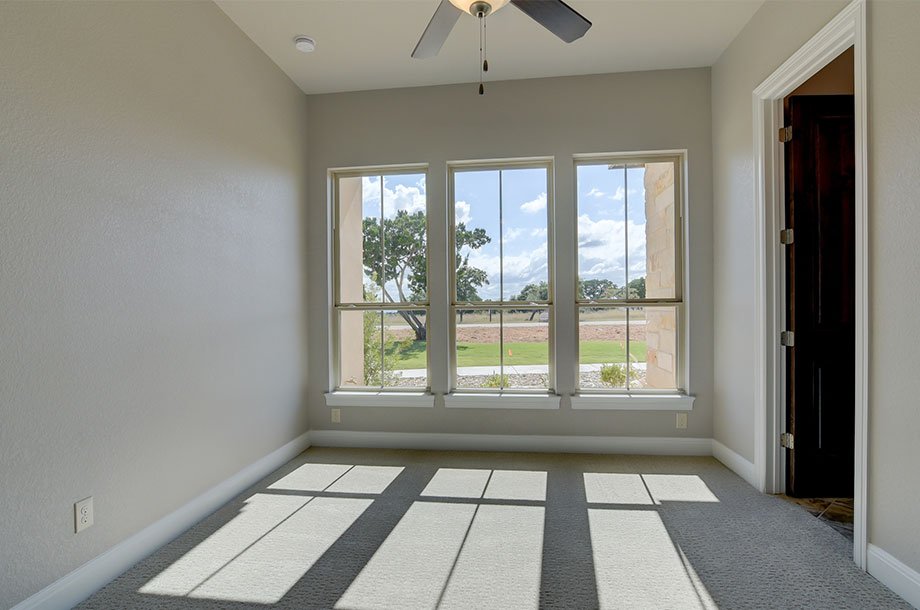 Artificial turf gives your custom built home a fresh aesthetic in every season. You'll never need to mow another lawn. The right hue will set off your landscaping design beautifully, giving you a natural look that's as comfortable as it is practical.