Designing and remodeling a new home can be very stressful. The home construction process can literally feel like you are on an emotional rollercoaster. Stress is high, the budget is tight and time is of the essence. We get it. We have been there. Working with an average contractor can be very stressful. But not working with Alair. The Alair difference is palpable. Let us show you how we are different.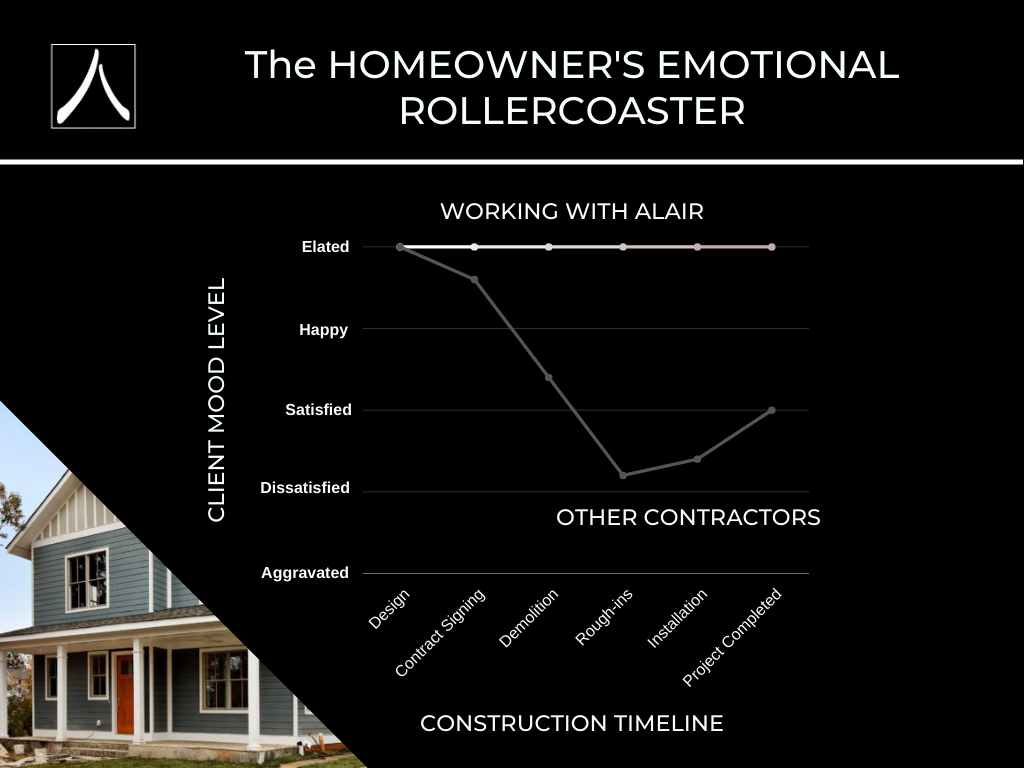 At Alair we believe that your home construction project is your project. Your dream. And we feel so fortunate to be a part of it. From the design to the bids to the actual home construction, Alair is with you every step of the way. We invite you to take a deep breath, buckle up and let's build your dream home together. 
It is quite common that the design process can lead to a major letdown. After you select a designer or architect they get you all excited by having a meeting to talk ideas and/or they might even start measuring your house but then….silence. They go into a black hole for several weeks to produce the actual design ideas with no real end in sight. That is why things slow down and the silence can be unbearable. The Alair difference is that we have a relationship with the designer, our project managers are involved and we keep you informed of the designer or architect's progress. 
There is no black hole or silence on our end. We bring you along every step of the way of the home construction process. 
The first time you start to see actual drawings of your new home the excitement is high, but that is quickly followed by a bunch of questions that no one can answer with certainty. This is where you are reaching the top of that emotional rollercoaster and you just want to know how much this will cost you! Your car chugs slowly up the track and no one is answering you. The Alair difference is that once we start to get feedback from the architect or designer we can have them provide us enough information from the drawings to get very concrete feedback from most or all of the trades who will be working on your home. This allows you, the client, to feel like you know which direction this car is going and you can start to make better and informed decisions around pricing and time.  Don't worry! Your dream is not going to plummet down to the ground. 
We got you!
The bidding process is often a time of total unknown where the builder is silent as they are trying to figure out what kind of final number to put on the job.  They are jumping around to their trades, considering cheaper less skilled trades, all to match what they think might be your budget, and at the same time trying to make sure they have enough margin in the job to make it worth it. That is why you hear of clients waiting for weeks for a bid that ends up being way out of their budget. This is so frustrating to all parties.  The Alair difference is we have a relationship with the clients early in the planning process and are 100% transparent to the selection of trades and suppliers the client already knows how Alair is getting paid. By keeping you engaged and working through options with working drawings we enter the stage in which we finalize those drawings into permit documents and get hard bids on structural and other items with a much better idea of where the project is headed and much more awareness of budget. There will be small surprises in which maybe the lumber bid came in a little higher, but also good surprises in which it turns out excavation will be less.  You won't just have those large bottom-line surprises that throw everyone off. 
The start of construction is always high stress, especially if you have felt really low in waiting on permits or negotiating the big number with a typical builder.  Unless the project is just sitting still because of weather delays the first stage of the project always feels like it goes very fast. As the homeowner, it is not uncommon for you to not hear a lot about the reference to tearing down the house, pouring footings, rough framing, or setting windows on HGTV.  The Alair difference is even before we get to this stage you have seen a schedule that lists all these items in a calendar or Gantt chart form. You will always know what's coming. There are no unexpected drops when working with Alair.
Rough-ins can be a real downer because this is when the surprises of not having a detailed plan or scope of work can really come out. If there is not good communication you might show up on the job one day and everything will seem like it's in a different place than you thought it would be. The Alair difference is that we have consistent meetings with you to walk you through the rough process.  We talk about how ductwork might have to change and why the central return needs to go where it goes. We have an electrical walk-through because once the house is framed the electrical plan always changes. We work through issues with the placement of ducts and plumbing before it is placed so we can limit the surprises and since we are talking so consistently when they do come up we can quickly resolve them.
Drywall and siding often further take you down because just when you thought you were getting all the problems resolved and getting the project going you go back to seeing small groups of folks on-site with limited action. The Alair difference is that you will have the schedule and probably weekly conversation with the project manager letting you know what is happening if things are slower or faster than expected, and telling you what is coming next by confirming the orders for interior doors, interior trim, cabinets, tile, etc.
Rollercoasters are fun at the amusement park, but not when it comes to home construction. Let Alair help you build your dream home in Arlington, VA with ease and confidence and get off of the emotional rollercoaster of uncertainty and stress.