The main entryway and staircase of a home are among its most crucial elements. Not only is this a highly functional area that must be both convenient and useful, but it is a focal point. You will see and use this aspect of your custom built home day in and day out. It is also the first thing that your guests will see when they enter your home, so it really sets the stage for your entire interior design.
A Grand Approach
Many people planning a custom built home opt for a grand staircase for their main foyer. A grand, open staircase will certainly be more expensive than something less decorative, but for many, that investment is well worth it. A grand circular staircase in the front foyer, for instance, lends a home a beautiful and classy view not just from the ground but also from the upper levels. This kind of area also provides a great space through which to showcase expert craftsmanship. Imagine it as a canvas beautified with natural woods and with which you can embellish with all manner of accouterments.
Perhaps Function Over Form
On the other hand, many people involved in a custom built home prefer function over form. There are a number of reasons for this. A more subdued entrance and staircase costs less, and that money can be used elsewhere in the budget. It is also takes up less space. If you only have so much square footage to work with, then perhaps using a lot of it on a grand foyer is not very practical. A less decorative entryway can also be an artistic choice. The foyer that is not a focal point can serve as a complement and transition to aspects of the home that are.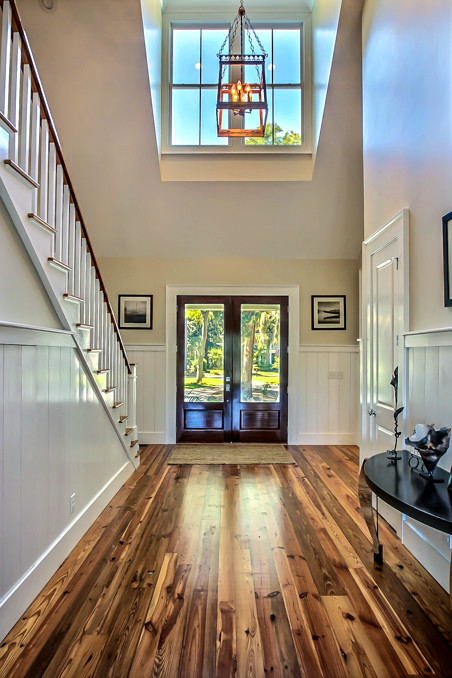 Custom Foyer Designs Are In
Foyers and staircases as focal points is a hot trend in new home construction. Designers and architects are incorporating elements that are as important in terms of aesthetics as they are functionality. More than just enhancing architectural aesthetics, it is about lending a home a distinct personality. Homeowners want a personality that is unique and fresh. A custom foyer design can set the stage for the kind of metalwork, woodwork, hardwood flooring, area rugs, art and so forth that you want, and a professional consultation can allow you to explore all of the many options available to you.
Share: