Austin and San Antonio get much of the attention for their consistent growth. But cities like New Braunfels offer not only an ideal place to live but also an inviting business climate. New Braunfels is worth keeping an eye for Texas home buyers. New Braunfels was the 13th-fastest-growing city in the nation according to the most recent Census numbers, growing 4.7 percent in the past 12 months. All signs point to continual growth in the coming years.
The Stats 
Texas is one of the fastest-growing states in the country by population; boasting a 13.7% growth in the last eight years, which was more than double the 5.8% national population growth rate. With all that, New Braunfels has to offer its easy to see why it is growing. With Texas' steadily growing job market and low housing cost; the state as a whole has grown rapidly in recent years. New Braunfels and Comal County have topped the list with some impressive numbers:
 2010-2018 pop. growth: +17.0% (364,998)
 2018 unemployment: 3.4%
 2010-2018 employment change: +20.6% (+170,621)
 Median household income: $56,495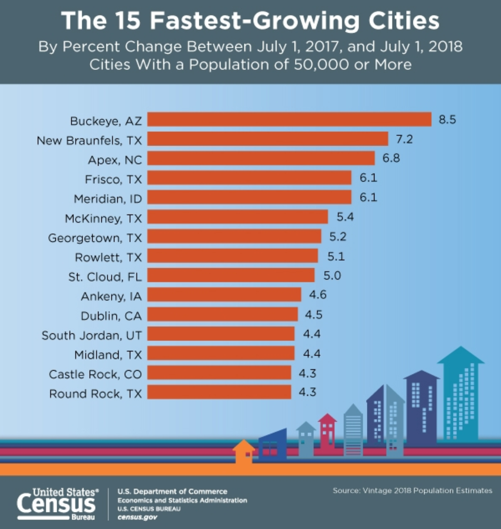 Why is New Braunfels Growing so fast?  
Schools:
When looking for a place to call home, one of the most significant factors are the schools. Whether you are looking to insure the value of the home or you are planning on raising a family in New Braunfels, choosing an area with good schools is a must. New Braunfels and Comal county have made it a focus to build a culture of academic achievement. Niche, grades Comal county as an -A, see how these rankings are calculated. From K-12 New Braunfels and Comal county take pride in emphasizing academics, fine arts, and citizenship at their 31 campuses. With a 97% graduation rate and excellent gifted and talented programs, Comal county offers an above-average education experience. 
Not to mention, the variety of secondary education options near New Braunfels. The Alamo Colleges Central Texas Technology Center located within New Braunfels, Texas Lutheran University not too far away, and Texas State University within 20-miles of the city. From primary school to graduate school New Braunfels offers great options.
Amenities: 
Now that we have discussed the highly rated schools let's look at the culture and entertainment New Braunfels has to offer. First things first, you can't talk about New Braunfels without mentioning Schlitterbahn. Many have claimed it to be the best water park in the country! 70-acres of water park fun, including swim-up bars to tube rides that land you right into the Comal River! This family-owned water park creates new attractions every year, so visitors and locals alike discover something new every year.
The Comal River offers stunning beauty year-round and endless summer fun. Springing up from the Edwards Aquifer, flowing through famed Landa Park and downtown New Braunfels before joining the Guadalupe River. During the Texas summers, its main attraction is tubing down the river.
With a growing food and music scene, there is something for everyone in New Braunfels. Here are some of the top places to check out: Natural Bridge Caverns, Gruene Historic District, McKenna Children's Museum, and many more.
Business:
New Braunfels is home to thriving industries from healthcare and manufacturing to aviation and Telecom. With a strong job market seeing an increase of 1.7% over the 1.5% national average. Metrics are showing an all-time high with over $400 million in new commercial investments in the past years. Read more here
With plenty of diversity of industry within New Braunfels, both business and residents alike are thriving with the growing local economy and low tax rates. It is easy to see why predictions show future growth at 46.50% in comparison to 33.51% of the national average.
The perfect place to build your Dream Home
With the abundant land available in Texas, New Braunfels has many options for building a custom home. When buying a home, there are so many factors that go into the overall price of the house. One of the reasons the Texas Hill Country is an ideal place to build is the fact that it offers some of the lowest property taxes in the country. This, coupled with the reasonable cost of living ranks New Braunfels high in affordability. All signs show a strong market that is priced right. Here are some exciting real estate trends to read up on.
Conclusion
: 
There are so many advantages to living in New Braunfels: local attractions, a thriving local business, and over 300 days of sun a year. It is easy to see why New Braunfels and Comal County are among the fastest-growing areas in The Country. Here is what the New Braunfels Herald-Zeitung had to say. And when your ready to make this beautiful area your home; Alair Homes is prepared to walk you through the process of building your dream home in this fantastic area.