There is no doubt that hardwood floors are beautiful, and they can be found in every style home from an antique country farmhouse to a luxurious city row house and everything in between. Traditional hardwood floors, also known as solid-sawn, are a classic choice and have a lot of advantages, like being easy to sweep clean and minimizing allergens in the home. They are also able to be refinished after the wear and tear of everyday life takes its toll over the years, and they can be re-stained in a different color as styles and trends change. But, they also have their disadvantages. As a natural wood material, each plank is prone to expansion and contraction dependent on the temperature and humidity of the environment. Even in a climate-controlled house, homeowners will notice season-dependent gapping between boards as the moisture content of the wood changes. In response to these challenges, as well as high cost of solid wood flooring manufacturers have created a product called engineered flooring.
So what is engineered hardwood and what is it good for?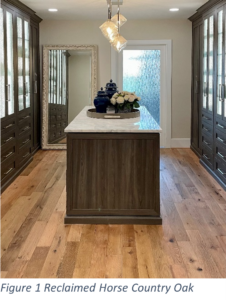 Engineered hardwood is fabricated by applying veneer of real wood to a plywood plank. Once installed, it can be difficult if not impossible to identify the difference between an engineered product and a solid-sawn hardwood because the top layer, the one you see and walk on, is real hardwood. The veneer layer can be made out of all species of wood but are commonly found in oak, maple, hickory, mahogany, and cherry. A custom mill shop can even make engineered floors out of reclaimed or antique wood.
The benefit of engineered hardwood is dimensional stability, which means that it does not expand and contract the way that full thickness hardwood planks do. The nature of the plywood base, which features wood grains that run in multiple directions, keeps the planks stable even in shifting humidity. While engineered hardwood is still a natural product that is prone to movement, a homeowner who chooses engineered flooring is much less likely to experience major seasonal gapping in their floor.
Engineered hardwood is also available in planks wider than 5", which is not possible with solid-sawn hardwood floors due to their tendency to cup and warp. Additionally, engineered hardwood can be installed on a concrete slab, which has a higher moisture content than a plywood subfloor. This means that engineered hardwood can be installed in your basement or on any slab foundation where solid-sawn hardwood is not recommended due to risk of warping.
What is the downside?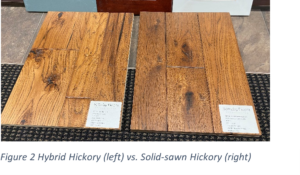 One of the major benefits of hardwood floors, as was mentioned above, is the ability to refinish and repair the unavoidable marks that a well-loved floor acquires over time. The refinishing process requires flooring to be sanded down and, in doing so, the plank gets a little bit thinner. A full thickness hardwood floor can be refinished up to five times before the plank has been worn down so far that the tongue-and-groove connection between the boards is exposed. In contrast, an entry level engineered floor can not be refinished since sanding it down would expose the plywood underneath the veneer. In response to this, flooring manufacturers now offer a product called hybrid engineered hardwood flooring. Hybrid flooring offers the best of both worlds – a thick top layer that can be refinished 2-5 times applied on a plywood base for dimensional stability. In terms of functionality, there is no downside to this product. However, it comes at a higher price tag due to the thicker layer of veneer and the labor involved in fabricating the boards.
So which should you choose?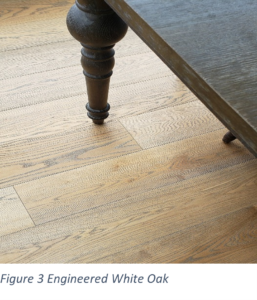 Ultimately, it depends on what you need from your floors and your budget. If you prefer to be able to refinish your floors if needed and don't mind some seasonal fluctuations in your plank widths, then a solid-sawn product is the choice for you. If you are gentle on your floors, then an entry-level engineered hardwood flooring will look great for many years at a reduced cost. And if money is no object and you love the look of hardwood but don't want to deal with the fickle nature of solid-sawn planks, then a hybrid floor is the hands-down winner. No matter what, wood flooring is a timeless choice and will always elevate the look of your home!
---
Alair Homes Hunt County, Ashburn, Leesburg, Middleburg, Upperville, Winchester. From vision to concept to plan to construction, we take custom home building to a new level. Thoughtful planning. Intelligent design. Personal touch. That's the Alair Homes Hunt Country difference. Begin making your dream home a reality. Schedule a consultation today!