As reported in the Loudoun-Times Mirror, May 10 2018 Loudoun Homes & Builder Showcase by Karen Graham
---
Challenging project turns out beautifully at Goodstone Inn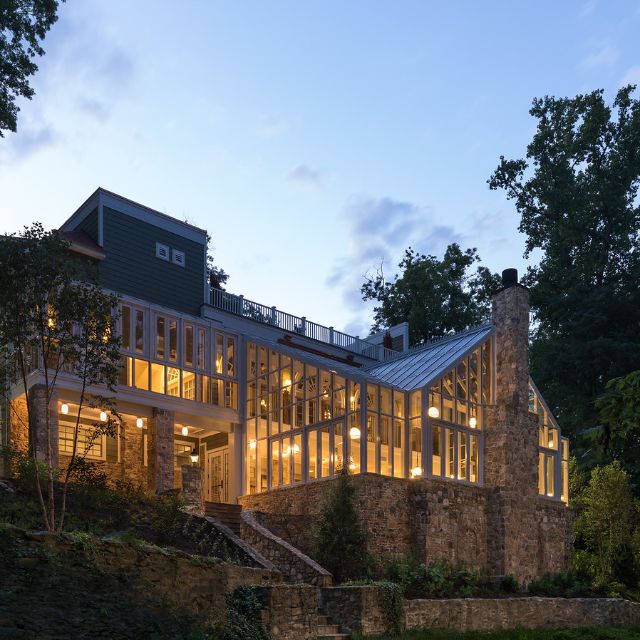 A historic destination inn located in the Middleburg countryside recently completed an extensive makeover to its dining room and kitchen.
Goodstone Inn's owner, Mark Betts, tapped Loudoun-based architect Clint Good for the project. Good had previously worked with the Goodstone Inn on another restoration in 2005.
Betts said he undertook the kitchen and dining room improvements in order to accommodate the inn's growing restaurant business.
Good came up with the idea to create a conservatory style space, which is completely enclosed in glass providing a different feel for diners, as an addition to the carriage house building.
"Our design objective with the conservatory dining room was to allow guests to enjoy the extraordinary views at Goodstone while having a great meal," Betts noted.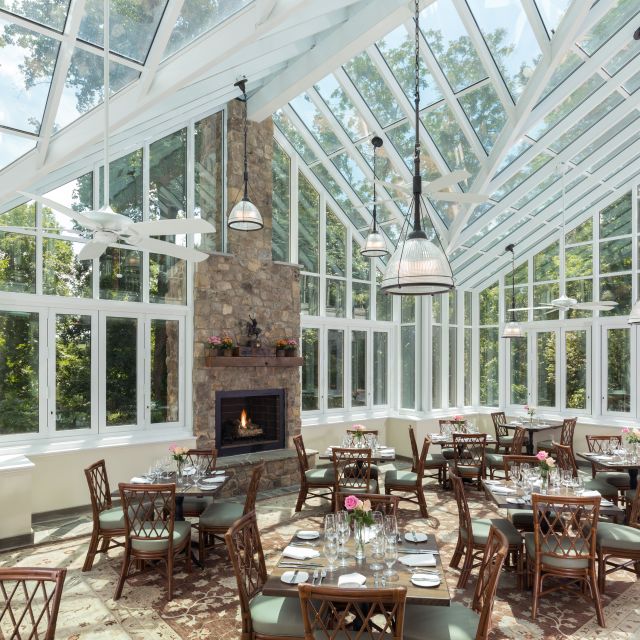 "We didn't have enough dining space and our kitchen was grossly inadequate. With the new state-of-the-art kitchen and much more space, our chefs can perform at a much higher level," Betts said. "In addition, the dining room can now serve about 90 and there is more lounge space for guests to relax and enjoy drinks and light fare."
The renovations took about nine months. In addition to the dining room, the design needed to include administrative space and a new kitchen in the basement, as well as additional landscaping work on the exterior. The project was limited to a small footprint expansion of the carriage house, so they excavated the crawl space in the basement to make room for the kitchen.
The new conservatory provides a "unique dining experience," with tall ceilings and an open glass feel. There is also seating on the outdoor patio.
"You can't help but be happy in this space," Good said. "It is very conducive to enjoying yourself, which is want we wanted to achieve. Nature lovers enjoy coming to this site."
Good worked with Matthew Bowe Design Build based in Purcellville for the construction.
Bowe said the project was challenging but "we loved it."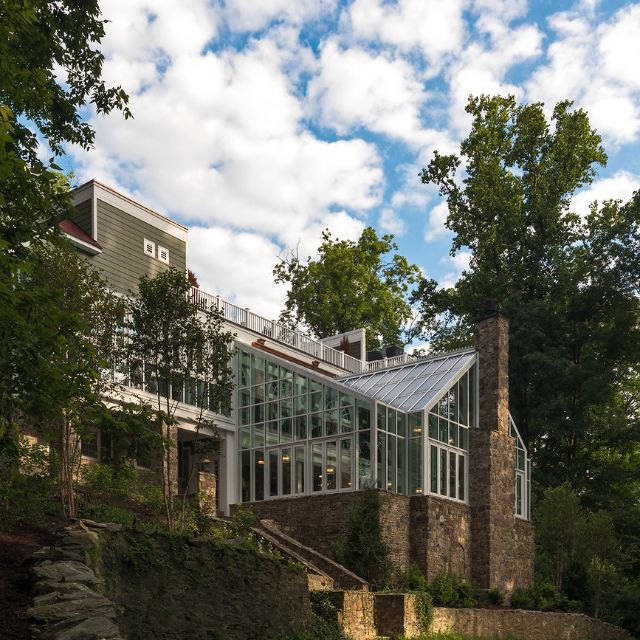 "The two-story glass conservatory was challenging because everything we built to receive the glass had to be deadly accurate for it to all come together," Bowe said. They also had to excavate under the building through about seven feet of rock, all while the Inn was in operation.
"Overall it was one of the most challenging projects we have done as we are primarily a residential custom builder, but we love that and appreciated the challenge," Bowe said. Bowe enjoys having the opportunity to repurpose a building and convert it to a function that was not its original intention.
"It was a high-impact complicated project on a building intended for horses and carriages. It is a great sense of accomplishment to be a part of this. As a builder, the more unique and complicated it is as a legacy project — combining creativity and practical construction and knowledge and it turned out well," Bowe said.
Betts said the finished product is "excellent. Frankly, it exceeded my expectations. An all-glass conservatory is a great way to feel as though you are eating outdoors, enjoying the natural beauty, but still with climate control, a fireplace and nature and country oriented artwork," Betts added.
---
Alair Homes Hunt County, Ashburn, Leesburg, Middleburg, Upperville, Winchester. From vision to concept to plan to construction, we take custom home building to a new level. Thoughtful planning. Intelligent design. Personal touch. That's the Alair Homes Hunt Country difference. Begin making your dream home a reality. Schedule a consultation today!