If you're thinking about building a home, chances are you have spent some time on the internet poking around search terms like "four-bedroom modern farmhouse" or "first-floor master suite" and you probably have seen some floorplans of gorgeous houses that you can imagine moving into right away – exciting! But then you've also heard of friends sitting down with an Architect and planning a custom home from square one, and that sounds fun, too! So, which is better? Let's talk about the pros and cons of each and you can decide which is right for you.
Add to cart: the realities of purchasing a pre-designed floorplan
TIME: As soon as you purchase your floorplan, your builder can begin estimating the cost to build and lining up the work. This could jump your project start date ahead by as much as six months, especially if your builder has a hole in their schedule that they are looking to fill.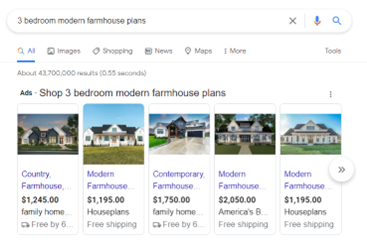 COST: Most floorplans available online cost between $1,000-$3,000, which is less than you will pay to design-from-scratch since an online plan can be sold by a designer or architect many times to recuperate the cost of the initial time spent designing.
However, by selecting a floorplan that appeals to the majority, you may miss out on opportunities for efficiency. Perhaps your children are grown, and you no longer need a place to corral backpacks and soccer gear – if the plan you select includes a large mudroom, you could be paying to build space that you don't need.
COMMITMENT: While some people find designing their own floorplan invigorating, others can find it to be a burden they don't want to bear. Selecting a floorplan online means you won't have to stress about answering every single question about the design of your house as many of those decisions will be made for you already based on the plan you choose.
RESULT: A predesigned floorplan will likely fit your basic needs. You can choose the right number of beds and baths for your family and can probably find a plan that includes something important to you, like a screen porch or upstairs laundry. However, you may end up with rooms or square footage that doesn't really fit your lifestyle, and if you've selected a popular floorplan, you may find that your home is very similar to the homes around you.
A bespoke design: a custom home built just for you
TIME: A truly custom floorplan is going to take time to design. You will likely run through two or three concepts with your Designer or Architect before settling on a basic plan that fits your needs. After that, the floorplan needs to be converted into a full set of Construction Drawings which can take a few weeks. From beginning to end of design, you may be looking at between two to six months before being able to start construction.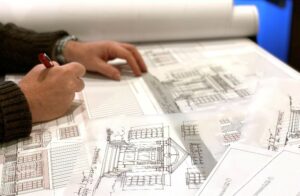 COST: Your Designer or Architect is going to use this plan only once, so they must cover all their costs in one shot. Typically, you can expect to pay between 8-12% of your total project cost. If this seems like a big range, it is. A small and simple floorplan by a Designer might cost around $3,000, but a full set of Construction Plans for a large, high-end house by a licensed Architect could be as much as $75,000 or more.
On the flip side, an experienced Designer or Architect can help you design a house that stays within your budget. Investing in an Architect could save you money in the end as you won't be paying to build space that you don't need. If you are not going to use that formal dining room or fourth bedroom, there is no reason to include one in the plan.
COMMITMENT: You will be involved in every selection that goes into your house. This could mean many meetings over several months with your Designer or Architect to fine-tune your plan. The number of choices may seem overwhelming, but a good Builder and Design team will help guide you through the process successfully.
RESULT: In the end, you will be moving into a unique house that won't look like any of your neighbors' and that will be tailored to help you live better in your home. Custom design allows you to incorporate specialty items and rooms like dog showers, home theaters, golf simulators, art studios, in-law suites, and more. Many families find that the benefits of a custom home are well worth the time and effort invested.
---
Alair Homes Hunt County, Ashburn, Leesburg, Middleburg, Upperville, Winchester. From vision to concept to plan to construction, we take custom home building to a new level. Thoughtful planning. Intelligent design. Personal touch. That's the Alair Homes Hunt Country difference. Begin making your dream home a reality. Schedule a consultation today!