Aging gracefully does not just apply to people, but to construction and design as well.  In the end, a major factor in whether people are able to age gracefully IS their environment, their ability to thrive and function without the limitations that outdated design can bring.  Often, the realization that changes must be made is very gradual, but Alair Homes Hunt Country has made thinking about the long-term comfort of people of all ages something that is always at the forefront of their minds.  There is absolutely no reason to "age-out" of your home.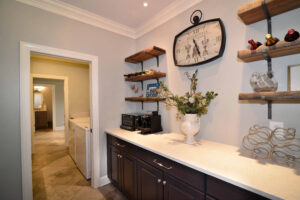 The reality is that aging in place is not just about comfort, but it is also very much about safety, and avoiding the falls that can lead to other extensive medical issues. To this end, our design concerns extend much further than just the utilitarian.  For example, our walk-in showers, with continuous floors, so that there's no lip to step over, easily adapt to a bench or any other necessary appliance for comfort and safety.  Again, this choice is not only the right one if you foresee limited mobility but its also an aesthetically beautiful option, giving your bathroom a bright and open feel.  Who couldn't use more of that in their home?  Discreet grab bars in the shower walls provide security at arm's reach, a perfect example of function meeting form in design.  Elements added for safety and comfort should not stand out in the overall layout, but rather blend seamlessly.
When grab bars come into play there is often a need to incorporate other facilitators for mobility, so wider doorways become an important design choice as well.  Planning for what may be an eventuality and making a design choice that is practical with that forethought is the groundwork we build on BEFORE we undertake a remodel or home building project.
Functional design for the different stages in our lives does not have to be sterile or "clinical."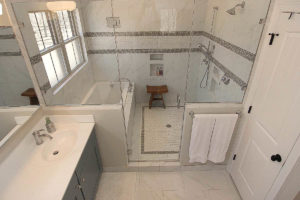 We began by discussing the customizable elements of a bathroom because often this is where issues seem to be detected first, and it's the one room that is absolutely critical, aside from the kitchen, in any household.  Our custom build homes have first floor bathrooms, as well as first floor master bedrooms.  The location cannot be overstated, you don't ever want to have to go far for that convenience if mobility ever becomes an issue.
The kitchen, the other key area in your home, should also be designed with an eye toward maximizing your space and making you comfortable and safe while you're in it.  The choice of flooring, both for traction as well as ease when you're standing is key.  Also, allowing for plenty of space around an island, and room for seating make a kitchen not only more inviting, but certainly more user-friendly.
Again, what seems to be a "detail", like the widening of a doorway, becomes a matter of necessity in a kitchen when you look at it with an eye towards increasing its long-term functionality.  Our decisions include making accommodations for appliances that will be easy to operate from a sitting position if necessary.  plenty of lighting in all areas of the house.  Even if you plan on table lamps, having recessed lighting on dimmers throughout the house will allow you flexibility during the daylight hours and more options in the evenings.
Accessibility doesn't just extend to the interior.  The bigger picture extends to the entirety of the house, and making sure your home is accessible from the driveway is paramount.  Again, a design decision that can be made with an eye towards aesthetics as well as functionality.  Alair Homes Hunt Country specializes in design that looks to the future and works in the present for everyone who comes into your home.
---
Alair Homes Hunt County, Ashburn, Leesburg, Middleburg, Upperville, Winchester. From vision to concept to plan to construction, we take custom home building to a new level. Thoughtful planning. Intelligent design. Personal touch. That's the Alair Homes Hunt Country difference. Begin making your dream home a reality. Schedule a consultation today!