From backsplashes to showers, there are many different areas of the home where tiles are installed. Although the product is extremely durable, they also contribute to the design of the home and will influence its level of appeal. When you want to install the right tile, Alair Homes Greensboro discusses a few options that will look great in your home.
Choose Tiles with a Colorful Glaze
Jazz up your kitchen or bathrooms with tiles that feature a colorful glaze. The glaze will reflect light that is present in the room and look high-end due to its added shine. The sleek style of the tiles is also practical because they're easy to wipe clean when stains or spills occur.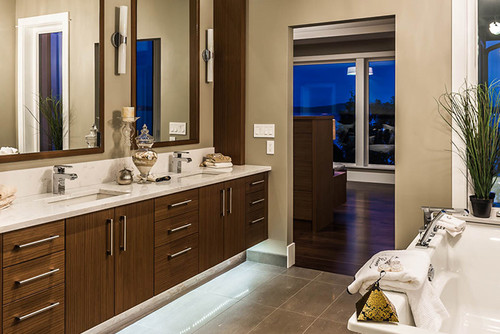 Install Metallic Tiles
Metallic tiles look regal and will work as one of the main focal points of the room due to their glamour. Consider installing them on a backsplash in the bathroom, which will look gorgeous when paired with dark wood cabinets. They'll look contemporary with mosaic tiles and will dazzle when light bounces off of the surface.
Add Rustic Tumbled Limestone
When you want to incorporate extra character in your home and prevent it from looking too commercial, rustic tumbled limestone is a great choice that can be used in different areas of the interior setting. The rustic touch that it adds to the room will allow it to look traditional and classy. The durability of the stone makes it perfect to use in areas of high traffic.
Use Honed Slate
Honed slate features a dark shade that is beautiful when used in kitchens and will stand out when paired with neutral walls. The dark color shade of the stone easily hides dirt and has a high level of durability. Although it may be more of an investment, it can last a lifetime when you want it to maintain its appeal in future years and even boost the value of your home.
Add a Cozy Touch with Terra Cotta
Terra cotta is known as a beautiful tile that is cozy and has a rustic style that looks beautiful in Spanish Colonial or Italian homes. Their dark color shade will look warm in different areas of the home and is easy to maintain. The tiles are made from clay and come with a matte finish that can be sealed to prevent stains from developing over time. A more affordable alternative to terra cotta stones is terra-cotta-effect ceramic tiles, which have the same design at a lower price. You can achieve the same look while still staying within your budget with an alternative that is more cost-effective.
Create Visual Appeal with Encaustic Tiles
Encaustic tiles have a high level of design with the patterns that are used, which will make the floor or backsplash of the room the centerpiece of the environment. They add a Moroccan touch to the room and blend well with neutral color shades or natural woods in in various rooms. Encaustic tiles are extremely durable and will maintain their appearance if they get scratched or have dents that develop over time.
The surface of the tiles is porous, which requires them to be sealed to prevent damage that can occur with stains or spills.
Share: