As you formulate your vision of a custom built home and work with a designer to create a lovely floorplan, the question of staircases and doorways must be explored. These are functional features that enable flow through rooms and across different stories of the home, but they also dramatically impact décor and ambiance. Consider the difference between an elegant home with a huge grand staircase and ornate trim around enlarged doors versus a home with a standard staircase and doors. Because of the significant impact that doors and staircases have on your floorplan, careful review of a few important factors is necessary.
The Impact on Square Footage
Staircase design will impact square footage more than doorways, but both can have an effect. An enlarged, winding staircase may need a huge, open foyer with ample open space at the bottom and top of the staircase. A traditional staircase may be open, or it may be enclosed if space is an issue. The dimensions of a door affect how much space is needed to open and close the door. It may also affect if an open passageway is preferred over a privacy door or if a sliding or pocket door is needed. Some floorplans may be adjusted as necessary to incorporate your preferred design elements into the plan, but space may be constrained based on the size of the lot and other factors.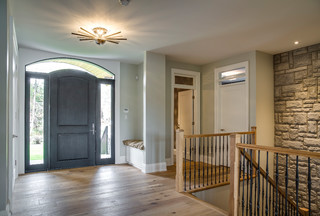 The Décor of the Home
Sizes, shapes and trims or materials for doorways and staircases dramatically impact décor. In fact, they make a home seem banal, high-end or somewhere in between even when the home is completely undecorated. Consider a traditional staircase with carpeted stairs and a plain railing compared to a staircase with traditional dimensions that has hardwood steps and an ornate railing. You can also consider how the impact of curvature, extra width or height and other decorative changes will affect home décor. A smart idea is to review multiple styles of doors and staircases before you narrow down your options.
Your Budget
The size, features and finishes in a custom built home are often constrained by funding. The size and style of a staircase are very difficult to change after the fact, but doorways may be adjusted through a home remodel project more easily and affordably. If funds are limited, consider incorporating elements that are more difficult and expensive to change after the fact. Understand how the size, shape and features of doorways and staircases impact cost so that you can select the right materials that are affordable for your budget. Note, however, that these are built-in features that speak to the craftsmanship of the home and that may directly impact property value.
Because staircases and doorways play such a major role in your budget, the home's décor and its layout, careful research and planning is essential. After exploring design possibilities for your new home, consult with Alair Homes for assistance. Through years of experience, we can provide you with cost-saving ideas to bring your preferred design into the home within your budget.
Share: