The Brown County Home Builders Association(BCHBA) Showcase of Homes begins the first weekend in March, and yes, that is right around the corner! We are excited, and you should be too!
The Showcase of Homes sometimes called a parade of homes in other regions, is an opportunity to view new homes and a few remodels. The Brown County Home Builders Association is one of the largest in the state, and that means a lot of builder participation and ideas for clients. This is an opportunity to see a lot of homes, styles, floorplans, and builders in a short period of time. Whether you are planning to build or renovate in Green Bay, De Pere, Howard, Ledgeview, Lawrence, Bellevue or another place in Northeast Wisconsin, you'll be sure to find some homes near you on the tour.
As you dream about your new home or updated space, there are a few things you want to do to get the most out of your visits on the showcase tour.
Pay Attention to Different Spaces
Pay attention to room sizes, ceiling heights, etc. and make notes so you can better remember what these characteristics feel like. This information can prove useful when designing your own home.
Give Yourself  Visual Reminders
If a home's style resonates with you, follow the builder on Houzz or Facebook. These are places where you can see photos from that project and future projects. When looking at so many homes in a short period of time, things can start to blend together – having great visual reminders is helpful!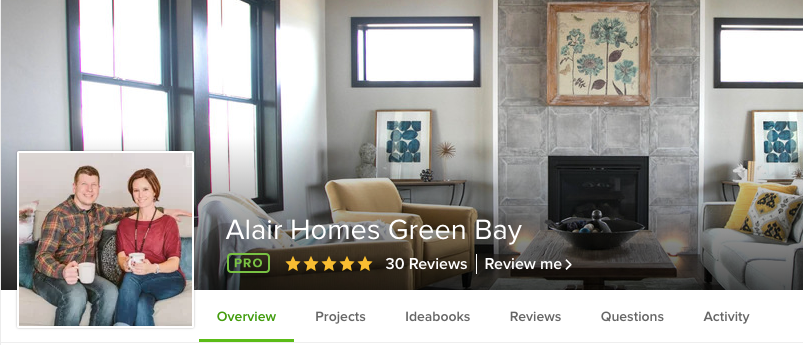 Educate Yourself on Details
Do your homework! We're not going to lie, the first thing to catch our attention is the visual appeal of the homes. After all, that is one of the most exciting parts of building/renovating. The thing is, there are a lot of components behind the walls that make a difference.
We often get the question what is the price of this home, or what is the price per square foot? We love that consumers are working to be educated. But friends, we want to give it to you straight. This question could ultimately mislead you, and here is why. Homes and prices are rarely comparable feature to feature, as each builder has its own "norms" and each plan is unique.
Many are aware of variables in finishes (flooring, cabinets, countertops, etc.) – selections in these categories all affect pricing.
The Efficiency of the Plan to Build – Just because two different homes might have the same square footage, they aren't apples to apples. Here are a few examples: one might be more square and one might be more choppy. One home might have a 6 pitch roof and one might have a 10 pitch roof.
One home might have covenants of 50% masonry and another 35% masonry. What type of siding is included: a vinyl or LP Smartside type product?
Trim – Is the home painted or stained? Is the trim wood or MDF? They have different price points and perform differently too.
Insulation – All homes should meet the minimum requirements for code, but do you know there are several different upgrade options – attic air seal, sound barrier walls, R-value, is the garage insulated….you get the picture.
Let's talk basements, is it finished? Does it have an active radon system, is it roughed-in for future bathroom or wet bar?
What is the floor system – trusses or I-Joist?
Windows, – are they vinyl, fiberglass, wood – what is the warranty on them?
Concrete patios, appliances – are those part of the overall price?
We know this is a lot to consider and we are truly just scratching the surface. Just realize that your questions need to go deeper than general costs to truly understand what comes with the price. It's likely an in-depth sit-down conversation with a builder is the best way to help you understand costs and how you get to your budget.
Think About Your Goals
You have an amazing group of resources over the nine-day show. Think about your timeline and what questions you have. What information do you need to know in order to move forward with that next step? Have prompts written down in a notebook or a note on your phone should you engage in conversation with builders. Keep in mind, that during the show you'll be able to get high-level information from builders and general contractors, but know that they are seeing hundreds of people in a short period of time and may not be able to give you their undivided attention for long, in-depth conversations. Your goal should be to see who think you might have a synergy with when getting that high-level information so you can schedule a dedicated meeting with them.
A good contractor should be able to work hand-in-hand with you to better define your vision, articulate your goals and priorities and to help you develop a plan that outlines the process.
Giving you some friendly advice, have a clear plan to make sure your actual costs align with your budget before you begin construction, have a good understanding of timelines and schedules, and make sure you enjoy who you will be working with. It is a long process that has the potential to be super stressful if you aren't aligned. It also has the potential to be amazing, fun and low-stress opportunity…one that ends with a home that you continue to visualize in your mind.
Together,
Andy and Nicole
View our blog library here for other interesting perspectives, ideas, and information.