Apart from location and the economy, home value is influenced by the impression it gives off the street and inside the home. This post will give you some home improvement tips to help increase the resale value of your house.
Remodel Your Bathroom
Most buyers take a close look at the bathrooms when they tour houses listed for sale. You need to remodel your bathroom and make it look as attractive and welcoming as possible. Homeowner can start with new lighting or extra storage. You may want to invest in new tiles and some fresh painting if the flooring is damaged by mildew or mold. Choose the right paint color and add crown moldings on the walls to spice up things. You may also need a new ventilation system to boost the comfort of the room and prevent future growth of mold and mildew.
Improve the Kitchen
Since, homeowners spend a considerable amount of time in the kitchen, it is important that you make the kitchen as welcoming as possible. Use natural stones such as granite, slate or soapstone for the countertops to add a smooth touch and warmth. Get new appliances and seek wood flooring throughout the kitchen. You might also need to repaint the whole kitchen using colors that lighten the space and add contrast. We recommend you use white, gray, yellow, blue or green colors. Each of these colors plays a different role in the kitchen. However, they all create a warm and welcoming space.
Use Natural Stone
Natural stone is known for its ability to give a good first impression. It is also popular for its resistance to damage, making your house to last longer. You can choose granite, limestone, slate or soapstone. Granite is durable, easy to clean and resistant to staining. You can use it on the kitchen countertop, bathroom sinks, closets and any other surface that might require an upgrade. Limestone can help you in paving beautiful and durable walkways, crown moldings, windowsills and front stairs.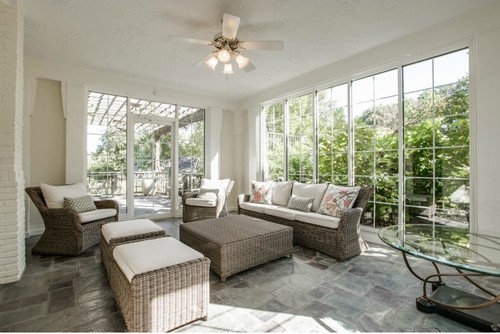 Upgrade the Home's Curb Appeal
A house with a high curb appeal attracts more buyers, command higher prices and takes less time to sell. Your house should look attractive and well maintained right from the streets. Get rid of all the dust and mildew on your wood, brick, stucco or fiber cement sidings. Wash all the windows inside and out and remove cobwebs stuck on the eaves. Work on your flower beds and grow new plants in the garden. Give the house a nice paint job. It is good you match the paint you already have and resist the urge to make a statement with color.
Hire an Expert
You need to get a home improvement expert like Alair Homes Dallas to inspect the house and recommend changes. The expert will examine the house thoroughly and point out areas that have issues. Make sure the inspection is done before you list the house for sale. You don't want to have a contract on the table only to hear that the inspector has discovered a leaking roof or a dry rot somewhere. An inspection will help you know which areas need improvement in advance so that you can address them before listing the house for sale.