When designing a custom home, it is important to consider your needs and how the property can accommodate your lifestyle. The features that are included in the house will influence how much you enjoy spending time on the property long-term. When you're working with your builder, there are a few important features to consider including in the space.
1. Advanced Technology
Enhance the quality and functionality of your Alair Homes Decatur custom home by adding advanced technology to the building. Wireless home automation devices are increasing in popularity for their ability to make it easy to control different features in the building with your smartphone device or tablet. You can unlock certain doors or turn on the lights with a push of a button, whether you're spending time at the house or are away from the property.
2. Home Office
Home offices are an option when you want to create a setting where you can remain productive and have the choice of telecommuting. Build a spacious office that features plenty of windows and a bathroom. Adding a coffee station or breakfast nook will also allow you to stay energized and have what you need while you work in the space.
3. Outdoor Kitchen and Pool
Make it easy to spend more time outside with an outdoor kitchen and pool built in your backyard. The pool provides opportunities for fun with your family during the summer season. Consider features like a water slide, spillways, and fountains. The outdoor kitchen can make it easy to host and entertain while dining outside. Include a built-in grill with a mini fridge and a bar to make dining and entertaining that much easier.
4. Dressing Room
Get ready for your day in style with a room that offers plenty of storage space for your accessories, shoes, and wardrobe. The dressing room makes it easier and more comfortable to get dressed in the morning without disturbing your sleeping spouse or children in the house.
5. Wine Cellar
A wine cellar is an ideal feature to include for those who appreciate a fine vineyard and want to store their bottles in a climate-controlled setting. The wine cellar makes it easy to have a variety of fine wines on hand so you're always prepared when guests pop in.
6. Commercial-grade Kitchen
A commercial-grade kitchen is beautiful and efficient. Include a walk-in pantry, restaurant-quality appliances, warming drawers, and wine refrigeration or a beer cooler to make your space complete.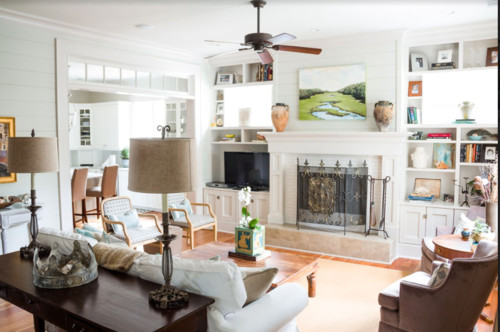 7. Open Floor Plans
An open floor plan makes your home appear spacious and inviting by eliminating most walls. Separate spaces with bookshelves, half walls, large windows or partisians to create some privacy while still keeping your rooms open.
8. Spa Bathroom
With the use of a pedestal tub that has spa jets or a walk-in shower with multiple showerheads, you can create a bathroom that feels luxurious so all your days end with a pampering session.
Your Alair Homes Decatur custom home should include everything you've dreamed of. Make it unique, special and a place that enhances your quality of life. We are here to help and share ideas so that your dreams of the perfect home quickly become reality.
Share: