There comes a time when you must tackle your growing list of home improvements but it may be overwhelming to know where to start. Home remodeling can be a daunting project, but the benefits are simply too good to deny. In fact, in a study I read recently, conducted by the National Association of Realtors, indicates that a home that is well-maintained often boosts the inhabitants mental health. So how do you ensure you have a remodel that is completely worthwhile?
Working in this industry for more than twenty years, I've found the planning phase to be the most elusive to clients. Arlington properties in particular are often rich in history and with that brings more complexities to remodeling. To eliminate some of the confusion and help you get organized, I've identified 10 steps to help offer some guidance on this matter. Check out the steps below and read along to prepare for your home remodeling project.
10 Steps for a Successful Remodel
1. Plan
2. Home Assessment
3. Building a Project Plan
4. Set a Budget
5. Talk to your Insurance Agent
6. Consult with Home Builders
7. Build a Timeline
8. Select Materials
9. Make Living Arrangements
10. Prepare Your Home
Final Thoughts
1. Don't Just Dream, Plan
Before you begin to tear down walls or uplift your flooring, take time to reflect on all the things that make up your home- good, bad, and ugly. Begin by writing out a list of all the things you wish to fix about your home. Don't be afraid to be too detailed or picky! As you recognize the different pain points, think about the different solutions to fix each problem.
For example, are you frustrated by the lack of prep space in your kitchen?
Ask yourself: Is this due to lack of storage space to free up your cluttered counter? Or do you imagine opening up the kitchen to the dining room to make room for an island?
Is your deepest desire to have a more eco-friendly home?
That could mean adding tech to create a home smart enough to better manage energy consumption or installing a heat pump.
As you do this, I also think it is worth noting the things you love most. Perhaps there is a specific tile you'd like to match. Or maybe you find inspiration for storage in the shelving in a hall closet. Take inspiration from everywhere and try to collect imagery to help reinforce all of your ideas.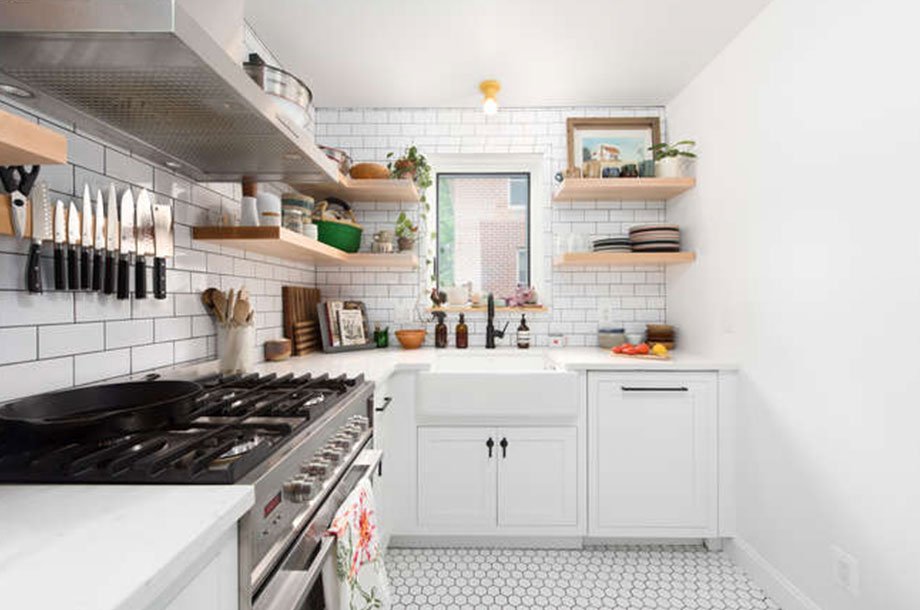 In one of our most recent remodels the client took inspiration from their childhood home. To open up the kitchen and maximize on space, we installed oak floating shelves in this all white kitchen. The farmhouse sink and custom cabinetry help to balance the subway tile on the wall and hexagonal tile flooring. I think this is a great example of what happens when the old meets new- one of the wonderful things about remodeling.

Get Your Home Assessed
It's difficult to describe what the "typical home" found in the Northern Virginia Marketplace looks like. According to Genevieve Concannon, an Associate Broker with Advon Group at TTR Sotheby's International Realty, there is a wide range of homes available but a distinct allure for up-to-date amenities.
"The fact is that there are so many different styles of homes, places, price-points and then some. In Arlington and many parts of Fairfax County, we do have a rather older housing stock, meaning that we have homes that were built pre-war, and we see may home buyers looking to buy homes that have more modern conveniences."
Many homes in Arlington date back as early as the mid-1800s. With older homes especially, it is common for more structural improvements to take the lead in terms of priority. Whether you wish to open up your floor plan or re-imagine your master bathroom, you must consider all of the effects it has on your homes internal structure. That is why the Home Assessment period is critical in any home remodeling project.
Working all around the D.C. Metro area for some time, I have grown fond of the many different styles of construction from decades past. I can normally tell a lot about a home before I even step inside simply because different age homes present different problems. The problems of a 1920s wood-frame home are going to be totally different from a 1940s brick and block house. They may have similarly small kitchens and cramped closets that need addressing but it's truly what's inside that counts.
Regardless of what century your home was built, it is integral that you have your home fully assessed before any plans are set. This will help to determine the scope of work and get insight to the other lasting effects remodeling can have. Proper inspection of the roof, foundation, siding, plumbing and electrical systems should be your top priority.

Build a Detailed Home Improvement Project Plan
It is at this step during the planning process where your dreams and the results of your home evaluation meet. Take time to evaluate the realistic possibilities of your home remodeling project. Begin by addressing your motivations for renovating. Take time to consider how long you plan to live in this home, too.
If you are renovating to sell, examine the local pool of homes up for sale. This can help to decide what home improvements are most worthwhile. For this, Mrs. Concannon has mentioned that "homebuyers are most attracted to conveniences such as walkability, accessibility to minimizing commutes, and creating simplification in their lives. Most of our clients create priorities in their searches for homes with flat, usable yards."
You can contact Mrs. Concannon and her team at the Advon Group website for more advice on selling your home for profit. She is one of the helpful partners I like to work with as part of our network of local experts.
When working on remodeling projects around Arlington County, I have often found there to be a great need to open cramped rooms prevalent in older homes. In a project we completed that was recently featured in Houzz, we built a custom linear style bunk bed to add plenty of storage without taking up playroom for a growing family.
In some instances, like this one, you might find that it is more cost-effective to maximize the space you have rather than jumping to tear down walls. You see, there's not always one solution to every problem but figuring out your goals will help align your plans.
My advice? Plan a remodeling project that addresses all of your current pain points and also addresses future needs.
Set a Remodeling Budget
Although nothing is set in stone, by now you should have a better idea of the work ahead. With this information you can begin to assess the expenses involved and start estimating a cost. With this number in mind, set a budget and stick to it. If you are planning to sell this should also include realtors fees and other closing costs. Be sure to also include room for unplanned expenses. This is absolutely vital because we all know a remodel, especially on older homes, can be a delicate and unpredictable task. This estimation will help you in searching for the right build team to help you with this project.
If you work with a professional project management team like Alair, we build in contingencies where we feel we'll need them throughout the process anyway. As an Alair Homes client you are granted full transparency in budget to see this among many other things. Still, my biggest piece of advice when it comes to budget is to not cut yourself too short. Better to overestimate a bit rather than feel unprepared when you're faced with pricing for different features.

Talk to your Insurance Agent
You also mustn't forget to contact your insurance agent. Discuss your upcoming plans to ensure your homeowners insurance covers the increase in your home's value. Depending on the home improvements you intend to make, your policy may need to be updated to protect your home in case of emergency.

Consult with Home Builders at Alair
This is where your plans really get set in motion! To remain a little impartial here, I encourage you to take time to meet with a few builders to collect and compare quotes. Finding the right team to help you achieve your dreams is essential. The right team will help you discover the most cost effective and worthwhile remodel.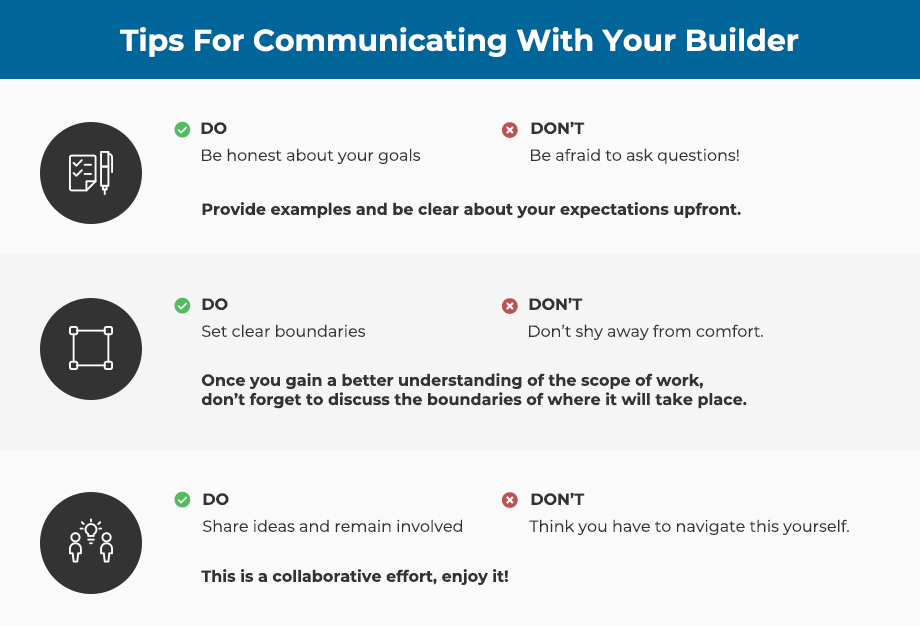 We are in a unique area being just a few miles from Maryland and the D.C. metropolitan area. At Alair Homes Arlington, we extend our services to these areas as well as the surrounding Fairfax County and the City of Alexandria. Each of these neighboring communities are equipped with their own rules and regulations that can affect the way your home is assessed and built upon. If you work with us, you will be assigned a Project Manager at the start of your project who can help ensure you have all the necessary permitting. They will offer insight into zoning restrictions or other possible setbacks you may have. We've been doing this for so long, I know many of the local building officials by name.

Build a Timeline
Once you've selected a builder to help with your remodeling project, you can begin to finalize your timeline. When it comes to timelines, I tend to tell my clients to try not to put too much pressure on yourself about meeting holiday deadlines. Completing your remodel before a large holiday is definitely exciting, but you have to understand that it can add stress to your plate early in the process. You needn't rush anything either. One client of mine, for example, didn't mind starting over the holidays when everything was set to begin. However, because this timeline wouldn't be saving him any time or money, he ultimately decided to postpone his start-date until after the holidays to avoid the added stress. I think this is a good lesson in how the perfect timeline may not always be the soonest.
Bottom line: Every remodel is different, just as everyone's schedule and priorities are different. Your Project Manager will help determine the best plan of action unique to you.

Select Materials
During the design phase of construction, you will work with your PM to select the build materials. At Alair, we actually leverage our reputation as nationally recognized renovation experts to score deals in trades with our local market partners so our clients receive the most premium build materials. One of my favorite things about the Alair system is how our clients are able to see the true cost of all materials and labor involved, and how we are paid in relation to that. This eliminates any uncertainty about how your budget is being spent.

Make Proper Living Arrangements
You have plans for your home in order, but don't overlook making plans for you and your family as well! Once the bulk of the planning has been taken care of you will have a better gauge of the necessity for a temporary home away from home. This additional cost will ensure your loved ones are safe, away from the dust and danger remodeling can bring with it. This is definitely something to be more mindful of for families with young children or small pets. If you have plans of rearranging your sleeping arrangements, take a week to test run the close quarters. For smaller projects, you may opt to live in the home while the remodel is taking place.
Be mindful of the timing here. The design and permitting process can sometimes be long and unpredictable. I have seen clients jump on the opportunity for a cheaper lease during construction but end up spending more because they've had to extend it longer than they originally thought. I wouldn't commit to a lease until you secure your permitting. In fact, we normally begin with exterior items that are weather dependent, so I wouldn't advise you to leave the property until the exterior work is complete. That way if rain slows down the work, you won't have to pay any additional money for unnecessary housing.

Prepare Your Home
In your final steps of preparing for your home renovation, be sure to pack and protect any of your personal belongings. We will seal off the area and place tarps around the area of construction but never underestimate the accumulation of dust. On that note, be conscious of where you move things for safe keeping. Even if you store clothes in a sealed off room, without heating and A/C or the proper airflow it can become too musty of an environment.
If you're unsure, double check with your Project Manager about what furniture you can leave in the house. If you have a fabric couch that you love, consider temporarily moving it out to avoid the risk of dust altogether. The wooden kitchen table, however, can be wrapped up and will be safe to store out of the way.

Final Thoughts
I often tell clients, planning will take twice as long as long as you think it will. Don't let that deter you! When you follow these steps you will be well on your way down a path towards a smooth remodel. If you'd like a little more advice, feel free to contact my team today to set up a consultation and discuss your options.