Clarifying Expectations and Defining the Critical Steps
There's nothing quite like renovating your home. Being able to address design elements or room layouts so that they match your exact needs and wants transforms the feeling of a house. And I honestly love being a part of the process. As a custom home builder and general contractor, I get to sit down with people and learn about their day-to-day lives and help them to define and plan renovations that are customized to them. This part of the project, the planning phase, is actually one of the single biggest influences on whether a project stays on budget and on schedule. Because of that, I want to address what you can expect, share timelines, and answer the most common questions to help you plan your renovation.
Research and Planning: How Long, How Much and Where to Start
Before going down that path and answering those important questions for you, you need to answer a few for yourself. The most important being, "what do I want to get out of my renovation?" Do you want a remodeled kitchen because you love to host and need more space? Are you considering renovating the exterior of your house because you want to increase curb appeal and value? Or maybe you're wanting to build an addition because you need more room to accommodate your growing family. The reason for your renovation is important because it dictates how we get to that end result, and ensures we do all the proper planning to estimate your timeline, costs, and schedule.
How Long: Realistic Renovation Timelines
Three months, one week, and two days. That's how long it's going to take. Or at least that's my wild guess since I don't have any details about your renovation. Jokes aside, there is no standard average amount of time for a renovation; so instead, I'll list out some of the most time-consuming elements of a project and give you an idea of how much time each can take. I will also share 2 recent projects and give you a breakdown of how long those took. Hopefully, armed with that information, you can formulate your own timeline estimate.
Believe it or not, the planning phase often has one of the longest time requirements. Why? At least for me, planning is when we go over all the minute details–we talk about finishes, fixtures, color palettes, hardware, and all that good stuff. And to be honest, you want to spend a good amount of time during this process because it's going to set up the rest of the project, from building start dates to budget to permitting. So the extra effort here pays off considerably. I would even go so far as to offer a word of caution if a GC wants to rush through planning. You don't want someone who is going to shoot from the hip when it comes to costs and schedules, and with a vague project plan that's what you're going to get. On average planning can take between 2-5 months, though project complexity will impact that significantly. I've had a simple bathroom renovation go through planning in about 3 weeks time and I've also had major renos that take 6+ months because of some very unique architecture and design.
After planning, the next time-intensive phase is the actual construction. This is unfortunately again very difficult to give any meaningful general schedule for. The specific details for your renovation will dictate construction timelines, as will the time of year and location. Another word of caution here, if the schedule sounds too good to be true then it probably is and the GC is either willing to tack on more time towards the end despite big promises up front, or will cut corners.
Finally, there's permitting. This can technically fall under planning, but I thought it was worth mentioning separately. I always plan on at least a week to get approvals after permits have been submitted. Any revisions or changes add on another week to that timeline as well. And don't forget about getting approval from your HOA if your home is part of one. Depending on the HOA management, this can take between 1-3 weeks but is generally a quick process.
Don't worry if all this sounds like a lot of work; most GC's, myself included, have a great process to take care of everything. Take a look at these two recent renovation projects of mine to help you get an idea of timeline ranges for completed work.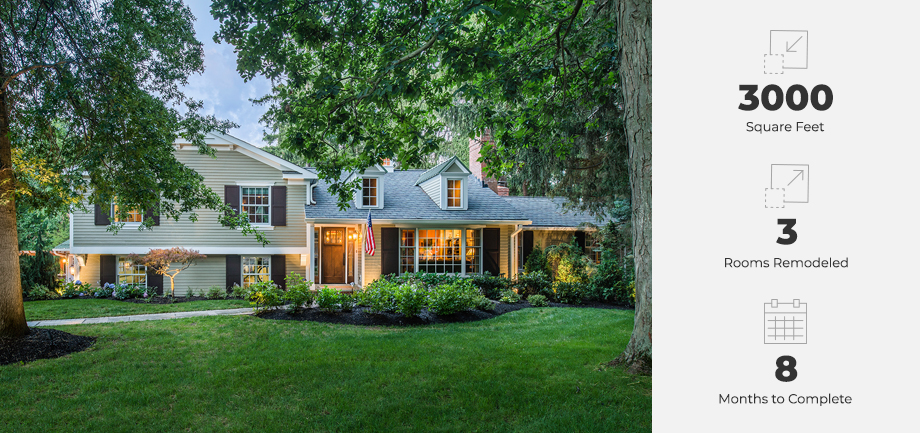 This renovation included an update and expansion of the master suite and garage. The home now features a two-door garage, with plenty of storage space for their vintage cars and work bench. The spacious master suite features an ensuite bathroom with sliding wood barn door, a walk-in closet, clear two-way fireplace, and sitting room.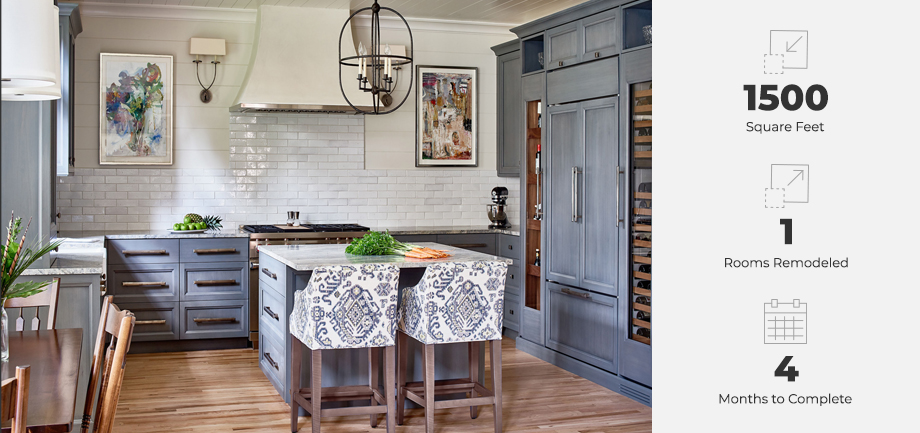 This kitchen received a modern farmhouse update with hardwood flooring, tile and shiplap backsplash, and custom cabinetry.
How Much: Determining a Renovation Cost and Staying on Budget
"How much will a renovation cost" is one of the most common questions I hear. I don't mind being asked, it's a critical detail for you and for me, but without preparing a thorough project plan I can only give you a very rough estimate. And in order to do so, I will still need to know some more specific details–are we moving any plumbing, adding or getting rid of walls, adding onto the footprint of the house? Often times, I can do a better job of estimating if I can walk through your project with you and ask a few questions. If you want an accurate estimate and have some time to spend answering some questions, contact me and we can work on the details together.
Since this is a rather one-sided conversation and I can't ask you about your project, I can't tell you what your renovation is going to cost. Something I tell people is, "how do you provide a cost on the unknown?" What I can do is give you some examples, explain the costs associated with those projects, and help you build a potential price range for yourself. One thing to note, I use a project management tool that all of my clients have access to that shows the costs of all the material, labor, and markup. Nothing is hidden. The client sees exactly what I see. I share this fact in hopes of establishing a level of trust with you, that even with my back of the napkin math I am going to do my honest best because if we move forward together, the planning process and project management software will show every detail–there's nowhere to hide additional costs or markup and I like having that level of transparency.
Where to Start: Getting the Designs and Features You Want
At what point should you start working with a general contractor on your renovation? Any GC worth their salts can take you on at any point in your project, whether you have some rough sketches drawn out by hand or detailed design renderings. That said, most GC's want you to start with them as early as possible, myself included. Reason being, I have a fantastic network of designers and architects and trades that I work with. I have a history with them, I trust their work and we have great rapport and communication already established, which makes everything run smoother. Also, starting at the beginning of the process gives me the opportunity to plan very thoroughly with you, which helps eliminate possible surprises. For example, I had a client come to me with these beautiful renderings to extend their kitchen and add a patio. They had spent a fair amount of their own time planning and sourcing, and their heart was set on this image. But as it was designed it wouldn't pass code, the layout had to be adjusted and a few elements changed, like the size of the kitchen island. This was a very unexpected setback that not only dampened their spirits, it pushed the start date back a few weeks. Working with a good GC from start to finish will help you avoid this situation.
When to Start: Is There a Perfect Time to Start a Renovation?
Actually, there isn't a perfect time to start. We can begin planning and submit permits any time of year. That said, there are seasons that don't lend to ideal conditions for working outside and seasons where our trades and I are usually busier. So here are some good times and some things to consider.
Spring is when you should ideally start construction on any significant exterior renovations or additions. This allows us to leverage the better weather and then gives us plenty of time to finish. Also, trades often aren't quite as busy early on in the season compared to the beginning and middle of summer so your GC can nail down a better schedule.
Summer is a great starting time for generally any type of renovation. However, if you will be living in your house while it's being renovated you need to consider a few potentially difficult scenarios. It may be quite a bit more difficult to be down a bathroom or without a fully operational kitchen if your kids are home from school and on summer vacation. Or maybe your renovation will require you to be without air conditioning for a bit during July or August. Hot, sunny weather is great for construction but it can definitely make things a bit uncomfortable in the right circumstances. These are all things that I ask and go over during planning to make sure everything goes as smoothly as possible.