Just because you don't have a tiny house doesn't mean you can't take advantage of tiny house space savers. Redo your apartment with some of the best design aspects of a tiny house, and you'll be saving space in no time.
Double Duty Sofa
Does your sofa serve more than one purpose? In a tiny house, a sofa needs to work as hard as possible. Sofas with built-in storage keep your comforters, blankets and throws out of the way. You can even store extra pillows for when guests sleep over in your storage couch.
Collapsible Desk
Your desk might be taking up a ton of space if your office is small. It might also be attracting a ton of clutter. In a tiny house, you can't keep a desk cluttered or out for too long. A desk that attaches to the wall and collapses will ensure you can fold it when you need the extra space.
Murphy Bed
A bed in your living room isn't the best way to impress your guests. Fold your bed away by getting a murphy bed. You'll have a full comfy bed to sleep on every night that you can easily fold away every morning.
Hidden Storage
In tiny houses storage is key. You need to pack as much as you can in every crack and crevice. Plenty of tiny houses make use of storage in fake walls and drawers.
Lofted Bed
Your bed won't interfere with your entertaining if it's high above your guests' heads. A simple loft can ensure your bed is out of sight and out of mind. It's also tons of fun. Imagine climbing up into a bunkbed or treehouse every night!
Storage and Creative Stairs
Stairs can get in the way in any tiny house or apartment. Make your stairs do all the heavy lifting by incorporating storage underneath them. If you don't have traditional stairs, consider using ladder or a spiral staircase to save space.
Ottoman Storage
Your feet need a little TLC, but your ottoman is totally wasting space. Feel better putting your feet up on top of an ottoman that does double duty. Carefully tuck unused books, magazines and newspapers out of sight.
Hidden Kitchen Surfaces
If you don't have space for sprawling kitchen counters, consider nesting them. Nesting kitchen counters can ensure your counters stay out of sight and save space. When you need them, simply pull the out from underneath each other.
Fold-Away Dining
Your dining table needs to be large enough to host your friends and mobile enough to give you space. Fold-away dining can be moved to a corner in a pinch and unfolded even faster.
Barrel Basin Tub
Your tub doesn't need to lack character just because it's small. You can fashion a barrel basin tub for showering or for soaking baths.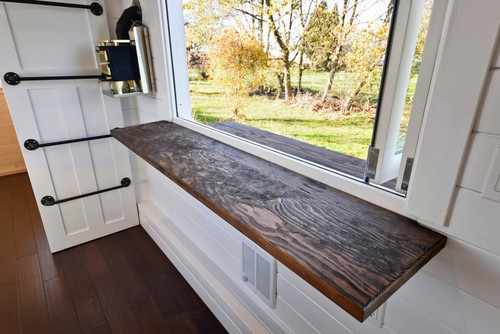 Hidden Bar
Don't leave your apartment for happy hour. Bring the party home. Just like your desk, your bar can be attached to the wall with hinges and folded down when not in use.
Japanese Soaking Tub
If the barrel basin is too primitive for you, consider a Japanese soaking tub. It will keep give you plenty of luxury without wasting space.
Transformable Furniture
Choose indoor/outdoor furniture to give your apartment more flexibility. No room for the dining room table? Move it outside!
Just because you don't own a tiny home doesn't mean you can't have fun. These tips and tricks can be incorporated in nearly any home.
Share: