Changing up the look of your home can give it a whole new feel, especially when you're transitioning season! If you are thinking about changing up your home this Winter, we're here to tell you what's trending in the following categories: Home building, home décor, and home renovations.
Home Building
Outside Features – The inside of your home doesn't have to be your only focus throughout the holidays… The outside has so much potential! Building an outside entertainment area can add an entirely new space to your home, really treating your guests!
The 'New Neutrals' – The trend for kitchens in the past has been to keep to mainly a white pallet. This winter, adding in black and stainless steel appliances with a wood mid-tone cabinetry is the perfect combinations of blacks and grays.
Smaller Homes – Smaller homes are becoming a big thing this season, stealing the spotlight from large, new builds. Architects feel they can connect indoor and outdoor spaces better this way by making the homes have a larger square footage – With more than what is just under the roof.
Home Décor
Bottle Displays – Most of us seem to have random bottles laying around from time to time. You can easily re-purpose these by adding in berries to decorate for the holidays! Take a small branch of those delicate bittersweet berries and add them to any clear or colorful bottle this season. You can go a step further by wrapping twine around the outside of the bottles for a rustic appearance!
Layered Greens – If you have a mantel you are hoping to decorate this season, this is the look for you! By adding in different greens and berries on top of each other, you can create a classic holiday look. Even introducing a bit of ribbon to the piece can give it a splash of bold color.
Holiday Card Displays – During the holidays, the cards you receive always start to pile up. Instead of stuffing them away in a drawer, put them on display! You can easily create (or buy) framed wire and hang the cards with clothespins.
Festive Banisters – If you are someone that has a banister in your home, you can decorate it a bit to show your holiday spirit this season. The easiest way to do this is by wrapping it in greens, ribbons, bells, ornaments, stockings, or any of your favorite holiday items!
Try Tassels – The easiest and most subtle way to decorate during the holidays is by using tassels. If you aren't into grandeur decorating, tassels can give an elegant and simple holiday touch to your home. Hang them on your door handles, desks, and chests of drawers!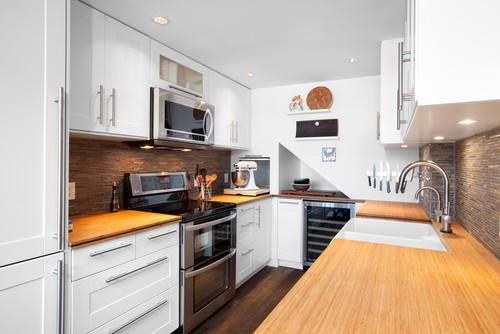 Home Renovations

The Entertainment Center – An emerging renovation trend, especially among Millennials, is adding an entertainment center to the home. If you are someone that loves to host and entertain guests, this would be the perfect space to renovate.

The Natural Look – Wood décor has been trending in recent years, but this year, there is a spotlight on faux wood décor. This affordable alternative is a great piece to add into your home renovations – from tiles to beams!

Reuse and Recycle – More and more homeowners are becoming increasingly environmentally conscious. Incorporating reused or recycled materials into your home renovations might be easier than you think… For example, try installing new floors using reclaimed wood, or even paneling a wall with it!

Modern Farmhouse – The farmhouse look has been around for years, but it has also evolved over time. Adding those antique-styled farm house sinks to your kitchen or barn doors to a room can easily add that farmhouse atmosphere.

Relaxing Retreats – Looking for a cozy feel this winter, away from electronics? Adding a new bedroom retreat complete with white bedding, canopies, and lace curtains hung from faux wooden beams might be the right renovation for you! This is the perfect place to unplug and read a nice book under the covers this season.
Share: