"Hi, my name is Danny and this is my wife Jessica. I'm an artist and Jessica is a fortune teller. I would like to live on the lake so that I can collect the flotsam I use in my art pieces and Jessica needs a clear view of the aura borealis; our budget is $1MM." Somehow, this is the backstory for every couple on all the popular renovation shows on TV lately. Ok…that's definitely a bit of hyperbole but it's not completely off the mark. The people highlighted on these shows generally have large budgets and/or 'luck into' finding the perfect fixer-upper at well below market value. And while the show is entertaining to watch, it inevitably sets unrealistic expectations for viewers.
What you see is not actually what you get–clarifying expectations
Over the 30 years we have been working in Hudson, we have come across three recurring misconceptions that seem to be the result of all these TV shows. They are: realistic project timelines or schedules, the true cost of a renovation, and the value of a great interior designer. There are others of course, and if you've come across any from friends or family or neighbors we would love to hear about them, but these are the most common ones we see.
Realistic Renovation Timelines
The renovations you see on TV that happen over a week or even just a few days are the result of extensive editing and 24-hour workdays that don't generally exist outside of Hollywood. They also don't cover the permitting process, which can take several weeks to get approvals.
When it comes to timelines and schedules, keep this idea in mind; there are three attributes to every project: good, fast, and cheap. And unfortunately, you can only ever choose two. So if you pick fast + cheap, then you're sacrificing quality. On the other hand, a good + cheap project is going to take a long, long time to complete. And finally, good + fast is going to cost you a premium.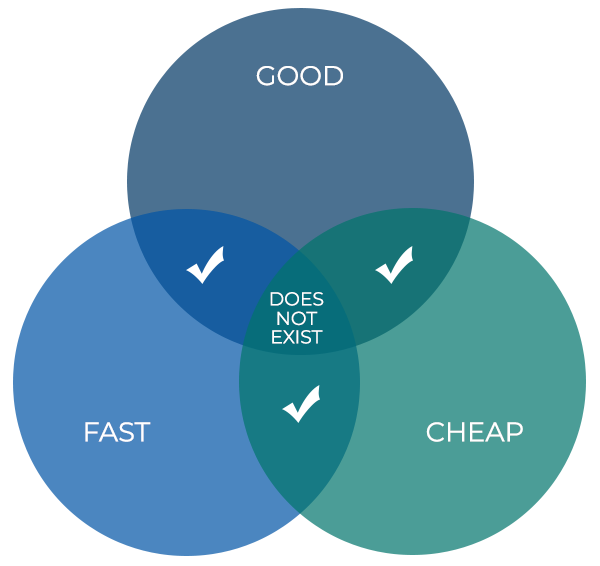 Silly sayings aside, a realistic timeline for your renovation is completely dependent on the details. You should expect to spend at least a few weeks on the planning phase with your GC. For my team, we might spend 1-4 months planning out all the details of a major renovation–this includes working with the client to pick materials, fixtures, colors, appliances…really anything and everything that goes into the project. With a thorough plan in hand, we then also have an accurate budget, permitting all taken care of, and a solid construction schedule.
Since I can't estimate your timeline in this post, I'll share a few projects with you and tell you how long those took. And hopefully, from that you can formulate some rough ideas for yourself as you begin to plan at a high level–of course if you are past that point and want to talk through your project, drop me a line via our contact form.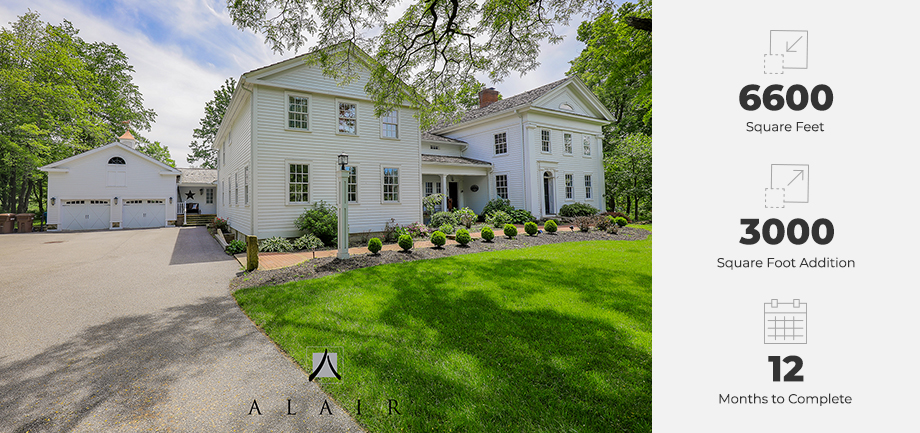 This 200-year-old home, originally built in another county, had been disassembled, transported, and then rebuilt on a new foundation a few decades ago. We were tasked with a 3,000 sqft addition and renovation of the existing spaces, all while maintaining the historical elements.
The clients grew up in older style homes and wanted to emulate those character details in their current residence, with hickory floors, wide moldings and trim, and custom doors. We also enclosed their screen porch for year-round viewing access of Lake Erie.
The True Cost of a Renovation
The actual cost to renovate your home to match what you see on TV or online is one of the biggest misconceptions. That stainless steel side-by-side fridge and freezer made by Viking costs $10,000. And that farmhouse sink from Kohler starts at $900. All those name brand, aesthetically pleasing appliances and hard surfaces come with a premium price tag. And that isn't necessarily a problem because they often have better build quality and longevity, the issue is that the TV show renovation gets these items at a steep discount or even free. So the total project cost is artificially low. This is also true for the cost of labor from the skilled trades that work on TV renovations. 
Before I talk about any kind of averages or range of numbers for costs I want to remind you that every renovation project is different, and each comes with their own unique requirements. So an average cost per square foot is not going to be accurate enough for anything other than back of the napkin math. I would only use these kind of numbers for high-level research or brainstorming, and your next step should be to start a conversation with a GC and work on defining all the unknown elements with them. Personally, I go to great lengths to define all the variables with a design & estimate plan before making clients commit to a project cost. Now that I've thoroughly flogged that disclaimer we can continue on.
To give you a more realistic idea of what a home renovation costs in Hudson, as opposed to what you see on TV, consider these averages. For a modest renovation, project prices range between $75-$200 per square foot. While a high-end renovation (think top tier finishes) can run from $225-$525+ per square foot. If there are engineering requirements involved and plumbing or electrical or foundation needs to move, you will definitely be towards that higher end. And what you see on TV is typically in that top range.
The Value of Using an Interior Designer
Oddly enough, this is one area where most TV shows try to be a bit more transparent by telling viewers that the homes are staged and that the furniture and decor are just for the episode. But this is still an easy detail to overlook.
The reason those big reveals on the shows are so impactful is because they use interior designers to help bring everything together by staging each room and drawing attention to all the new features.
To be honest, that final day of a renovation where you see the end product, that is one of the most important days of the whole project. The way the house or kitchen or addition feels and looks is a reflection of who I am as a GC and of the skilled tradesmen who put in work. It also represents the client and says something about them to everyone who visits. So it's critical to put time, effort, and resources into the design elements and styling.
I bring in an interior designer for every project that I work on and have them available to answer questions, give guidance, and help create the look and feel that clients want. This is actually one major differentiator between me and other GC's. I spend extra time with clients to get to know them and to match them with a specific designer. Why? Because designers are like artists, they have their own themes and styles, and they have their own level of finishes that they deal with. Some have that 'down to earth' Pottery Barn style. Others have a high-end, Ritz Carlton style. And every home has its own unique theme based on what the owners like and dislike; so I connect clients with the most compatible designer. 
Getting facetime with the hosts
This is the last major issue on my list, and easily as bad as the cost or time expectations these shows set. What you see on TV is this very hands-on, collaborative process where the hosts appear to spend lots of time with the guests. They drive around and search for listings or visit fab shops to pick out finishes. However, in this instance what is being shown isn't truthful to what the guests actually experienced. And in reality, what you should expect really is that level of collaboration.
Meeting face-to-face with your GC or project manager as often as is needed is so important to the overall success of a project because it sets up construction. It's during these interactions that I learn about you and your needs. It's when I match you with a designer and when you make all your selections for fixtures and finishes. If you do planning properly, construction will run much smoother, there should be few if any hiccups and it will help eliminate the majority of potential change orders. In order to plan out a project to this extent, I am spending quite a bit of my time collaborating with clients to come up with a permit-ready set of drawings for a design that they love where everything has been sourced, selected, and approved by the client at a budget that they feel comfortable and happy with.
Why You Should Trust Us
I don't care what kind of relationship you are involved in, it's all about trust. If you don't know me at all but you know what my incentives are you can get a pretty good idea for why you should trust me or why you should not. With the way that we do things at Alair with our Client Control platform and our sincere focus on the client experience, my incentives are 100% transparent. This platform is a tool that all of our clients have access to that shows the costs of all the material, labor, and markup. Nothing is hidden. As a client, you see exactly what I see.
By sharing the builder quotes and sharing the invoices, we can have that very honest and open discussion about finding where is the best value for you. If we weren't showing all those details–our markup and management time and actual costs–we would be incentivized not to do the right thing. But there is no benefit to me to try and cut corners after the fact to drive up higher margins because I've already shown my margins.
Everything we do is centered on protecting the client and providing them the best value.
Share: