Northeastern Ohio is home to one of the country's fastest growing economic hubs, a town with over 900 businesses located within its limits and the physical, educational and workforce resources to pull in far more over the next several years. That town is Hudson, Ohio, and its prime location between Akron and Cleveland has set it up to take advantage of the plentiful economic advantages that it has been handed by geography.
An Eye Toward Business Investment
The local Hudson government has an array of financial, tax and investment incentives to promote business engagement in the area. Local business assistance policies include enterprise zones and foreign trade zones, both of which offer substantial advantages and tax abatements to businesses that meet certain requirements in northeast Ohio. The job creation tax grant program also offers incentives to businesses that establish and expand operations in Hudson, while the Community Reinvestment Act grants exemptions for up to 15 years on commercial construction and building expansion. Local government actors in Hudson are serious about increasing business investment in the region, and the proof is in the pudding.
Educated and Skilled Workforce
Nearly half of northeast Ohio's two million residents are between 20 and 54 years old, and over two-thirds of Hudson's working age residents have at least four years of college under their belts. This large educated workforce is the key to economic prosperity in the region, particularly in rapidly growing fields like healthcare technology and alternative energy.
Hudson is also surrounded by plentiful educational resources, so companies who wish to relocate to Hudson will always have somewhere to educate their workers or choose from university or vocational school graduates in the surrounding region. Workforce Solutions and BioOhio are both major employee training businesses in the region that provide educational tools, courses and professional development to Hudson workers.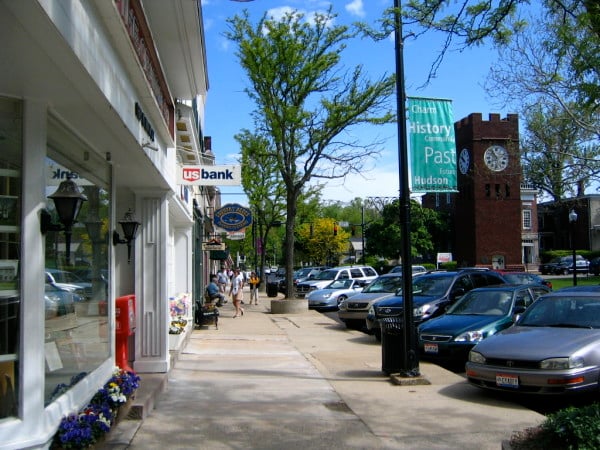 Headache-Free Planning and Zoning
Hudson strives to make commercial and residential building permit acquisition as simple as possible so that businesses and workers have one less thing to think about when they move into town. The town's professional economic development team helps businesses through every step of the process, and changes to the Land Development Code have made building expansion and repositioning much easier.
Privately owned general contracting companies like Alair Homes are proud to offer residential and commercial service quotes to residents of Hudson. Alair Homes has extensive experience working with people in the Hudson government, and an intimate understanding of how to circumvent the miles of red tape that often accompany construction efforts. Working with veteran contractors can help hasten the approval process and enhance collaboration between your business and the local government.
Outstanding Quality of Life
Hudson is undoubtedly an excellent place to start and grow a business, but beyond that it is a perfect place to start and raise a family. Hudson's food and dining district is unparalleled in northern Ohio, and its nationally ranked educational system and historic neighborhoods and parks are sure to thrill parents everywhere. Do yourself a favor and research this little town between Akron and Cleveland — it just may be the place you choose to raise your family or start your dream business.