Welcome back and thanks for continuing to tune in to the Alair Homes, Everything You Should Know Series. The place where Alair Homes Hickory expert, Cody Byrd, shares his advice and tips for designing and building a home for aging in place.
This month we are focusing on aging in place adaptations for your kitchen remodel. Cody is providing us with expert insight on remodeling your kitchen to fit your aging in place needs.
The kitchen is the hub of your home. That is why it is so important to think about how it can be adapted to serve you better as you age in place. A few design modifications and adaptations can ensure that your kitchen remains a place where you can prep and enjoy meals safely as you grow older.
"As a homeowner and a love of cooking myself, when preparing meals and cleanup it is easy to devote 2-4 hours per day in the kitchen. This is doubled and tripled for entertaining for events and holidays.  This is important to factor into home design and planning to better equip our kitchen for the lifestyle we wish to live.  Lots of dangerous activities happen in the kitchen from cutting with sharp edges to lifting and twisting items so being prepared to make tasks easier and safer for the entire family are important." – Cody Byrd
Cody recommends taking the tips below into consideration.
Update Lighting
Insufficient or outdated lighting can be dangerous, especially in your kitchen. It is important to have good quality light evenly throughout the home. Be sure to increase your lighting in areas that lack natural light, like staircases and hallways.
Cody recommends these lighting and renovation upgrades that will help to pour bright, high-quality light into the home. Sometimes a small light can go a long way!
Budget-friendly task lighting that comes in multiple color hues: Disk Lighting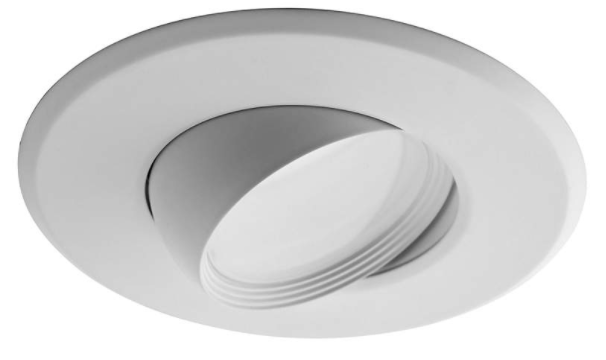 Natural light is also a great option for your home. It can help create a warm welcoming atmosphere and pairs well with other light upgrades. You should consider incorporating larger windows and doors as well as bay windows or skylights in your renovation design.  Sky tubes are very popular now too!

Countertops
When renovating your kitchen for aging in place, counter height is one of the most important decisions you will need to make. Cody suggests starting this process by measuring your comfort range when you are cooking in your kitchen and making a list of what you can or cannot reach without assistance. You will also want to consider the following in your renovation design:
-A slide-out work surface. This will give you additional counter space when needed, but it can be easily tucked away when not in use.
-Making part of the counter section at table height (30"-32") allows you to sit down while preparing meals when needed.
-Removing corners – consider rounded edges when choosing your countertop style. 
Budget-friendly Slide-out Work Surface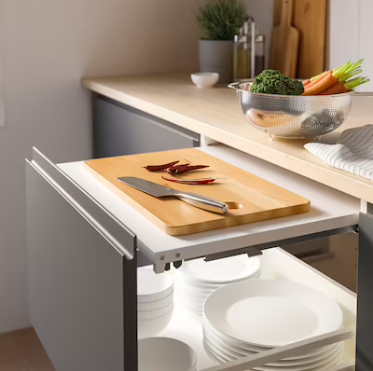 Custom Slide-out Work Surface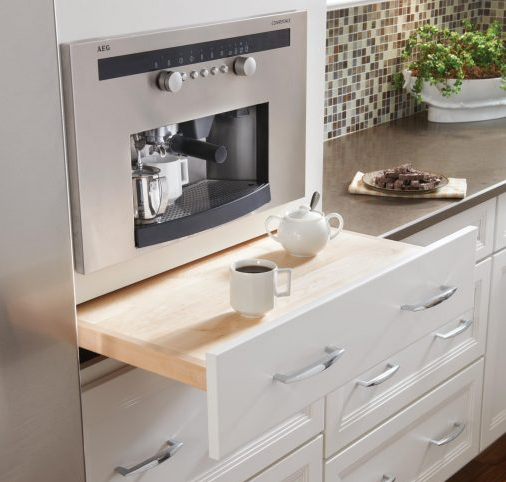 Fixtures and Cabinets
Kitchen Fixtures
Choose a single-lever or sensor-based kitchen faucet with sprayer like the Kohler Simplice Two-Hole Kitchen Sink Faucet with Pull-Down Swing Spout, DockNetik Magnetic Docking System and a 3-Function Sprayhead Featuring Sweep Spray.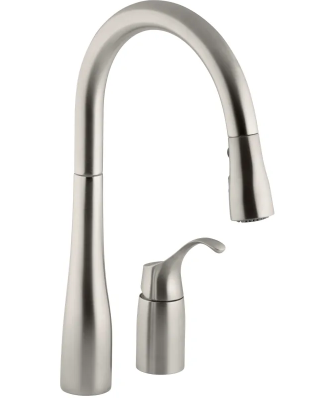 Kitchen Counter and Cabinets
Cody recommends cabinets built with rollout or adjustable shelving. Magnetic cabinets with touch and release mechanisms provide convenient pop open doors and drawers for easy accessibility. Larger D-shaped or loop cabinet and drawer pulls are also a great hardware option to allow for easier accessibility when opening drawers and doors.
Other design tips to consider for cabinetry are:
-Glass-front cabinet doors allow for visibility.
-Upper wall cabinets should be three inches lower than conventional height to provide easy access.
-Pull-out and pull-down storage options in the cabinetry
-Possible higher toe kick areas for use with a wheelchair
Example of pulldown storage for upper cabinets- Rev-a-Shelf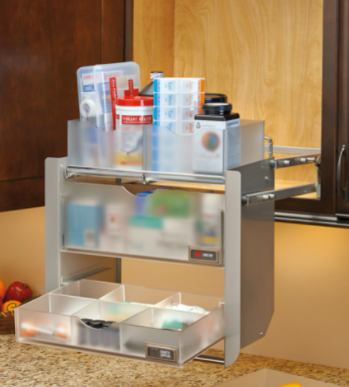 Incorporating these elements into your kitchen remodel or new custom home will ensure that your home will continue to accommodate your needs now and in the future. Cody and the rest of the Alair Homes Hickory team are all certified aging in place specialists. Click here to give them a call today about your aging in place design/build needs.
Stay tuned next month for Cody's expert advice and tips on remodeling your home for first-floor living.