A couple living in Lake Hickory, NC was looking to freshen up and redesign their kitchen layout to make it more functional for their lifestyle. As recent empty-nesters, the homeowners desired a smaller breakfast bar and a kitchen with effortless traffic flow. The Alair Homes Hickory team was able to design and transform their outdated kitchen into a stylish and spacious space. 
A few years ago, the homeowners decided to build a new porch and deck on the back of their house in Hickory, NC. The couple wanted to be able to relax and enjoy their beautiful backyard. After building the porch, they quickly discovered an obstacle. When entering from the back porch the breakfast bar created a difficult path to the inside of the kitchen and garage door.


To resolve the inconvenient pathway leading to the kitchen, the breakfast bar was moved to the opposite wall and downsized to create more space in the kitchen aisle. In the original kitchen layout, the placement of the old appliances made it awkward for cooking meals. The kitchen consisted of only one large fluorescent light which provided inadequate lighting when prepping and cooking meals. In the newly renovated kitchen, new stainless steel appliances were installed and relocated to create a highly functional work triangle. The refrigerator is counter depth and therefore offers more aisle space in the kitchen. The old popcorn ceiling was transformed into a new smooth drywall ceiling that made it possible to install recessed lights providing the perfect amount of light. The couple selected lovely industrial-style pendant light fixtures in an oil-rubbed bronze finish that coordinates with the cabinet hardware, doorknobs, and kitchen faucet.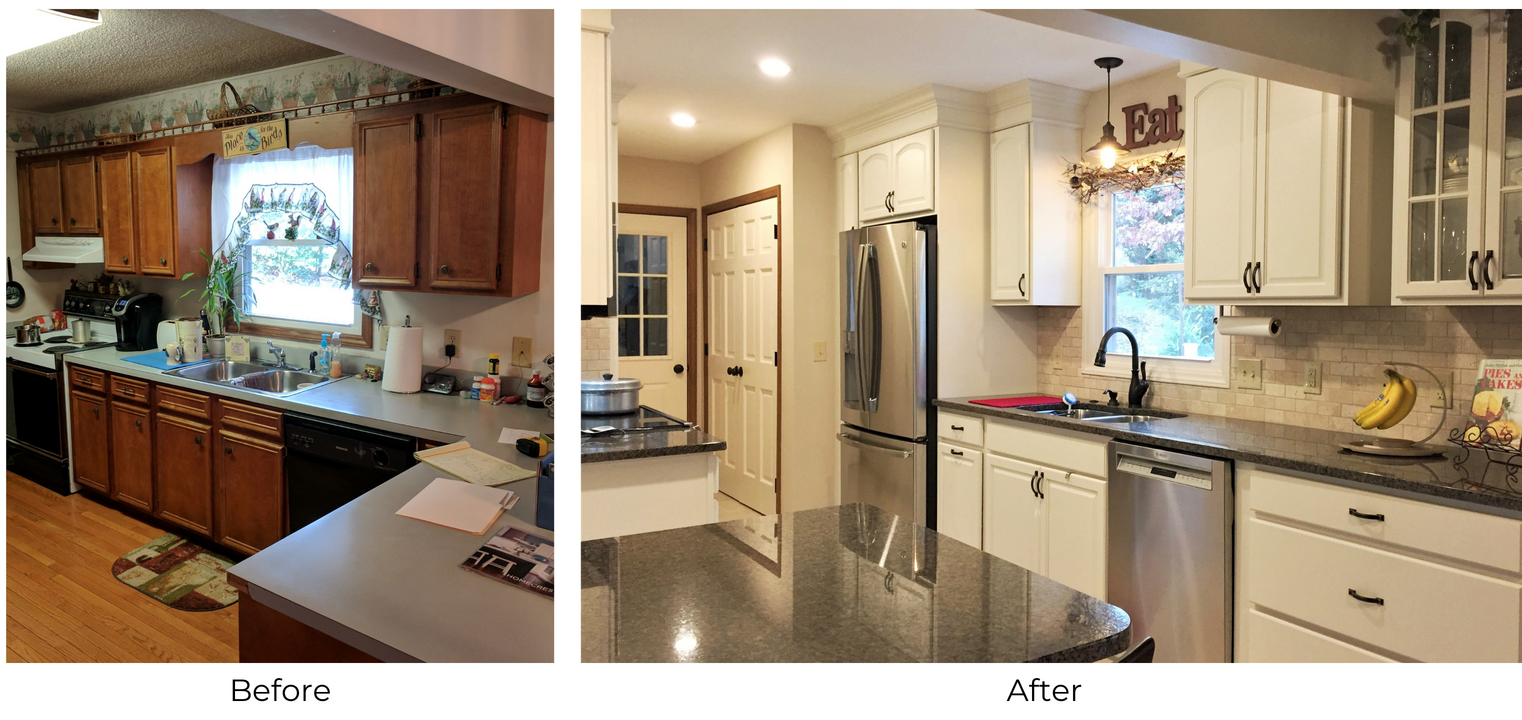 The aesthetic of the new kitchen is clean and stylish. Heartland maple cabinets extend a warm welcome with a French Vanilla finish. The cabinets extend to the ceiling providing more storage space than the original cabinets. The upper cabinet doors are arch-topped for an elegant appearance, while glass cabinet doors display beautiful dinnerware.
The Tropic Brown granite countertops have a streamlined pencil-round edge and create a beautiful contrast against the white cabinets. Tumbled marble subway mosaic tile forms the highly textured backsplash. A handy magnetic docking spray head adds to the luxury of the pull down kitchen faucet in Venetian Bronze.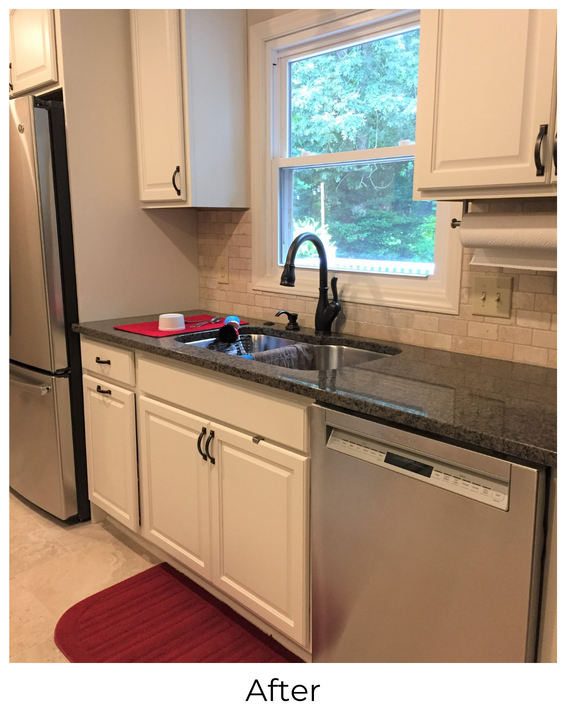 "We found out about Alair Homes Hickory when our paths crossed through a business connection. The company did an excellent job on our full kitchen remodeling project and we couldn't be happier. The staff was professional, yet super friendly and their work was phenomenal! We love our new kitchen and their team made the whole thing a wonderful experience. We were not disappointed in any way. We would highly recommend Alair Homes Hickory to friends and family." -The Homeowners
The Alair Homes Hickory team was able to design and renovate this North Carolina couple's outdated kitchen with an inconvenient floor plan into a bright and spacious kitchen with easy and efficient traffic flow.
Share: