A married couple searching for a home to enjoy their retirement, found their forever home in Lenoir, NC back in 2017. After living in their home for almost a year, they decided to look into remodeling sections of their home to make them more functional for their lifestyle. As avid chefs, a space to get creative and spend time refining their cooking skills was essential. The home originally built back in the 1970's was starting to show signs of age since no major renovations had ever been completed. The entire renovation consisted of opening up the kitchen, the living room, and the sunroom. 
Inspired by transitional styles, the couple wanted a kitchen with plenty of room for cooking and entertaining. An open concept design for the kitchen and living area was designed with more workspace, storage, better lighting and upgraded appliances.

Prior to the renovation, the kitchen had an inconvenient traffic pattern and a tight closed off floor plan which made it difficult for the couple to navigate through. 
"Even though there was a lot of space to work with, I wanted to make sure we made the most out of the entire space. Since our clients were chefs, I began researching kitchen work triangles and designed a kitchen that would work best for our client's needs." -Rodrigo Hernandez, Designer, Alair Homes Hickory


By enlarging the space and adding a custom kitchen island, the newly renovated kitchen includes ample countertop space, extra cabinetry storage, and plenty of workspace to prep and cook meals. The white quartz countertops and backsplash paired with the gray perimeter cabinets and black onyx kitchen island create a transitional aesthetic. Polished nickel hardware were used to complete this clean and sleek design. New luxury appliances were installed as well as a walk-in pantry with a sliding barn door.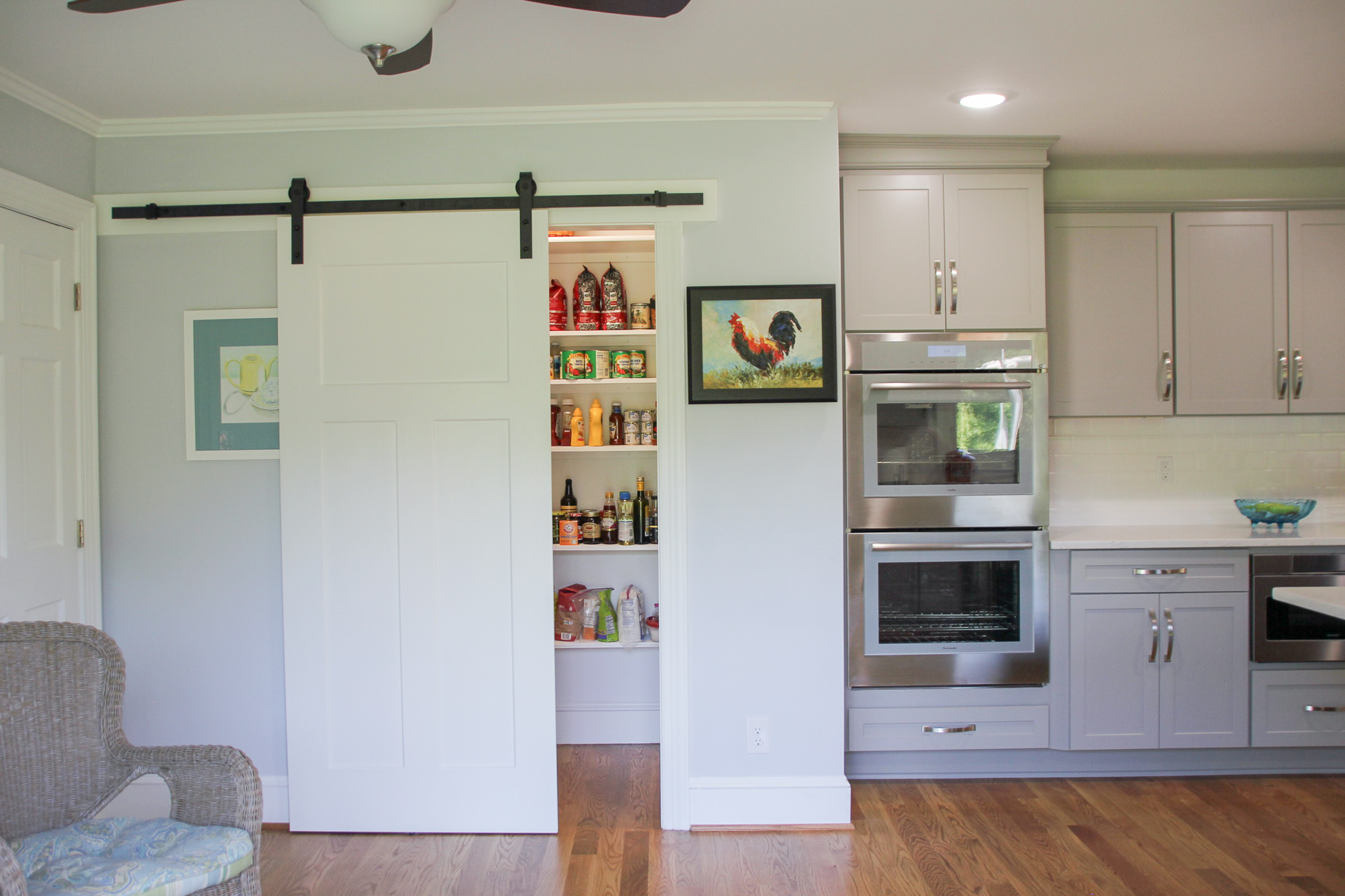 Lighting the area was done through the use of installing new, energy-efficient windows and converting another set of windows into a patio door. The new electrical fixtures include LED disk lights throughout, under cabinet lighting, and pendants provide the perfect amount of light.
"To achieve an open floor concept, we removed a load bearing wall from their home which opened up their great room and kitchen. We added a wood burning stove in the great room allowing for the perfect nook to enjoy morning coffee with views from the backyard. We also added a new patio door in the kitchen which brings in so much light and beautiful views throughout the day." -Rodrigo Hernandez, Designer, Alair Homes Hickory


The transitional style inspired home in Caldwell County was thoughtfully designed and renovated to meet the homeowner's goals of an open floor concept with plenty of space for cooking and entertaining.
Share: