Building your dream home should be an enjoyable experience. This is why the Alair Homes Clemson team recommends getting your design/build team chosen and involved in the process as early as possible.   
Many homeowners believe the due diligence process of choosing your design/build team starts after you have worked with a realtor to choose your dream location and have already closed on the lot. Unfortunately, if you waited until after the closing to get the expert insight of a local builder, you could end up with a parcel of land that requires a large chunk of your budget to make the lot suitable for building. 
The Alair Homes Clemson team has been building in the upstate of South Carolina and the mountains of North Carolina for over two decades. This means we are often brought in early in the process with local realtors to determine the best lot for a buyer's "all in" budget.  
Our area, while beautiful, does present some building challenges. Especially, if you want the lake to be right outside your doorstep. We often walk steep sloped lots with our homeowners as these lots tend to come with some building challenges.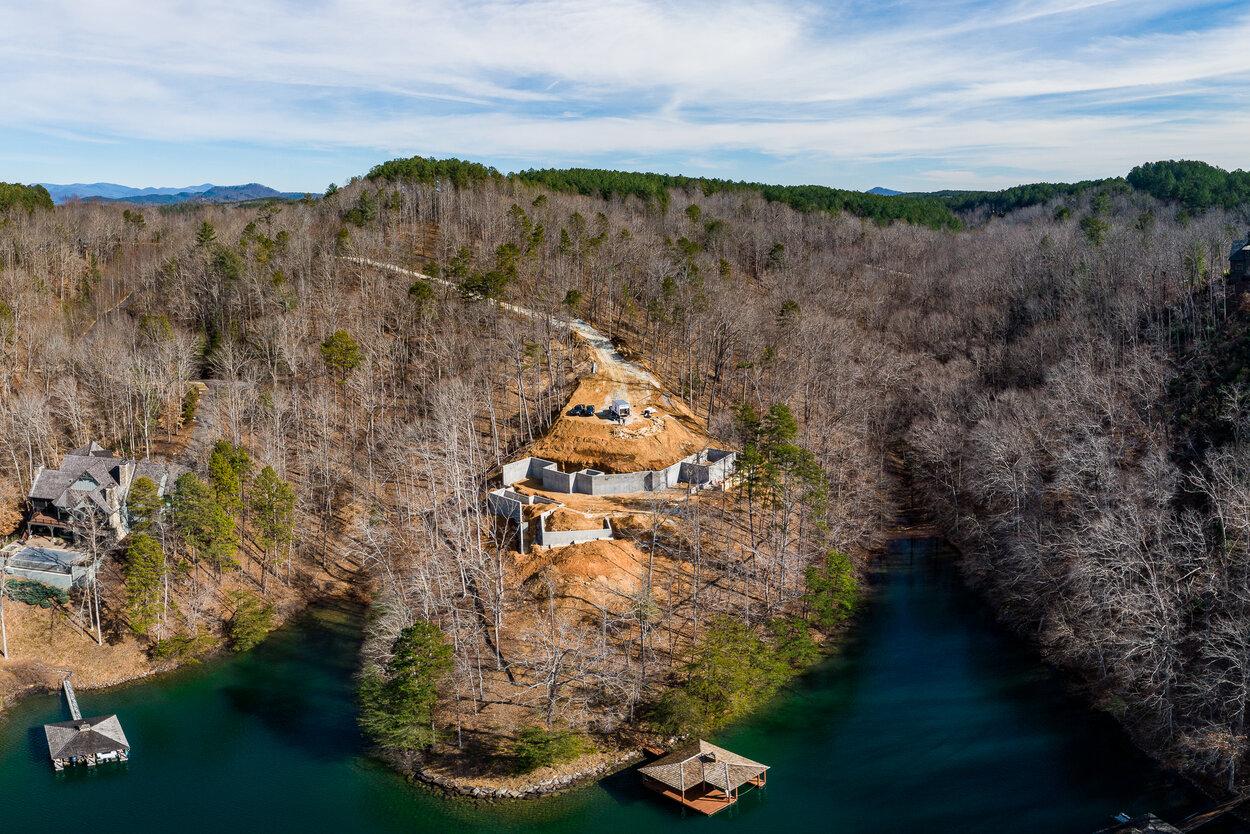 Here are a few things to consider when you are presented with your dream location on a steep sloped lot.  
First, is there an existing topo of the property? While we can pull up a basic topo of your lot from the local GIS, we recommend requesting a formal one from the seller. This allows us to see what the actual grade is for the lot and if there is a location that is suitable for a home to be placed on the lot.   
Second, if the lot is on the lake, then we want to take into consideration access down to the water from the home.  Ideally, we like to provide lake access from your outdoor living spaces, as well as, down to the lake from the front of your home. Your dream lot most likely has a stunning view that we want to take advantage of as well. So, again, the topo is important so we can set your home in a location that allows for you to take advantage of the piece of property you have chosen for your custom dream home.  
The final thing we will speak with you about is the steeper the lot the more challenging it can be to build a home on.  While it's not impossible, it does come with increased costs.  This is something we always want to discuss with our homeowners.  Many times, they may have another lot that they are interested in as well.  We often help determine and weigh out the location of the home and cost to build on each one. You will also want to work with your design build team to make sure the lot allows for both the septic tank as well as the repair space required. If the lot does not have enough space for the custom home you are looking to build, as well as, the septic field required for a building permit, then it is clearly not the property you are looking for. 

If you are relocating to the area, tackling building on a steep sloped lot can seem a bit overwhelming. This is why we recommend selecting your design build team early in the process so that they can lend expert advice and insight before you purchase the lot.   
The Alair Homes Clemson team is always happy to help guide you through the process. Contact us today to get started building your custom home.