Alair Homes 2022 Summer Concert Series
Mark your calendars for the 2022 Alair Homes Clemson Summer Concert Series! Hosted at The Green at Patrick Square, this year's concert series will benefit Helping Hands of Clemson Children's Home. 
Their mission is to provide children in the upstate with a safe place to live as well as food, clothing, and access to education and health care. To learn more about Helping Hands, click here. To support Helping Hand's mission, you can donate here.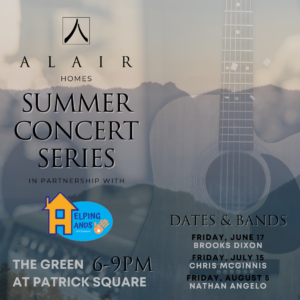 Concert Dates & Bands:
June 17- Brooks Dixon
July 15- Chris McGinnis
August 5- Nathan Angelo
From 6-9PM, bring your family and friends to enjoy some great live music in support of the upstate community!