The Modern Farmhouse style is trending in a big way by combining rustic elements with a contemporary twist. This popular style has flooded Pinterest boards and Instagram feeds for the past year, one can hardly miss this style trend's influential impact. With Fixer Upper's Chip and Joanna Gaines pushing this look to a whole new level, the modern farmhouse look is blending some of the most popular trends from the past few years. This perfect combination consists of rustic features, industrial touches, and Mid-Century modern accents. We'll be sharing ways to incorporate this modern farmhouse style inside your home but first, let's breakdown what the modern farmhouse style really means. 
Farmhouse Style Elements
Generally, classic farmhouse design takes an actual barn or farmhouse and introduces it to cozy and charming decor with sturdy, practical furnishings. Farmhouses usually include natural wood accents, wall wood paneling, wide plank floors, and exposed ceiling beams. 
How Modern Farmhouse Is Different 
It may seem like farmhouse and modern styles are completely different, one is comfortable and weathered while the other is clean-cut and sleek. However, when paired together they create a beautiful blend of welcoming and functional. Take a look at one of our recent builds for a few ways to incorporate this country chic style inside your home. 
More Texture
Texture plays a vital role in the farmhouse aesthetic. Using a variety of textures in a space provides depth and dimension. With fuzzy throw pillows and a soft rug, this space boasts personality and warmth. The plush leather sofa invites you to sit down. By adding touches of soft and comfortable elements, this space evokes feelings of home. 

Use Natural Materials
Natural elements are the foundation of farmhouse design so get creative with mixing organic materials with sleek, modern decor. By incorporating rattan chairs, hardwood floors, custom cedar beams, a quartzite kitchen island, and a brick fireplace, these spaces invite the outdoors inside. 
"Our favorite rooms in the house are the living room and kitchen. The giant brick fireplace and the massive center island in the kitchen are the pulses of our home. A big open kitchen and living room that created a statement were essential."  -The Homeowners

Play With Contrast
Typically in modern design, simple neutral color schemes are used to brighten and open up a space. Juxtaposing neutral colors with patterns and textures is a great way to create depth and dimension. The black and white tile and quartz countertop used in this bathroom gives this space a polished and crisp look. The natural light fixture, woven wood shade, and wood accents provide great contrast against the boldness of the black and white. 
"The master bath was one of my favorite spaces to design with the homeowners. They wanted to keep the light and open feel of the rest of the house, but also wanted the space to stand out. This led them to choose a bold countertop, plumbing fixtures that reminded them of airplanes as he is a pilot, and an octagon tile for the floor. The end result was a personal and unique space." -Katherine Hazlewood, Alair Homes Clemson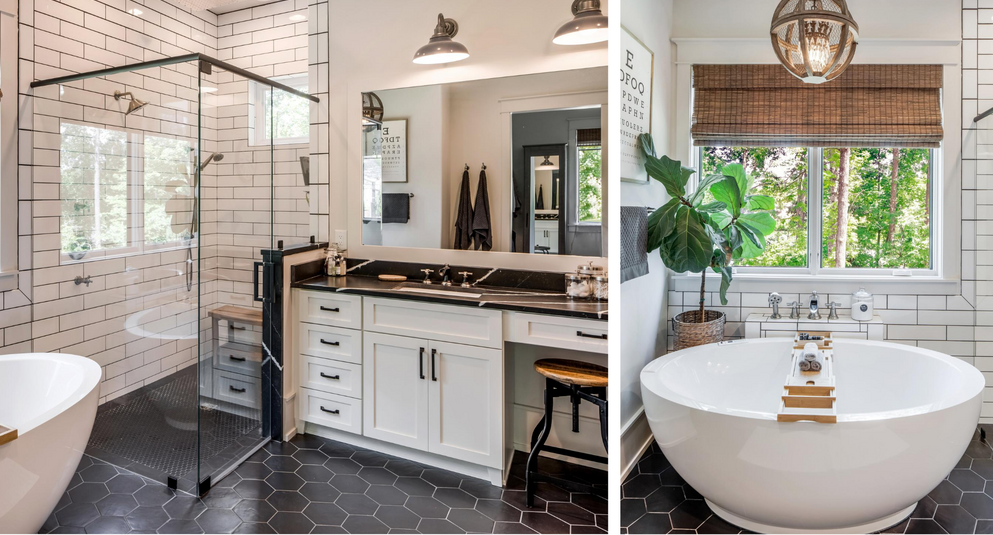 Be Practical
Furniture and accessories should be practical and comfortable in modern farmhouse design. It's all about a vibrant mix of organic materials and clean-cut lines that are functional and create visual interest within the space. The neutral colored furniture and throw pillows add an inviting touch within the warm vaulted beam ceiling. Making use of the warm neutrals, the deck is complete with stained wood elements with soft, neutral furniture and a textured rug; the outdoor deck space gives off a cozy feel to enjoy a lazy summer afternoon.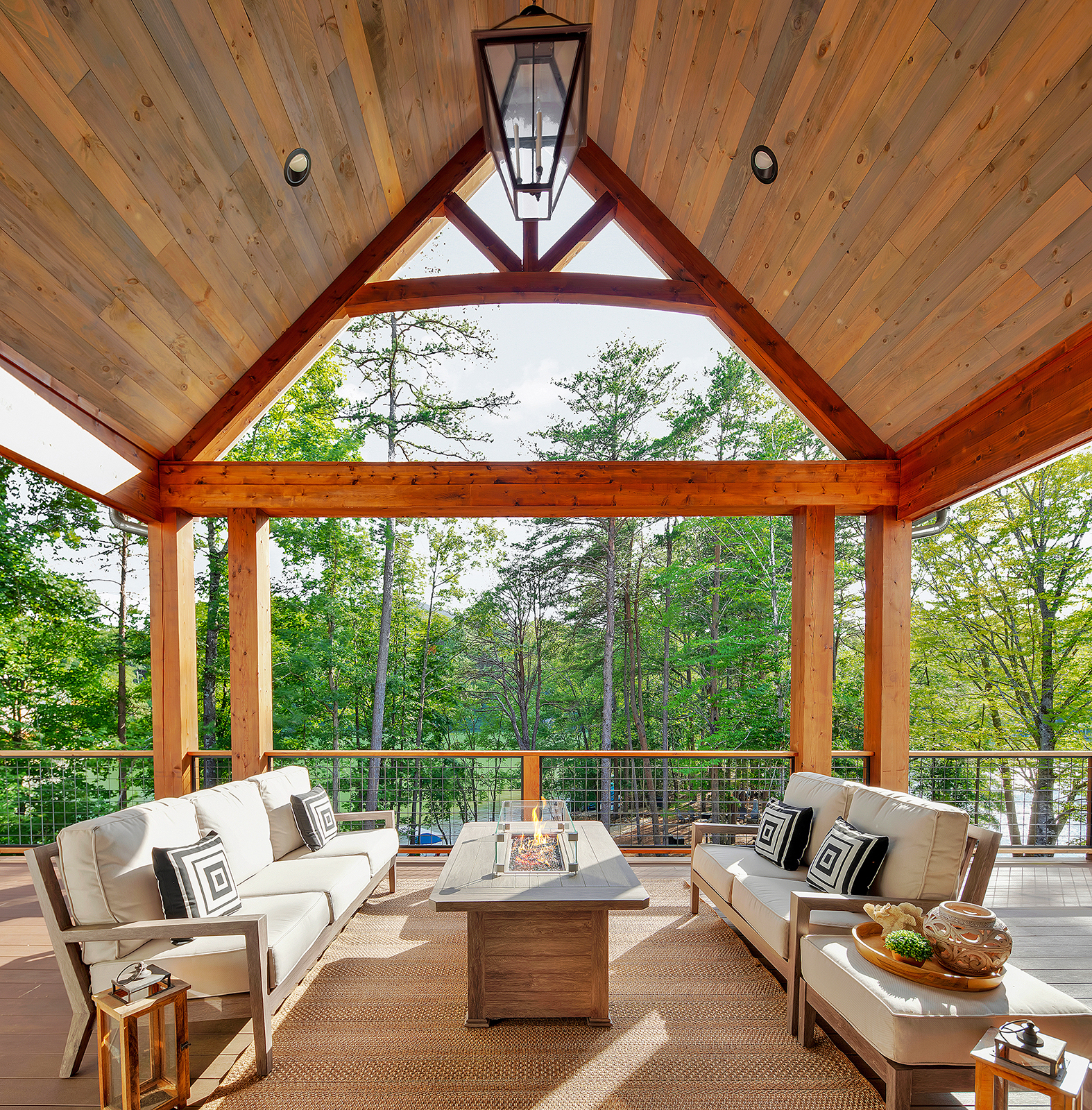 No matter what type of home you have, modern farmhouse details will easily blend in. These distinct styles allow you to be creative without any clear cut rules to follow, giving you the freedom to stretch the boundaries. Giving your home this blend of welcoming and relaxed touches with a functional, contemporary feel will create the character and charm you've been looking for.