With the interest in wood countertops on the rise, we believe this is due to the warmth, character, and coziness they add to any area. While granite and other recent trendy stones require minimal maintenance, they're not exactly always easy on the eye or elbow. Wood simply seems to encourage easy conversation as family and friends hang out in the kitchen helping themselves to wine and tastes of what's cooking.
With a little TLC, wood countertops are a terrific complement to a kitchen, or really any room in the home. The basic solutions to concerns of most homeowners are to remember wood tops in food preparation areas need to receive an appropriate finish free of any toxic chemicals; also consider these areas can receive scratches and damage from knives with heavy duty cutting, so keep this in mind. With a bathroom's wood, you simply need to take precautions against constant water contact. A big bonus for a desk area: Wood tops are a good option because they provide a better writing surface than stone.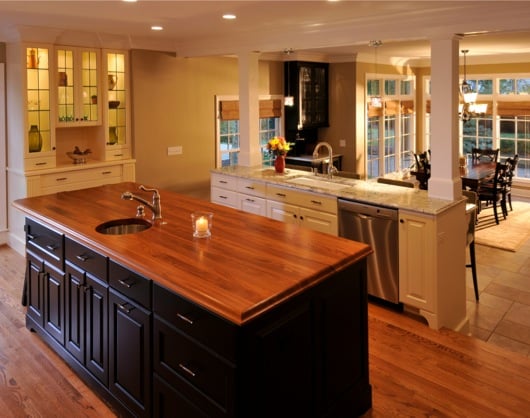 How to Choose
As with nearly any home option today, the choices seem infinite with diverse types, finishes, and maintenance recommendations. Here, we will help sort out the basics so you can make the ideal choices for your household.
Options include butcher block, salvaged wood, exotic species, and many different stains and sealers. Also, selecting a wood countertop involves more than the grain orientation. There are many available options to help you make the right choice for your personal kitchen or room style, including:
Wood species: There are virtually unlimited options on the kind of wood you can choose dependent on which supplier you use There are common varieties like oak and maple as well as exotic woods like teak and tiger wood. This is really where the beauty of wood countertops comes out. The diversity of species affords a wide array of colors and grain patterns from which to choose.
Go green: Eco-friendly wood countertop choices involve using wood that's harvested from sustainable and managed sources. Wood certified by the Forest Stewardship Council (FSC certified) has been verified as being sourced from managed forests that sustain both the resource itself and the communities that produce it. You can also opt for reclaimed wood. Like reclaimed wood flooring, countertops are also made with wood recycled from old structures and other similar sources that are no longer needed. In lieu of heading for a landfill, the wood is used for countertops and flooring.
Edge treatments: Because of its easy workability, wood countertops offer a wide range of edge treatment options. You can go simple or ornate, limited only by what your supplier offers. Some sources for wood countertops don't put limitations on the edge treatment styles, allowing you to specify the shape you would like to have.
Pre-fabricated or custom: You can buy pre-fabricated wood countertops, manufactured to certain sizes or you can decide to go for a custom job. The latter requires you to send your countertop layout dimensions to the fabricator so they can create, package, and ship the finished countertop to you.
Typically, wood countertops are:
Waterproof
Heat resistant
Stain resistant
Scratch resistant
Never out of style
Low maintenance
Food safe
Species generally comprise American Cherry, Bamboo, Black Walnut, Paduak, White Oak, Red Oak, Mahogany, Teak, Tigerwood, Wenge, and Zebrawood with edging choices of eased, ¼" round, classical ogee, beaded waterfall, classical gas, French Baroque, bullnose, and huge double-beaded roundover.
Natural variations that occur in wood allow you to choose a material that best matches your design aesthetic, plus finishing the counter in a certain way will really drive the appearance. Small details such as an ogee (slightly S-shaped) edge can make a counter seem more formal; a sharper corner shouts modern.
First, determine whether the area you're setting up is specifically for cutting and chopping or for food preparation minus the knives. Maybe you desire a piece that offers more visual appeal akin to a piece of furniture instead of a wood piece or top to be used for heavy food prep. Keep in mind cutting boards and chopping blocks have their own function: They get scratched and dinged and acquire a well-worn look from hard use so your other surfaces do not.
Second, consider the two main options for wood countertop finishes:
A sealed surface, sometimes called glazed or lacquered and often factory finished, is essentially water- and stain-proof, requiring nearly zero maintenance. This sealing may be from varnish, polyurethane, or another material and is not intended for workspaces. If you plan to chop and slice, you must have an oil-finished block instead of a sealed block, which requires cleaning and oiling on a regular basis.
Unsealed wood counters can be sanded to get rid of gouges, burn marks, or serious stains; however, sanding is not recommended — much less required — for basic maintenance. The surface should be re-oiled after sanding. Must-know tip: You should never place hot pots and pans on a wood surface; always use a trivet or hot pad, regardless of the finish.
Wood Pros
Offers a warmer surface than tile or stone.
Is a renewable surface depending on the style of wood countertop.
Presents interesting visual detail either through the choice of wood species and/or the use of contrasting wood types and stain colors (i.e. checkerboard butcher block, etc.).
Provides a good work surface for the preparation of food and is easier on cutlery than stone countertops.
Choices for green countertops are available through wood from certified and sustainable and/or reclaimed sources.
Wood Cons
Working surfaces require periodic reapplication of the protective treatment such as mineral oil.
Susceptible to water damage if not adequately protected.
Will dent, scrape, and chip more easily than other surfaces like stone, tile, or laminate.
Excessive exposure (such as spills not quickly wiped up) to vinegar can damage and loosen the adhesives that hold the wood boards together.
We hope our suggestions and info here help you get started in adding unique and lovely wood countertops to your home.