Whether you enjoy being able to have your morning coffee on the couch or check your emails across from the kitchen, working from home has its perks. Designing an incredible office space adds to these perks. It helps you to keep things organized, separate your work life from your personal life and enjoy the time you spend in your home office.
Redesign the Work-From-Home Office
In order to ensure maximum productivity when working at home, it helps to have a well-designed office. In addition to being stocked with office essentials, your work-from-home office needs to look and feel like a real place for business. Alair Homes Charlotte offers these ten design tips for the office in your custom built home.
1. Float Your Desk
Floating desks are a minimalist's dream. When it comes to your home office's desk, a floating design exchanges the traditional, bulky look for a sleek and wireless alternative. Supported by a wall, the floating desk is an elegant option for all those working from home. For an added bonus, float the desk under a window, and enjoy those views of Freedom Park, Dilworth or Uptown Charlotte while you work.
2. Keeping it Comfortable
In addition to all the trappings of a typical office, your workplace at home should have an air for comfort as well. Consider placing a sofa or armchair in a corner of the office. This is a great place to sit while you drink your morning coffee or catch up on briefings from coworkers. Adding comfort to your work office also allows you some downtime throughout the day.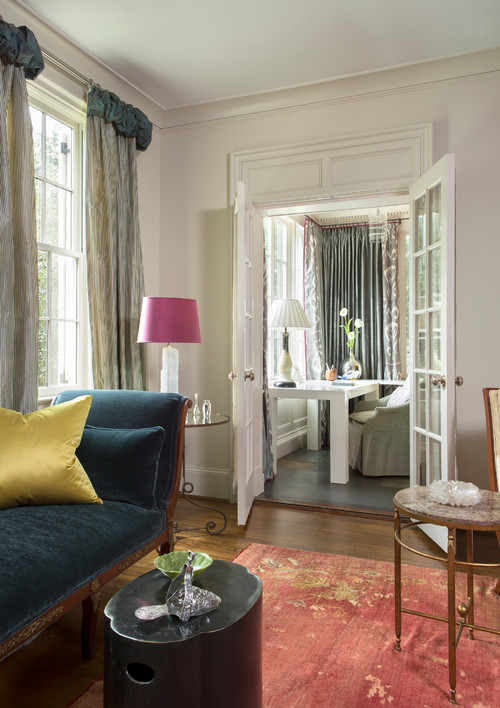 3. Work with Tailored Furniture
Putting your office vibe together doesn't have to involve furniture solely from Ikea. Take control of your design by tailoring your furniture. Custom bookshelves, a cozy window seat or that perfect mahogany desk make a world of difference in the look and feel of your space. Work with a local design professional to help you get creative with your furniture and give your office a unique look.
4. Don't Overlook the Nook
Never waste space in your office. Have an awkward corner by the window? Placing a small bookshelf or storage unit there will make the most of your space instead of leaving it empty.
5. Keep Your Office Convertible
When working from home, it's important to make it truly feel like an office. However, keeping the office's layout easily convertible will give you more freedom with the available space. In the event that you still need to use the space for a guest room, keeping your office-only furniture minimalistic will allow you more freedom.
6. Built-ins are Your Best Friend
Built-ins allow your office to look attractively furnished while hiding any unsightly mass of wires and cords. These open-backed cabinets and shelves hide the outlets and wires of appliances that would make your office less attractive.
7. Keep a Pinboard Handy
Having something as tactile as a pinboard is a wonderful addition to an office. This is the perfect tool to keep track of notes, invites, memos, and other small items you need to keep handy.
8. Design for Two
Setting up your custom home workplace for just one makes sense for now, but what about when you hire an assistant or take on a coworker? Before you finish designing your home office, be sure to keep the layout open enough to make it easy to move someone else in.
9. Save Space with Corner Desks
Choosing a corner desk is one of the best ways to save space in your office. While a desk in the middle of the room may be centrally located, a corner desk makes it easier for you to fit more into the room.
10. Consider an Outside-the-Home Office
Your home office doesn't need to be inside your home. If you have a vacant outbuilding like a shed or garage, this space may be your best choice for your new office.
Take full advantage of working from home by designing a space that's right for you. Let these 10 design ideas inspire you as you put together your perfect look.