Elegant bathrooms and walk-in closets have become some of the most influential spaces in interior design. Both settings provide a space to be pampered and to get ready in for the day ahead. These essential spaces have basic required amenities, and then there are unique elements that make it special to the homeowner. The Alair Homes Charlotte team recently renovated sections of a Foxcroft Charlotte home to create a spacious walk-in closet and two modern bathrooms. Take a look to see how these well-organized, functionally designed spaces incorporate both purpose and style. 
When it comes to customizing a well planned walk-in closet, built-in closet shelving is a desirable option. There are endless finishes and specs to fit your style as well as convenient details like under cabinet lighting and adjustable shelving. The client's goals for this setting were to create a modern, sophisticated space to organize both her summer and winter wardrobe and accessories. 

In order to achieve a spacious walk-in closet, sections of the master bedroom and bathroom were thoughtfully designed to transform this space into a beautiful walk-in closet with custom cabinetry and a bench seat.


The custom built-in cabinets fit seamlessly into the space thanks to adjustable shelves, a bench seat with drawers, and beautiful crown molding. Two drawers require key fob access, providing security for valuable items. The client's shoe and purse collections are beautifully displayed behind glass panels and cabinet lighting. To give this closet a soft but modernized feel, a light neutral color palette and gold accents were selected. The natural light shining from the window visually enlarges the space, creating a luminous and welcoming room to get ready in.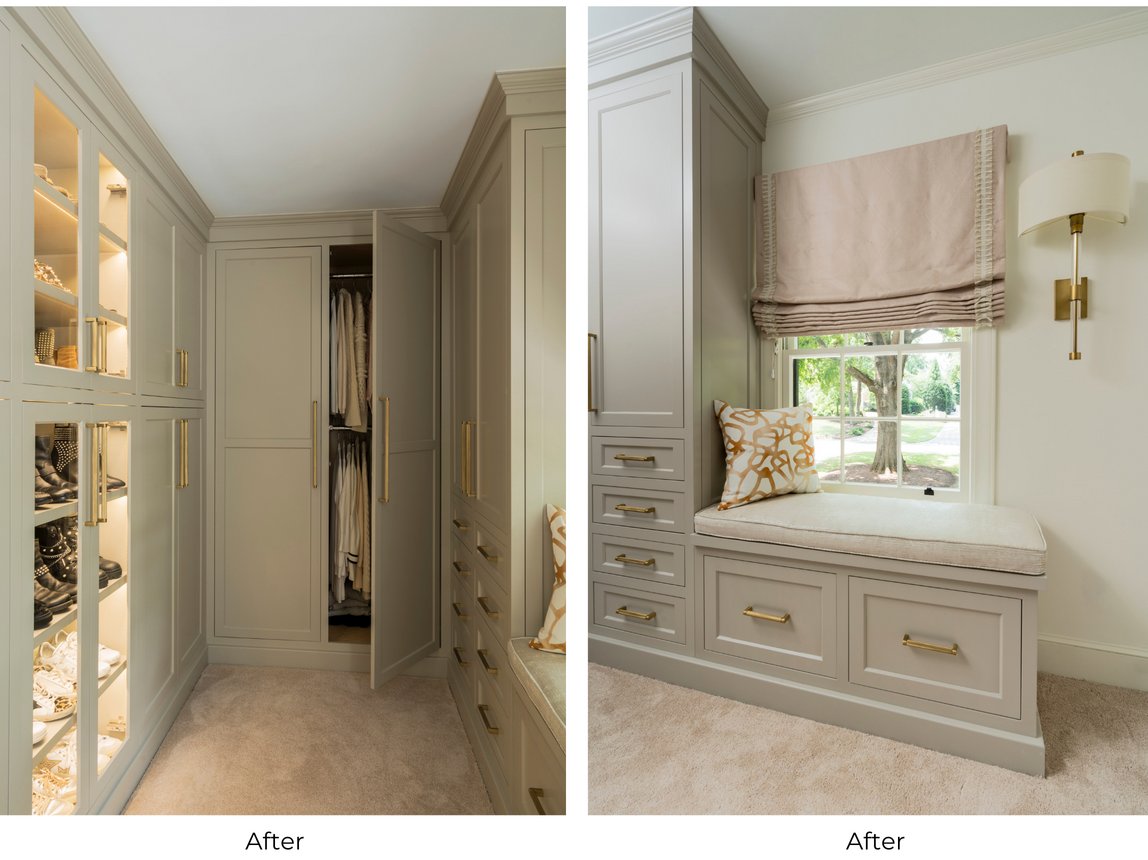 This modern inspired look doesn't just stop there. The client wanted to carry out this aesthetic into the two bathrooms in the home. Project Manager, Roger Ketchum, and the homeowners collaborated together to create a different design approach for each bathroom: one minimalistic while the other boasts soft and chic.  
Upon entering the original bathroom, you could see a small bathtub, outdated blue tile walls and flooring, and a basic floor standing vanity. The new Walker Zanger gray porcelain tiles and polished stone back wall provide elegant visual texture and contrast next to the white walls and the white quartz countertop. To achieve a functional yet modern space, a floating vanity and a recessed storage medicine cabinet were chosen. For the shower area, waterproof puck lights, a frameless glass shower door, and a linear shower drain make the bathroom feel more light and spacious. 
"Because we were limited to the size of the existing room we had to be creative and try to make the room look as big as possible. We used a wall-mounted toilet so it didn't use as much space and the floor tile flowed uninterruptedly into the shower. Some accent lighting under the vanity and in the shower niche was visually appealing." -Roger Ketchum, Alair Homes Charlotte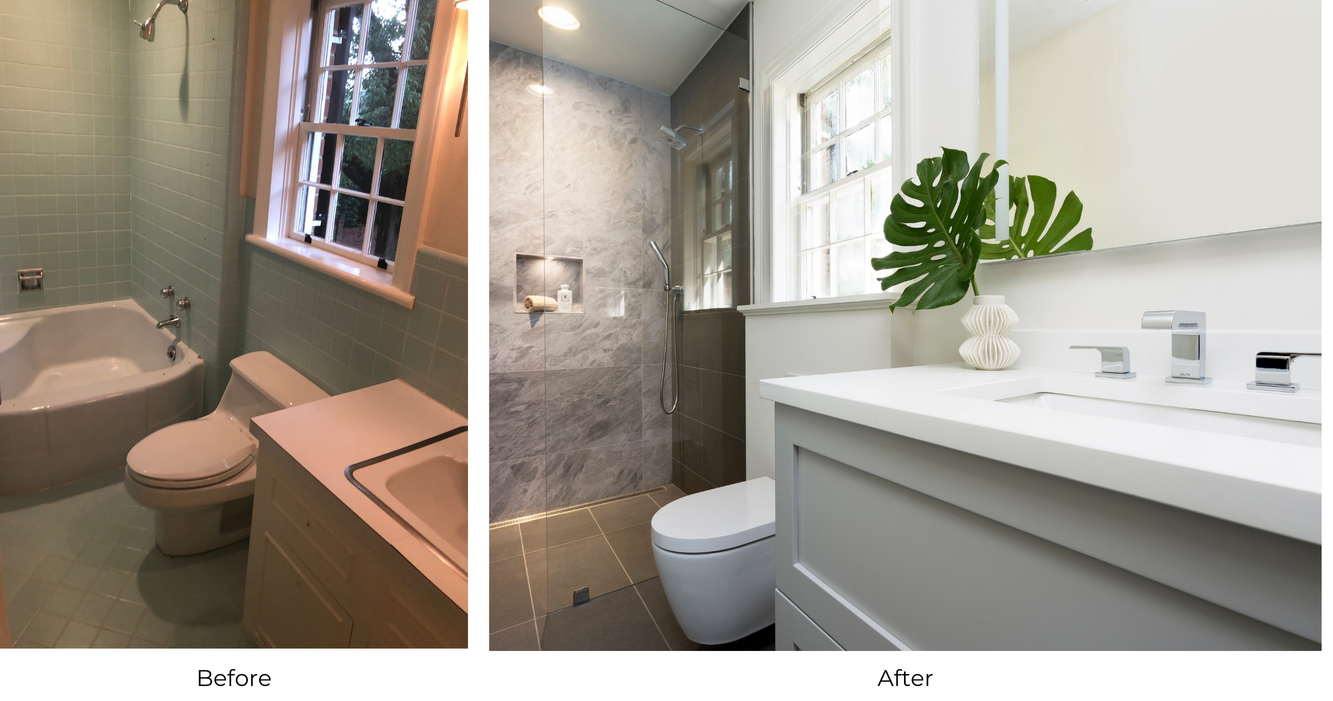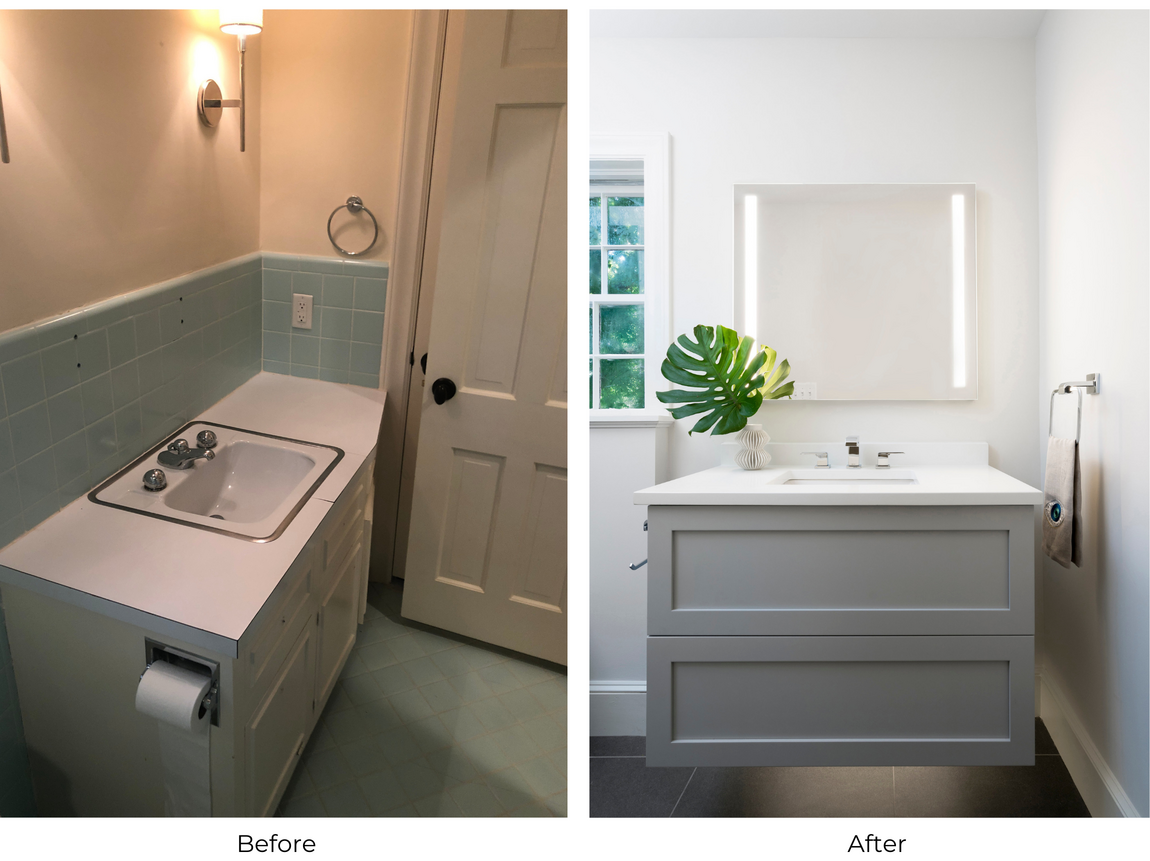 The soft and chic bathroom also boasts modern functionality. To enlarge the space and make room for the new bathroom, multiple walls were removed and closet space was used. The newly renovated bathroom includes a double vanity with polished quartzite countertops, Kohler brass pulls and hardware, a glass walk-in shower, and a freestanding tub. Natural light floods this space, creating a bright and welcoming atmosphere. 
"We wanted this bathroom to have a luxurious, warm, and inviting feel. We chose a neutral color for tiles and brass fixtures which created warmth in the room." -Homeowner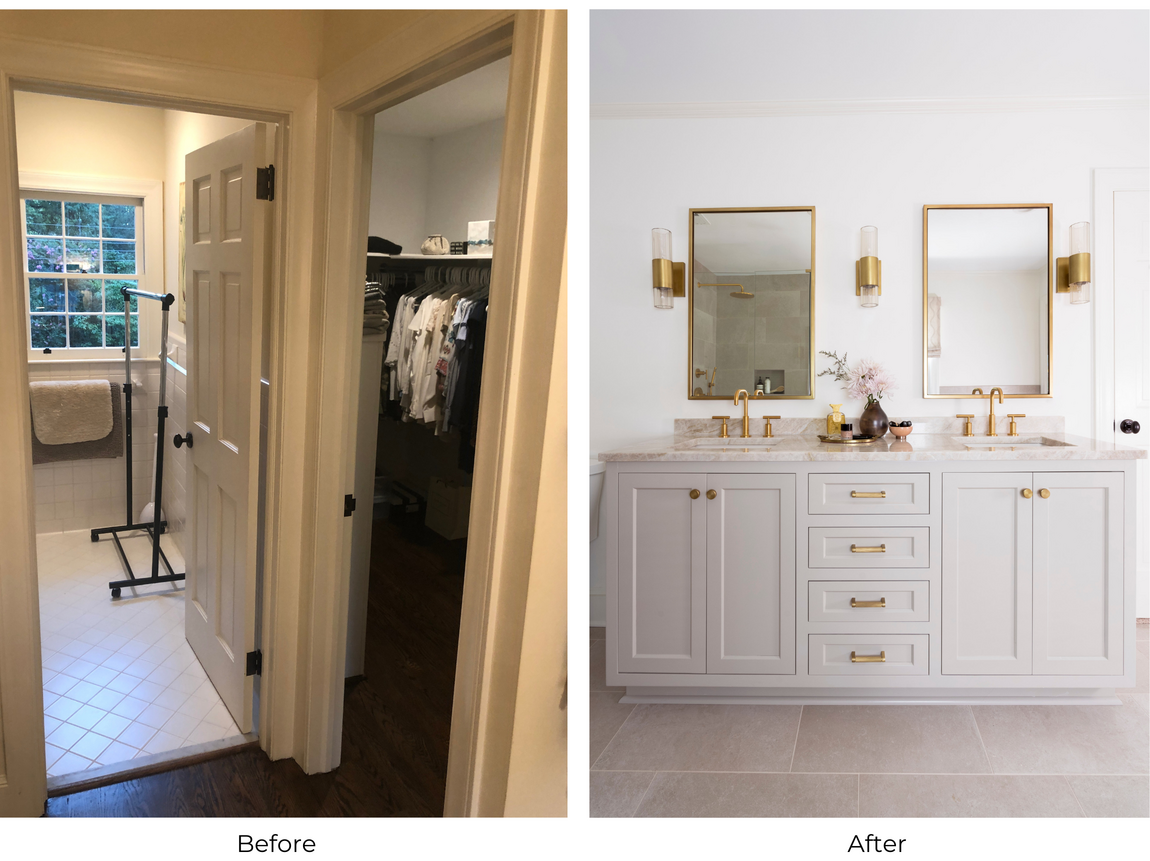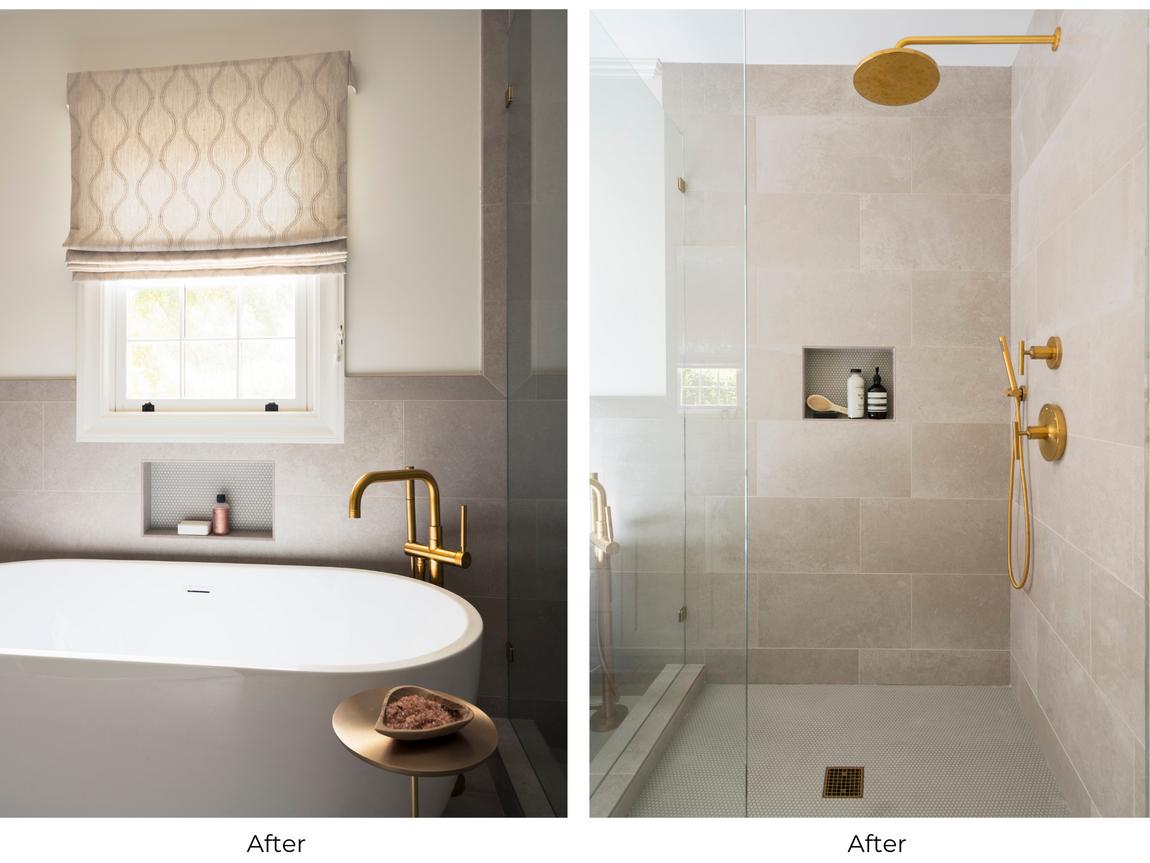 Timeless and stylish solutions were used to efficiently fit the client's desired practical and design needs. Through detailed project planning and collaboration with the client, we were able to create three modern inspired spaces that include both functionality and sophistication.