Outdoor entertaining spaces have become an essential element of modern homes, providing a seamless extension of indoor living spaces and allowing homeowners to fully utilize their outdoor areas for social gatherings, relaxation, and recreation. Whether it's a spacious backyard, a cozy patio, or a rooftop terrace, outdoor entertaining spaces offer a plethora of benefits that enhance the overall lifestyle and enjoyment of a home. 
One of the key advantages of outdoor entertaining spaces is the opportunity to connect with and entertain guests. Whether it's a weekend barbecue, a cozy bonfire gathering, or an alfresco dinner party, outdoor spaces provide a versatile and inviting setting for hosting friends and family. With the right seating arrangements, lighting, and amenities like fire pits, outdoor kitchens, and built-in seating, homeowners can create a warm and inviting atmosphere that encourages conversation, laughter, and lasting memories. Additionally, outdoor entertaining spaces like the one pictured here from our Longview Renovation allow for more flexibility in terms of accommodating larger groups of people, making them perfect for hosting events and celebrations.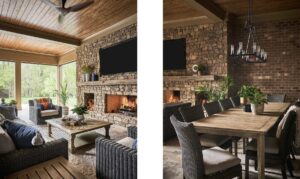 Incorporating a bar in your outdoor entertaining space can elevate the ambiance and functionality of your outdoor area. A well-designed outdoor bar can serve as a focal point for socializing, providing a convenient and stylish space for serving drinks and snacks to guests. From classic wooden bars to sleek modern designs, outdoor bars can be customized to suit your style and preferences. With the addition of bar stools, a countertop for mixing drinks, storage for glassware and bottles, and proper lighting, an outdoor bar can become a chic and functional addition to your outdoor entertaining space, creating a perfect spot for cocktails and conversation.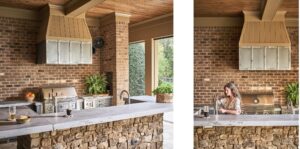 Designing an island for your outdoor kitchen can be a game-changer in terms of functionality and aesthetics. An outdoor kitchen island can serve as the heart of your outdoor cooking and dining area, providing a centralized space for food preparation, cooking, and entertaining. When designing an island for your outdoor kitchen, several key considerations come into play. First, the layout and size of the island should be planned to accommodate your specific cooking needs and available space. The island can be customized with various features such as built-in grills, sinks, refrigerators, and storage cabinets to suit your culinary preferences. The materials used for the island, such as durable stainless steel or weather-resistant stone, should be chosen to withstand outdoor elements and ensure longevity. Additionally, incorporating seating options such as bar stools or a dining counter can create a sociable and inviting space for guests to gather around while you prepare meals. Proper lighting, electrical outlets, and ample workspace are also crucial for convenience and functionality. Lastly, consider the overall style and aesthetic of your outdoor space, and ensure that the design of the island complements and enhances the overall look and feel. With careful planning and attention to details, a well-designed outdoor kitchen island can become the centerpiece of your outdoor entertaining space, adding convenience, style, and versatility to your outdoor cooking and dining experience. 
With thoughtful design and consideration of the homeowners' lifestyle, preferences, and the surrounding environment, outdoor entertaining spaces can become a welcoming and functional extension of indoor living spaces, creating a perfect environment for relaxation, recreation, and entertainment. 
Looking to upgrade your outdoor space this year? Contact our team of experts to get the planning and design process started.