Many people are drawn to the style of an open floor plan. They love how spacious this type of floor plan feels, and they enjoy the togetherness in certain instances. However, there is a disconnect between the thought of an open floor plan and the experience of actually living with this type of floor plan on a daily basis. There may be times when you do enjoy the openness of your home, but if you are like many others in the Charlotte area, you may not be thrilled about how noisy it can be living in this style of home or about how little privacy you get in the various rooms. If you have decided that the benefits of living in a home with a broken plan is preferable in comparison to living in a home with an open floor plan, our experienced team at Alair Homes Charlotte is able to assist you with all of your new home or renovation needs from consultation to design and through construction.
What to Expect From a Broken Floor plan
The first step to take when you are seriously thinking about altering your Charlotte area home is to learn more about the benefits of this type of floor plan. With a broken plan, your rooms will be at least partially enclosed, and some will be fully-enclosed as desired. A broken floor plan defines each room with walls, half-walls, partitions or other features. Depending on the features that you choose to install in your home, you may enjoy a quieter home, improved privacy in each room, the ability to have more walls to decorate and more.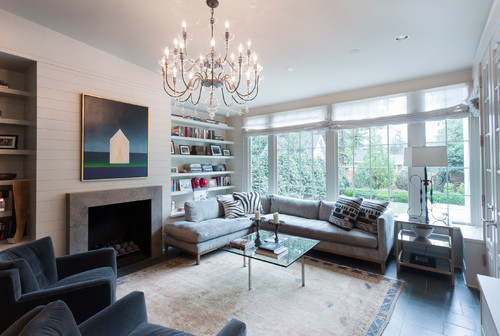 Strategies for Implementing a Broken Floor plan
There are numerous ways to break up your home's floor plan, and you will need to find the right strategy that meets your needs and that retains or improves your home's overall aesthetics and décor. If you are trying to break up a huge living area that is open to the kitchen and dining areas, you may accomplish your goals with a series of decorative arches, by building defining walls or even by raising or lowering the level of different rooms. Another idea is to install a large double fireplace between two of the rooms. Remember that the use of paint colors and flooring can also help you to define the rooms from a decorative standpoint.
How to Get Customized Options for Your Home
Before you decide if a broken plan is right for your home, you need to know which types of partitions or broken design features are well-suited for your needs and for your home. Alair Homes Charlotte wants to help you understand the options that may be right for you. We are the experienced contracting team that has helped many homeowners improve the functionality and design of their home to their satisfaction over the years, and we are ready to provide you with a customized design plan that addresses your concerns.
Alair Homes Charlotte has considerable experience opening floor plans for local residents, and we are also one of the few contractors in the local area with experience creating a broken floor plan from an open design. Regardless of what your goals are, there is a design solution to meet your needs. To request more information about the possibilities for your space, contact Alair Homes Charlotte today.
Share: