After purchasing a beautiful home on Lake Wylie, the homeowners realized that updates were necessary in order to accommodate their family's lifestyle. With a home over two decades old, both aesthetic and functional upgrades were needed. As avid modern art fans, they wanted their home to be a reflection of their love of the modern style. This prompted them to start researching for the ideal building and remodeling company that could help with their renovation needs.
"I did a lot of research to find the best general contractor. I spoke to local architects, read lots of reviews, and interviewed a lot of builders before picking Alair. I was really impressed with their reputation and the people that I met. The Alair team did an outstanding job running and executing our renovation project. Our project ran on time, on budget, with great communication and transparency," – Homeowners
The team at Alair Homes Charlotte in collaboration with Tim Cuppett Architects designed and transformed multiple rooms including the kitchen, living room, staircase, loft area, and master bedroom.


Cabinets: Cabinets Trim and More 8" White European Oak Floors: Viking Hardwood Floors Appliances: Sub Zero and Wolf Paint: The Painters Charlotte
The kitchen floor plan was thoughtfully reconfigured and expanded creating more countertop and cabinetry space. The newly renovated kitchen provides ample room to prep and cook meals, and also entertain guests. The homeowners opted for a bright neutral color scheme, creating an environment that is contemporary and inviting.

The loft area above the kitchen was reframed to eliminate the 45 degree angles which made the kitchen feel closed off. The new framework displays sleek, clean lines that not only open the space but creates a seamless transition to one space to the next.

The homeowners wanted to modernize the look and feel of their living room. To accomplish this goal, old paneling was removed from the fireplace and replaced with a modern glossy tile that bounces light back into the room. The simplified fireplace design helps put emphasis on the large windows that frame amazing lake views.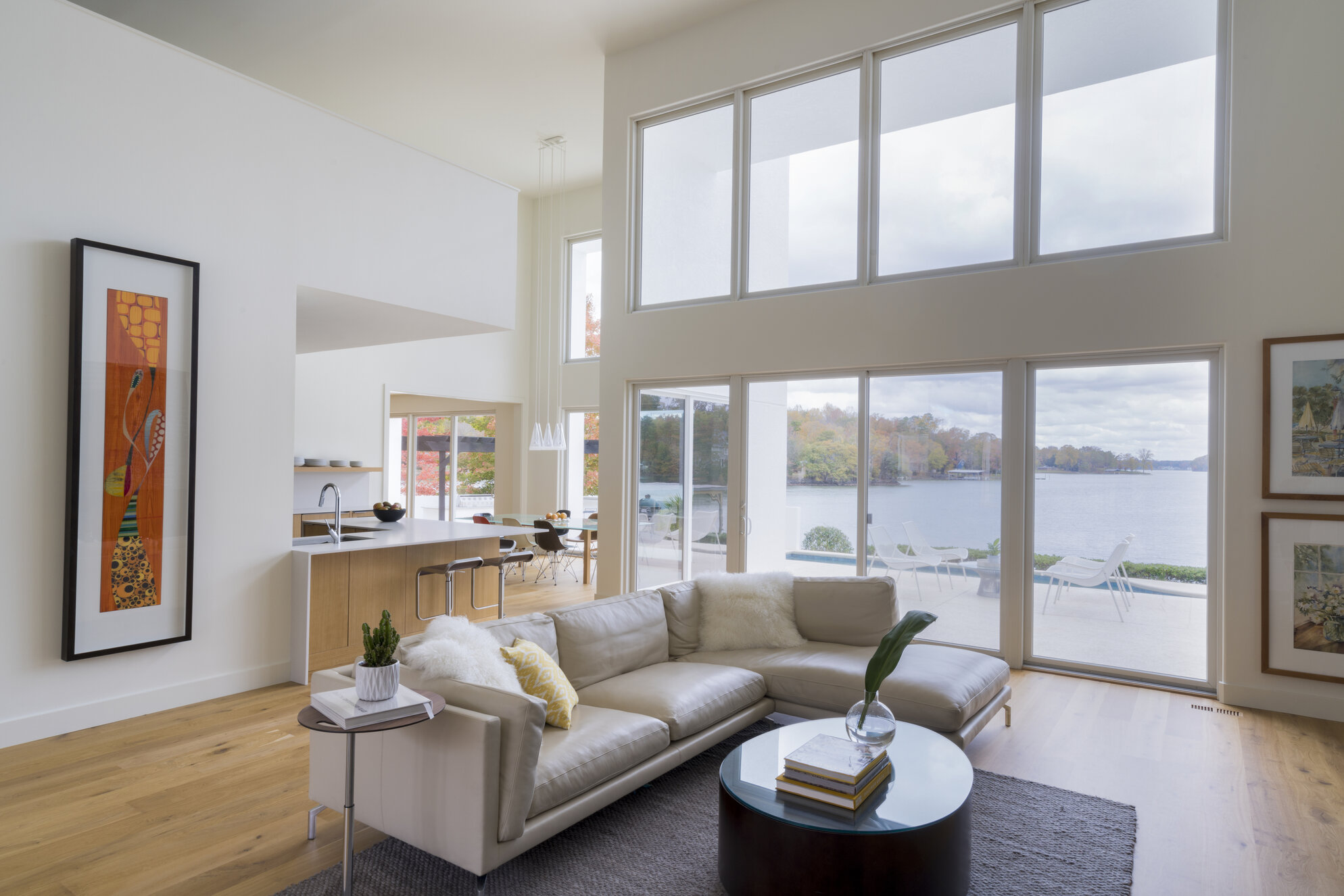 The newly renovated entryway displays a 6 foot wide by 10 foot tall pivot hinge glass door. The glass door really helps create a great first and last impression in the home.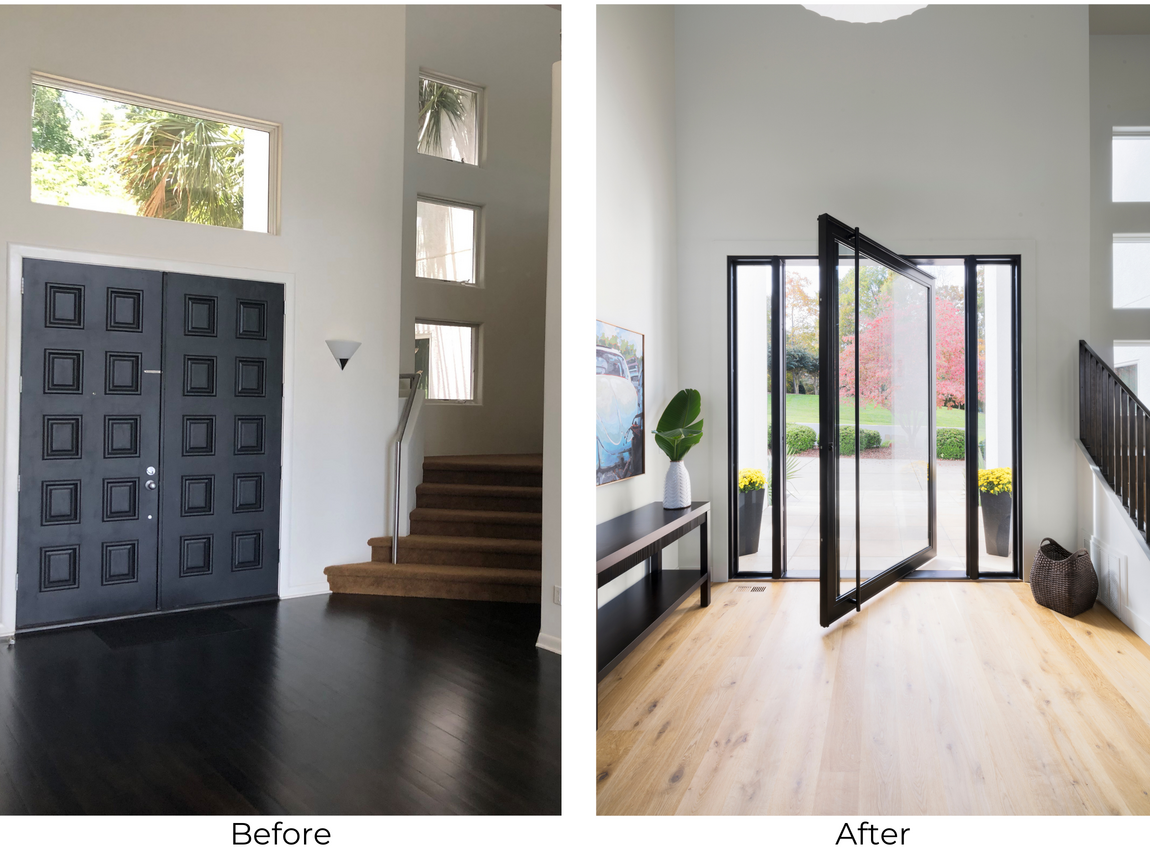 The staircase was reconfigured to create a more functional entry into the loft area. The striking modern staircase displays a perfect blend of wood and metal materials. The interior renovations not only improved the overall aesthetic of the home, but also made it much more functional.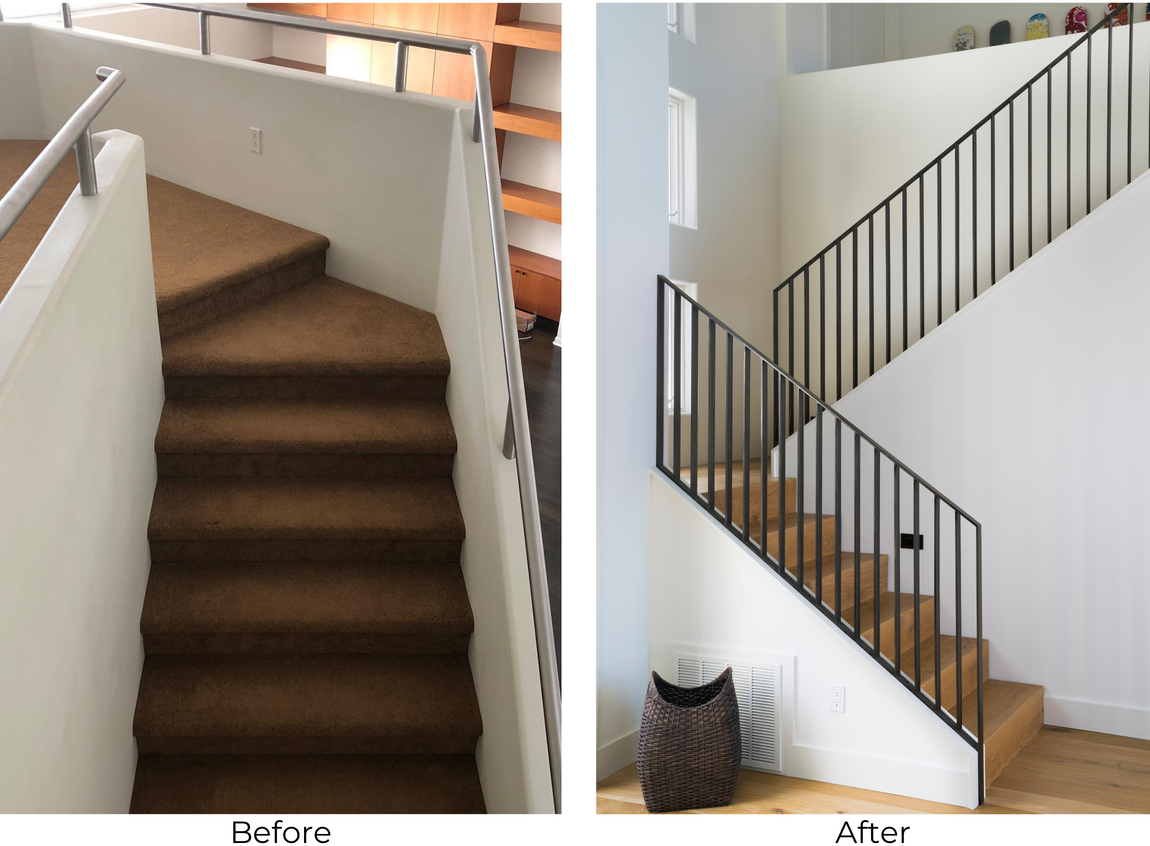 The homeowners purchased this home intentionally due to the potential it had to become a home brimming with modern style. The newly renovated home not only showcases modern and contemporary styles, but possesses functional spaces ideal for this Lake Wylie couple.