The Lowcountry of South Carolina encompasses not only beautiful beaches but also many historic properties and homes. The Alair Homes Summerville team was given the privilege of preserving a piece of the past, a historic home in Summerville, SC. 
A young family from San Diego purchased a beautiful Lowcountry home built in the 1880s. Prior to 1890, the home included a detached kitchen, a very common feature of the South during that time. The detached kitchen was later moved and attached to the rest of the home in the 1950's during renovations. The current homeowners loved the aesthetic of their home with the exception of the kitchen which felt awkward and separate from the remainder of the house. They wanted to transform their outdated kitchen into a functional space perfect for their active lifestyle and young children. The end result turned out to be a traditional craftsman-style kitchen with plenty of historic charm. 
"Our team works on a lot of historic homes. Home builders from the late 1800's – early 1900's were true craftsmen that made everything by hand. I work really hard to preserve the hard work and time those individuals put into the home. From an architectural and building perspective, the rooms we work on need to continue to fit the rest of the home." -Michael Coutu, Owner of Alair Homes Summerville

With a love for gourmet cooking, the young couple wanted a spacious kitchen that provided plenty of room to create family meals. The original kitchen floor plan made it difficult to prepare and cook meals due to the lack of countertop space. The Alair Homes Summerville team reconfigured and designed a floor plan that not only flows well with the rest of the house, but displays gorgeous quartzite countertops, a new custom kitchen island with extra storage space, and custom light grey cabinets.

Wanting to keep the original integrity of the home, the 140-year-old heart pine floors were refinished and the drywall ceiling was removed to expose the original heart pine wood beams. These same beams were repurposed into floating shelves providing a beautiful contrast with the bright kitchen.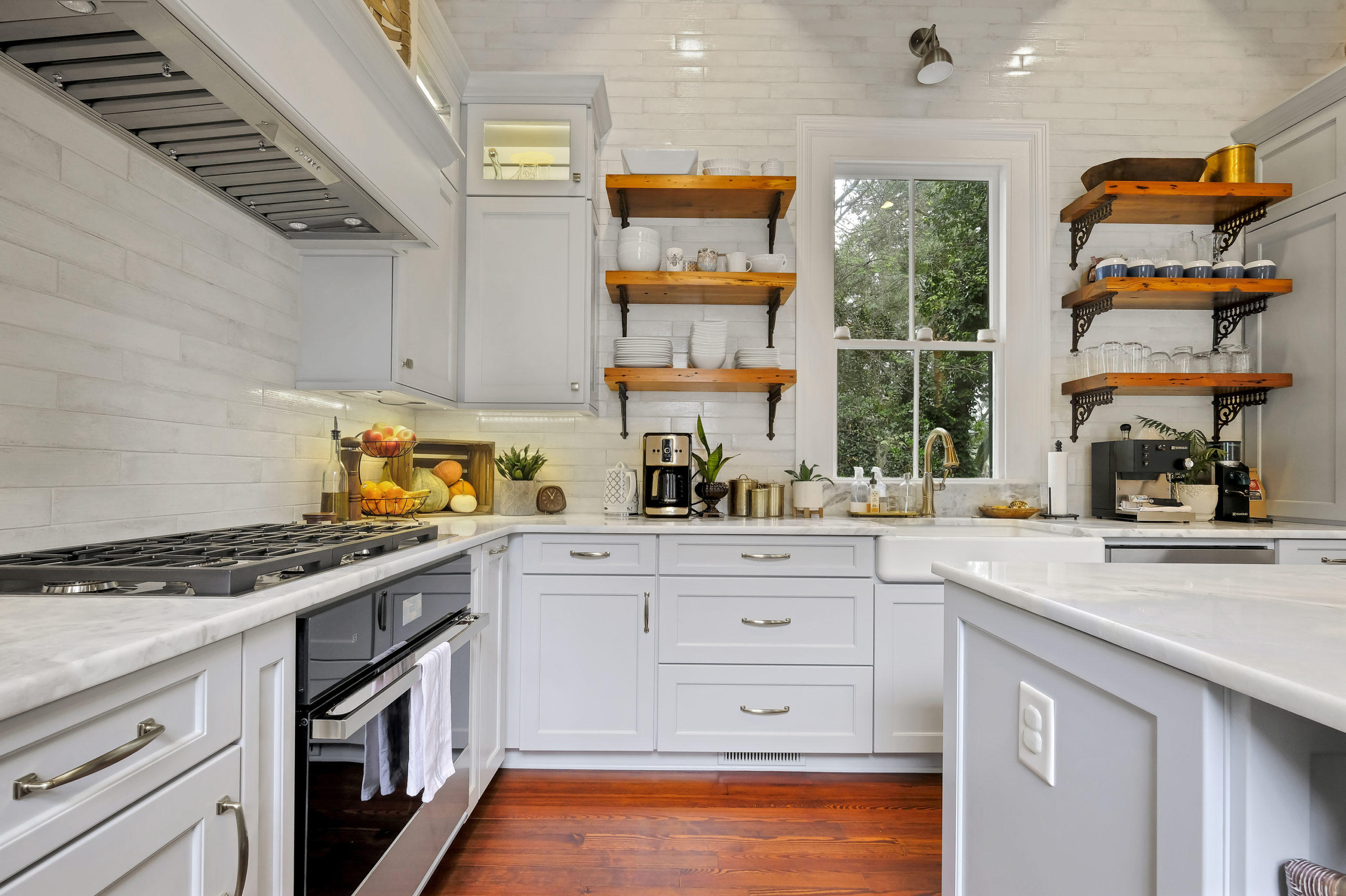 "We felt the dedication, level of trust, and communication style and frequency we established early on in the project and sustained in the entirety of the project helped to keep us all working collaboratively to achieve the successful outcome of the final result. We could not be any happier." -The Homeowners
Through thoughtful craftsmanship and attention to detail, the Alair Summerville team has given this historic kitchen a new life, and its homeowners a charming piece of Lowcountry history.