If you're an avid cook and you are thinking about renovating your kitchen, you might want to consider upgrading your space to a chef's kitchen.  
What is a chef's kitchen? 
 
A chef's kitchen is a highly efficient workspace that is designed with luxury upgrades and features that provide the homeowner with the many details a chef would include in their own home kitchen.
 
Layout, appliance upgrades, and materials are just a few of the things to consider when looking at upgrading your space to a chef's kitchen.
 
Here are some of the ways we have incorporated elements of a traditional chef's kitchens into some of our recent renovation projects.
 
Consider Layout 
First and foremost, work with a professional to rework your kitchen layout. A chef's kitchen is focused on the ease of movement and the accessibility of tools.
 
A double galley layout with a long kitchen island or an L shaped layout are both space efficient layouts that are ideal for cooking. Our recent project in Summerville pictured below, showcases an L-shaped layout including a kitchen island with finishes such as custom cabinetry and quartzite countertops.  
With a love for gourmet cooking, the homeowners wanted a spacious kitchen that provided plenty of room to create family meals. We reconfigured and designed an ideal layout that prioritized room for prepping and cooking.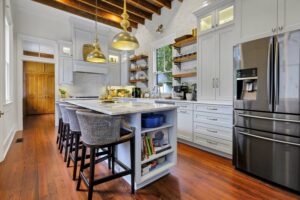 Scaled Up Sink Space 
Instead of just one sink, opt for two deeper sinks. Sinks with two or three basins in them are best to clean and store prep materials until you are ready to use them. Think about how you cook and how you prefer to clean up before deciding which layout and which sink is right for you.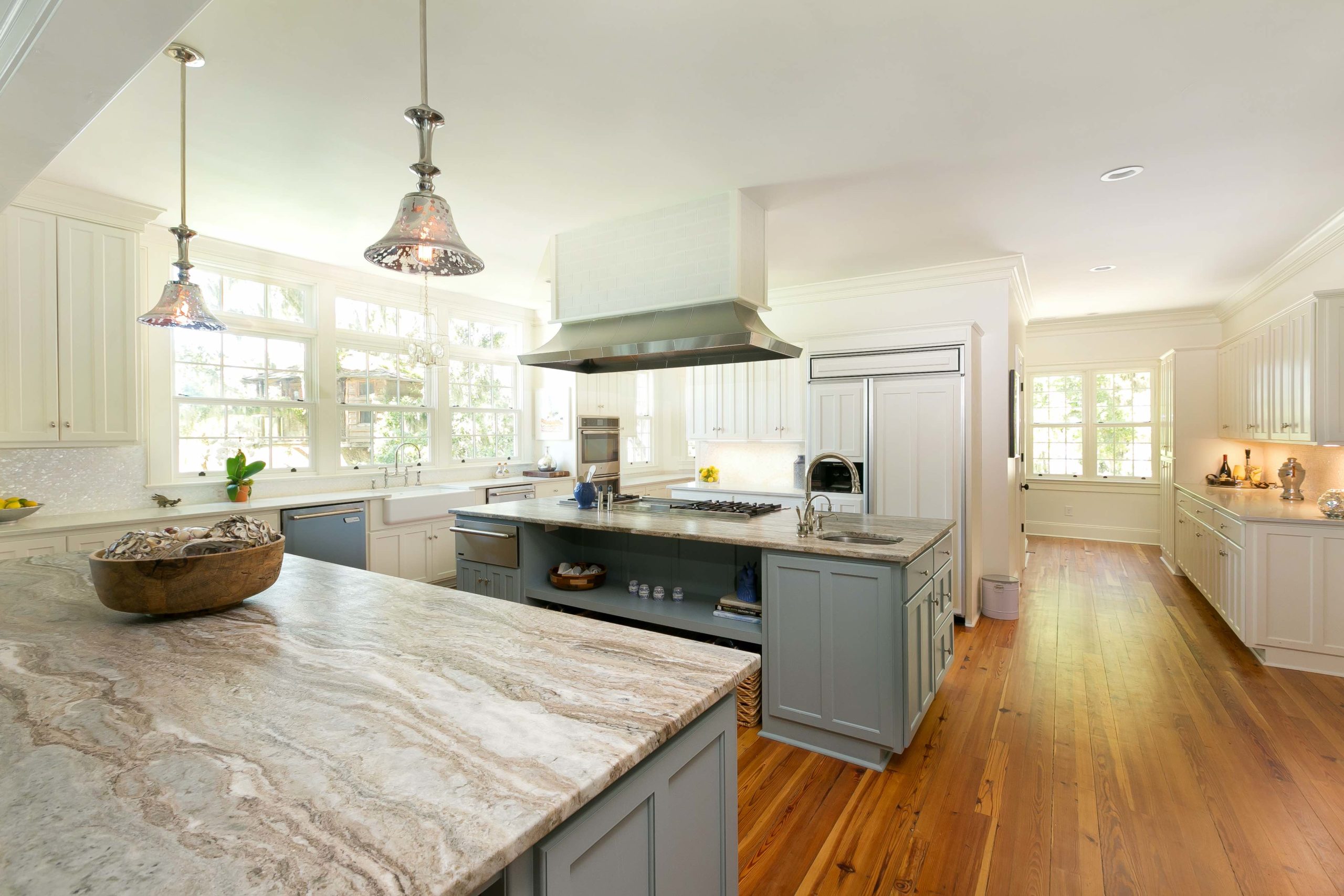 Dual Ranges and Ovens 
A high-end, gas range oven like the Wolf gas range pictured below is another item to consider incorporating in your chef inspired kitchen.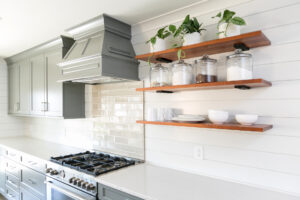 Open Shelving 
Ease of access is key in a chef's kitchen so you may want to consider open shelving where you can grab what you need, like this kitchen from our Historic Kitchen Renovation pictured below.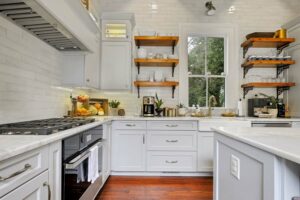 Work Surfaces and Countertops 
The countertop is where the chef creates all the magic! While there are a variety of workspaces and countertop materials available in today's world, fuss-free countertop materials like quartz are ideal for a chef's kitchen.  
But don't forget to design a space for guests to mingle and enjoy appetizers or a glass of wine while you cook, like in this recent renovation pictured below.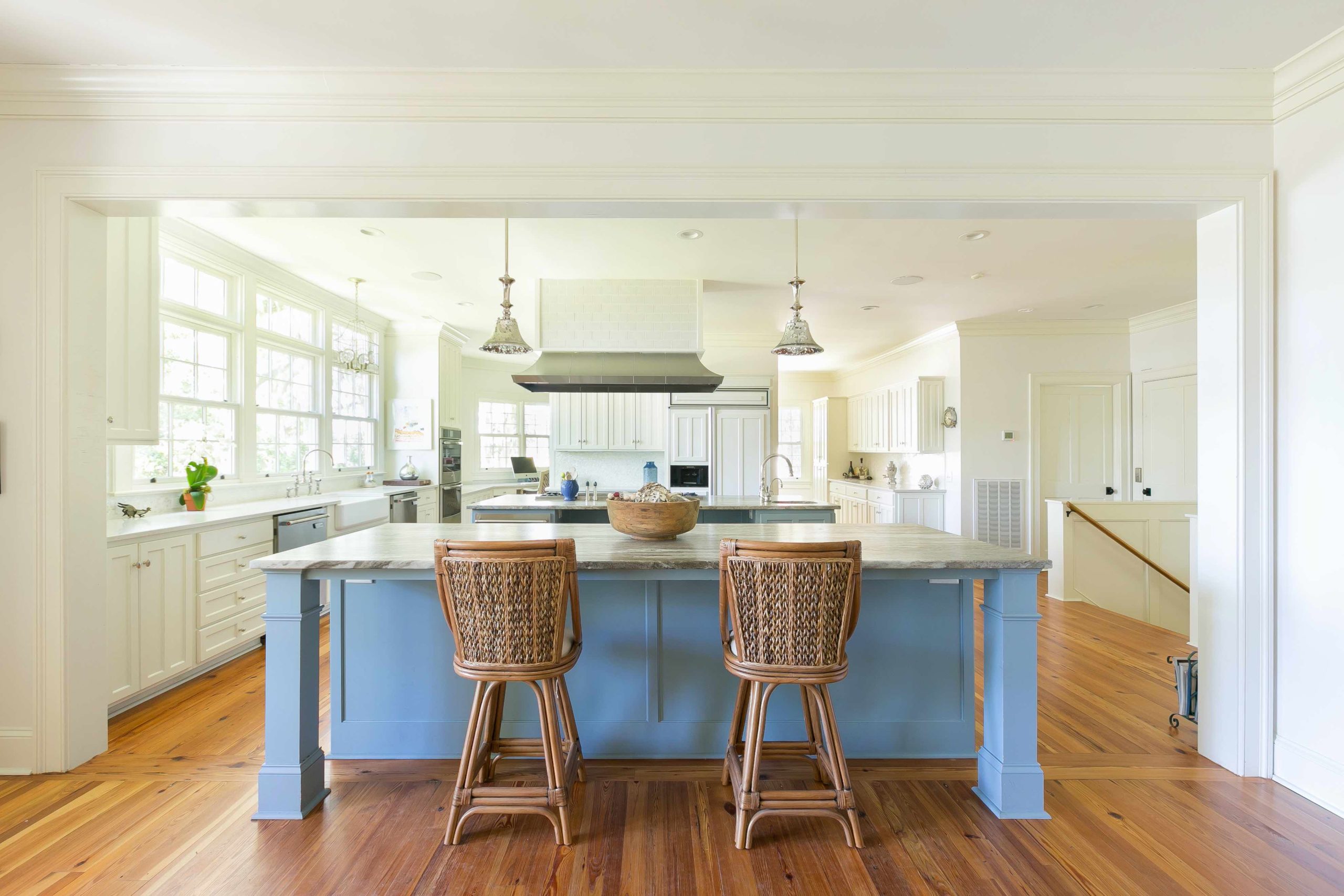 We hope we have supplied you with tons of ideas to inspire your own design for a chef's kitchen. If you are looking to put together the ideal design/build team to bring your vision to life then contact our team to get started.