Many people spend a considerable amount of time in their outdoor living area with family and friends during the summer months. Fall is a beautiful time of year, and the cooler temperatures offer new opportunities and different ways in which your outdoor space can be enjoyed. By completing a few minor home improvement projects or taking on a more extensive home remodel, you can extend your use of this space and enjoy it more all year long.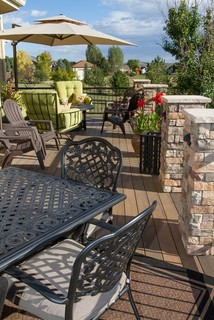 Install a Hot Tub
A hot tub is a wonderful feature that can add functionality to your space regardless of the temperature. You might choose a stand alone hot tub or incorporate this feature when adding a swimming pool to your backyard. It can be used for personal relaxation after a long day at work as well for entertaining guests. To maximize your enjoyment of this space, build a detached changing room for functionality. Unless you want to take advantage of a great view from your backyard, you may also build a privacy wall or two around the hot tub.
Create a Fire Feature
A great way to stay warm outdoors in the fall is from the heat of a fire. Depending on the layout of your space and your design ideas for a home remodel project, a fire pit or an outdoor fireplace may work well in your space. Both of these features can be gathering areas for family and friends on brisk fall days and evenings. Add comfortable seating around these features to maximize their benefit.
Build an Outdoor Bar and Kitchen
You, your family and your friends may stay warmer when you share great food and drinks together outdoors. By building an outdoor kitchen, you create a functional space that can also be used for entertaining. This feature is often semi-enclosed, and it may include all of the outdoor appliances that are needed for functionality. By adding a bar top to the kitchen, your guests will have a place to sit while you prepare food and drinks. You may even install a weatherproof TV, a sound system and heating lamps for additional functionality and enjoyment.
Add an Enclosed Patio
A more significant home improvement project is to create an enclosed patio area that offers more protection against the elements. This may be a screened patio that offers some protection against strong winds and chilly rain. An alternative is to completely enclose it, by building a four seasons room with huge glass windows. These spaces can be outfitted with comfortable furnishings, climate-control features, lighting and more to improve your comfort. An added bonus in choosing this option is that you add heated and cooled square footage to your home which can boost property value.
A home remodel gives you the opportunity to transform your current living spaces so that they are more stylish and functional for your needs. While your outdoor living space may currently only be practical for enjoyment in the summer, there are many home improvement ideas that may help you to maximize the use of this space throughout the fall months. The Alair Homes Solon team is eager to help you bring your stunning vision of a revamped outdoor living space to life. Contact us to schedule a consultation.
Share: