Many design trends making a splash this year are inspired by decades past such as the fifties and seventies. Coupled with a modern approach, you can expect 2019's homes to be charming and homely. Neutral shades predominate, but bold accents are making an appearance through a single signature piece in each room. The outdoors are being invited inside through large shutters and bar-free windows, but contemporary features remain, albeit in the background.
Black, White, and Grey
This year's neutrals have a tiny splash of color in them. Trendy blacks have a touch of olive, and greys have a dash of blue. Fashionable cream and off-white hues make last year's white kitchens decidedly easier to adapt. This subtle tonal switch instantly brings warmth to a room making guests feel more welcome.
Wood
Scruffy wood has largely been rejected in this year's design trends. In its place, dark, oxidized woods have become popular, but they, too, aren't as simple as they might seem. The trendiest exotics are treated to a barely-there black stain before being finished with a matte sheen. Denim-inspired wood is the exception and is being achieved with the help of distressed, unvarnished surfaces. In contrast, bold wooden wall treatments give art deco-inspired furniture an element of warmth.
Kitchen Features
Kitchen islands with subtly-shaded bodies are back, so you can haul out your paintbrush. Backsplashes are equally key in this year's design trends. They're wider than they've ever been, covering entire walls in subway tiles and chevron patterns. Adding a bold backsplash to your kitchen is one home renovation that can greatly change the dynamic of your room without greatly hitting your bank account.
Open Bathrooms
This year's bathrooms are inspired by spa environments. If your tub doesn't make a statement, it's time for an upgrade because it will form a key part of an expanded bathroom, which should be spacious and inviting. Homeowners are breaking into their hallways and closets to expand their bathroom footprints. They're even creating an outdoor space for their destination bathtubs. Add an atrium roof and a garden to your interior bathroom to create a balance between indoors and out. For extra luxury, drying stations are being used instead of walk-in closets.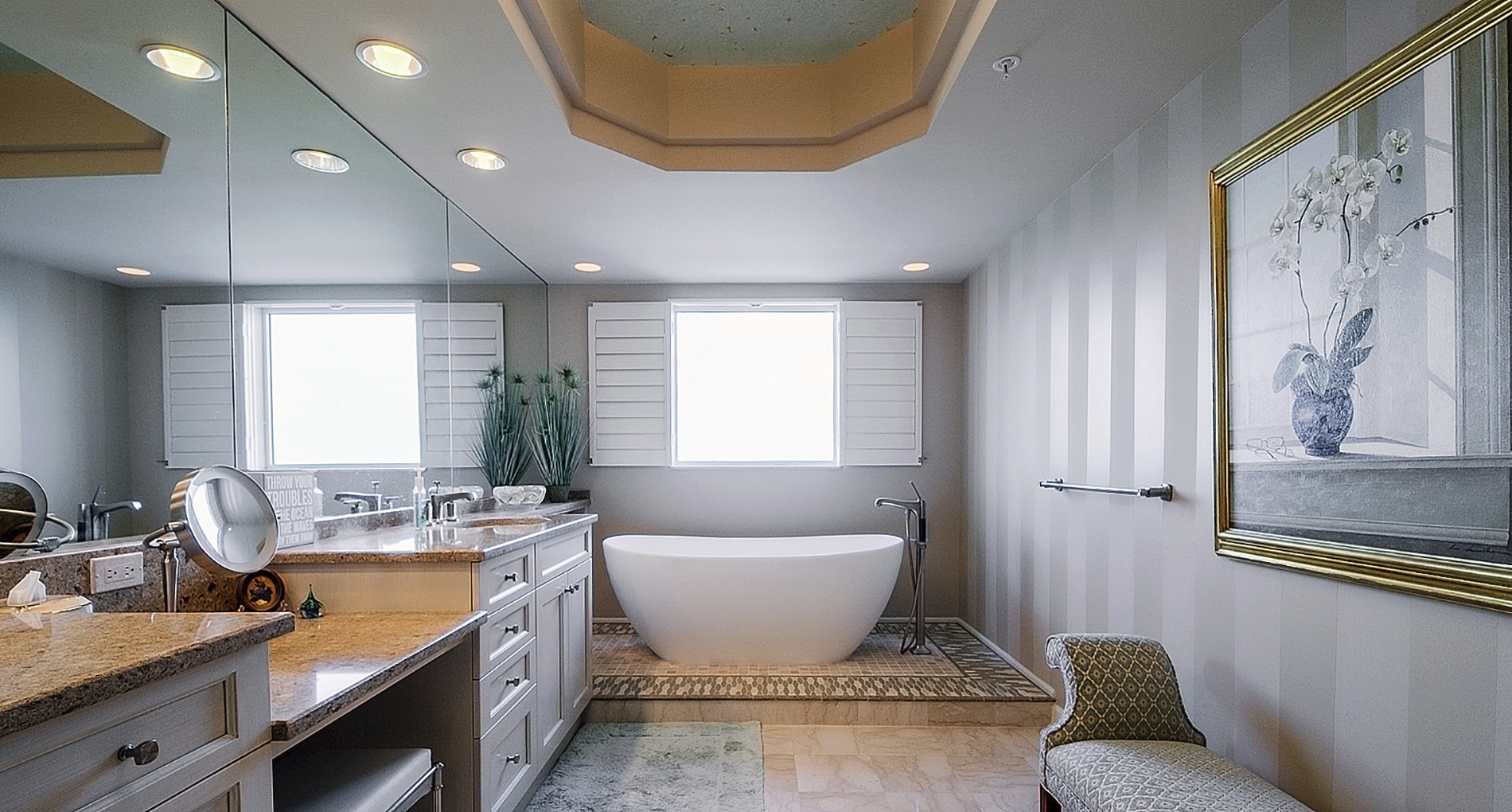 Open Floor Plans
Open floor plans have been a part of design trends for years, but methods of handling them are constantly in flux. Glass and steel room dividers are making an appearance as yet another way to artificially demarcate living spaces without removing the illusion of spaciousness.
Stone
While some stylish homes have been adding more wooden accents, others opt for a cool stone finish. Marble and granite are back on trend, with vintage rattan achieving a contrast. Add original metal or art deco and you'll achieve a decidedly light and confident style.
Living Vintage
Custom wooden furniture achieves an authentic look that can be enhanced by Mediterranean ceiling beams. Scruffy jute rugs add an unexpected, but thrilling, contrast. Freshly-cut flowers are out, with foliage-dominated arrangements adding a laid back atmosphere.
Rustic Accents
The fifties arrive in the form of board-and-batten accents and copper fixtures. Patios are being decorated with fabric furnishings and throw pillows, giving your home a farmhouse look with a distinctly cozy feel. Whether indoors or out, furnishings are giving a nod to the seventies through upholstered headboards and geometric facades.