Turfgrass is becoming more and more realistic with each passing year, making it the ideal way to achieve an evergreen garden. With its light maintenance, requiring no cutting, irrigation, or pesticides it has never been easier to maintain a beautifully green yard. One that will look pristine even during the dry season and keep your utility costs low.
Grassy Borders
Indoor botanicals are trendy this year, and turfgrass can help you to achieve the look. Add artificial grass borders and planter beds to your indoor plants for a green, tropical style that's as subtle as it is cheerful. The corporate world is even using turf grass to improve office productivity, replacing office furniture with outdoor tables and chairs to create a more casual look that encourages creative thinking. If you're adding a study to your custom built home, artificial grass will energize you and prepare you for a productive workday.
The Evergreen Lawn
In 2009, a meagre 5,500 properties had turf fields in the U.S. That number has increased by 20% with good reason: artificial grass looks more natural than ever before, so landscapers can use it to lend their work a more vibrant look. It's perfect for those indoor patios and outdoor cooking spaces you intend on adding to your custom built home. Add fire pits, pizza ovens, and pergolas, and you have an entertainment area that's dust and insect-resistant. If you have young children, turf grass allows you to create your own sports pitches, with trampolines and treehouses, that are green throughout the year.
Caring for Your Turfgrass
Synthetic turf maintenance doesn't require much of you. During the rainy months, the weather will do your turf cleaning for you, but during dry months, it only needs a light weekly rinse. This will remove dust and prevent harmful debris from accumulating.
Good Installation
No amount of maintenance can fix poorly laid product, so your custom built home needs a specialist to ensure that your turfgrass will last. One of the most important things to consider is water drainage. The way your grass is installed will prevent water logging that can cause lasting damage and mold. A base layer will be installed with silica sand or rubber. This not only gives your turf its unique, soft feel, but keeps the blades dry and upright. A good supplier will use quality raw materials and UV protection to maintain your turf's bright color.
Choosing the Right Grass
Turf comes in a variety of colors that will affect the color scheme in the rest of your yard, but it also comes in a range of fibers and textures. The hue you choose is entirely up to your preferences, although you should consider how well each shade sets of the flowers and greenery in your existing garden and the color of your house.
The durability of your turf is also something to consider. An ornamental lawn not meant for high traffic does not need as heavy a turf. While, turf that will be used by pets or as a play area must be crafted to outlast high levels of year-round usage, so it needs to be more durable. Pile height can be anything from 25 to 28 mm; Shorter piles are typically more durable, as are polypropylene and polyethylene products. Nylon tends to last well regardless of its pile length. The density is also a factor in durability. Durable turfgrass has 16,000 to 18,000 stitches per square meter, while turfgrass meant for more decorative purposes will have less stitch density.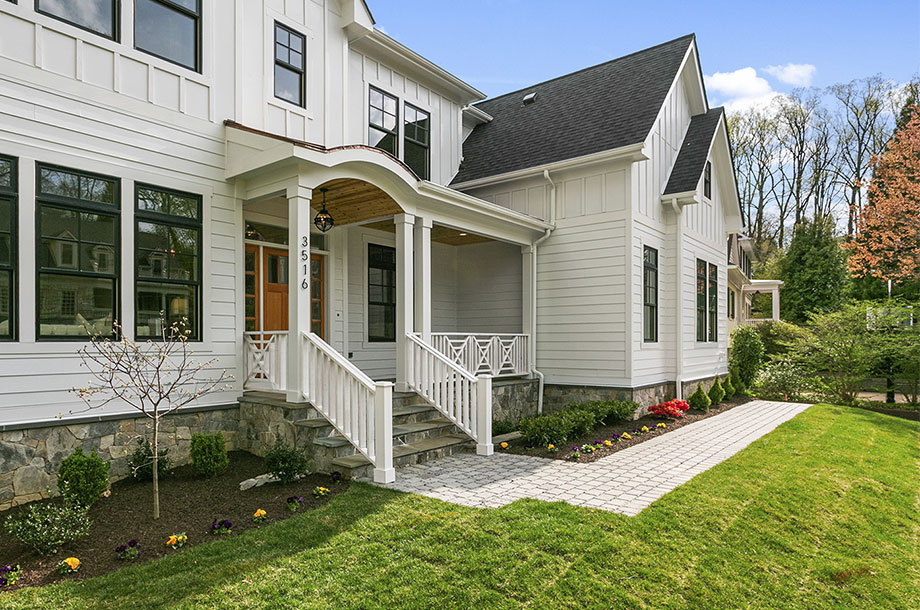 With its many benefits it is easy to see why turfgrass is a great option for your new custom home. Surrounding your home in ever-green brightness, setting off your architecture beautifully no matter the season. This part of your custom built home is an easy low maintenance choice that will add not only value but lasting beauty.
Share: