Small Things You Forget When Building a New House
As you begin to design your custom home, you'll likely focus on its architectural style, floor plan, backyard design, and other more significant aspects. But as you get closer to move-in day, it's essential to prioritize the smaller details, as they can make or break the finished product. From certain electrical considerations to appliance placement and decor accents, this blog post will cover all those small but important details you should consider when building a new house. With this handy checklist of reminders, you can be sure that every aspect of your custom home, big and small, comes together beautifully.
Power Outlets and Light Switches
Power outlets and light switches are tiny details that can significantly impact your everyday life. Since you don't want to end up with light switches in areas that don't make sense, think about where you prefer them to go. For example, if you typically charge your phone in the kitchen or by your bed, you may want a few outlets near your countertops and bedside tables. Here are several other places you might want to consider adding them:
Home offices for routers, computers, and charging stations
Bathrooms for hair dryers, curling irons, and electric toothbrushes
Living and family rooms for lamps and televisions
Garages and sheds for outdoor tools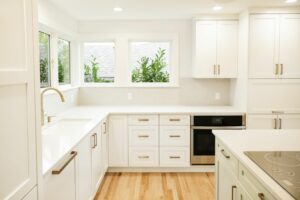 Kitchen Cabinet Features
When it comes to kitchen prep and cleanup, lighting is essential. Not only are lights below and above your kitchen cabinets functional because you'll be able to see what you're doing, but they can also light up your space, especially on overcast Pacific Northwest days. You can even add dimmer switches to control the exact intensity of the lighting.
Additionally, think about the other types of cabinet features you could use. Some examples to consider include soft-close drawers, deep cabinet drawers for cooking pots, and special dividers for utensils. By being proactive and thinking about these features before your custom home is fully built, you can enjoy a more functional, usable space.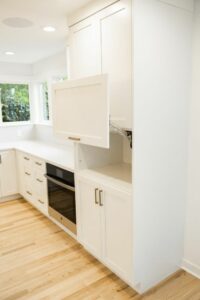 Television Placement
Chances are you'll want a television in your living room, family room, bedroom, or den.  While it may be tempting to place the tv in a corner or on top of the fireplace mantle, it's well worth your effort to think about where you'd really like it to go. You'll likely want it to be out of direct sunlight, close by to power connections and outlets, and at a height that makes sense for where you are watching from.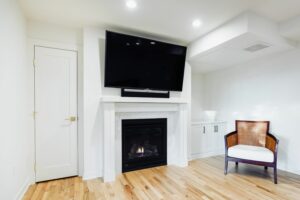 Showerhead Height
Showerhead height is particularly vital if you have someone in your family that is taller than six feet. In this case, you'll want the shower head slightly higher than average. Keep in mind that the showerhead will likely hang approximately three inches below the fitting. Also, depending on your bathroom layout and preferences, two showerheads may be more effective than just one.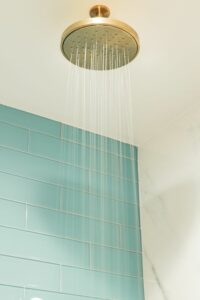 Closet Design
You may have plans for the size and location of your walk-in closet, but not much more than that. You'll need to map out the entire configuration of the closet and think about details, such as:
The height of each shelf and rod and how they'll be spaced.
The weight capacity of your shelves and rods
Are you incorporating any mirrors, and if so, where will they be placed
Shelf depth and whether they will be fixed or adjustable.
The height of each item you'll be storing and if you'll be able to reach it easily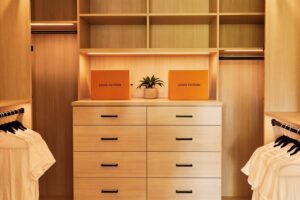 Electronics and Internet
A lot of homeowners tend to gloss over the placement of their internet and essential electronic systems. While you can change where you place them after your house is built, it's a lot easier to put them in during the building process. You'll be able to install a hardline system and won't have to worry about a wireless network that can be finicky. Furthermore, if you want to install a comprehensive sound system, you'll need to pre-wire all the rooms and connect them to a central point.
Outdoor Extras
Your outdoor living space is just as important as your indoor living space. That's why you should put some thought into details like a ceiling fan on your deck or porch or outlets for outdoor speakers and landscaping lighting. Also, you may want to add a gas line for a gas grill, outdoor fireplace, or firepit table. These extras can ensure that you can actually utilize your backyard how you want when the time comes for you to move in.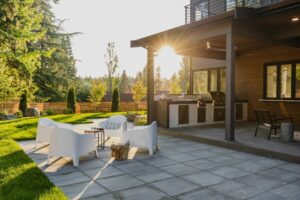 Laundry Room Amenities
While the laundry room may not be the most glamorous room in the home, it's certainly one that you'll use often. Make sure it works for you and has all the features that make laundry as easy as possible. Features like drying drawers and cabinets, elevated laundry machines, built-in hamper storage, ample counter space, and smart lighting may all be worthwhile amenities.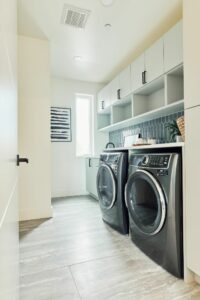 Water Heater Placement
Most people don't like to think about water heaters, but they're important as they heat the water you use to cook, clean, shower, and wash your hands. First, figure out what type of water heater you'd like. A tankless water heater might be a good fit if you want something smaller and more energy efficient. Once you decide on the type of water heater you'd like, it's time to determine where to place it. Many people choose their attic, basement, or storage closet as these are the most convenient, affordable options.
Additional Materials
When you build your custom home, ask your builder for extra materials, such as carpet, tile, wallpaper, trim, and walls. By having them on hand, you'll find it far easier to maintain and repair any damage down the road. Even if you don't have enough material to cover a repair, you'll have a sample or label that can guide you as you make a purchase. The same goes with paint color; before you know it, you may be having to do a quick touch-up, and you'll want the exact match.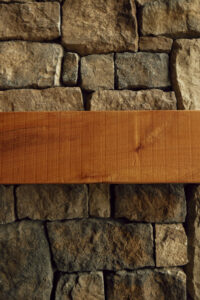 Stay On Top of Your Home Build with Alair Kirkland
When building a custom home, it's easy to get caught up in the big picture and run out of energy when it comes to finalizing the smaller details. Here at Alair Kirkland, we work alongside homeowners, acting as their trusted partners to ensure that all of these crucial items are remembered. From advising on proper water heater placement to installing outlets in all the right places, our team takes the time to address these details during the custom home-building process.
With our seamless proprietary system, you can easily track the progress of your project, get real-time updates, and even leave questions for our team. Your project manager will also walk you through your home at each phase of construction, providing a rundown of all recently completed tasks and outlining what is to come next. Working with Alair Kirkland for your custom home will help you save time, money, and headaches long into the future.
Contact Alair Kirkland, a Kirkland Custom Home Builder
Alair Kirkland is here to ensure you don't forget the small things that make a big difference in your custom home. We are a premier custom home builder and whole home remodeler in Kirkland, Washington, and we are excited to turn your vision into a reality. We look forward to hearing from you!