5 Types of Doors to Maximize Indoor-Outdoor Living
Indoor-outdoor living is a hot new design and custom home building trend that's here to stay. It creates a natural connection between the interior of your home and the outdoors and provides extra space for dining, relaxing, and entertaining.
If you'd like to jump on the indoor-outdoor living bandwagon, there are several types of patio doors that should pique your interest. Not only do large patio doors allow for increased accessibility to your backyard or outdoor space, but they also bring in natural sunlight and add style to your interior.
At Alair Kirkland, we understand how important it is for our clients to have a seamless indoor-outdoor living space. We'll show you various types of patio doors so you can find the ideal option for your unique home, needs, and preferences. Keep reading to learn more about five different types of patio doors that help maximize indoor-outdoor living and how to make the best choice for your new home!
What to Consider For Your New Doors
As you shop around and compare patio doors for your home, there are several factors you should focus on, including:
● Space: The way a door opens directly affects how much space it requires. A door that swings or folds inward or outward, for example, requires a larger room.
● Material: Patio doors come in a plethora of materials and styles. Some of the most common materials include aluminum, steel, vinyl, wood, and glass.
● Security: When it comes to security, some doors are more secure than others. French doors are usually the most secure option because they're set within a frame and feature secure locking.
● Features: There are many different features you may find useful. Several examples include grilles, internal blinds, locks, screens, and decorative glass.
● Cost: The price of patio doors varies greatly and depends on brand, style, and features. In general, however, standard sliding patio doors are the most cost-effective option.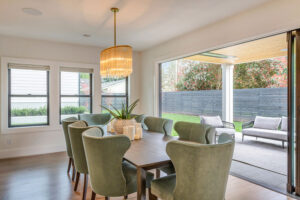 Types of Patio Doors to Explore
There is no shortage of door options on the market. Below, we'll dive deep into five types of doors you might want to consider.
1.   Swinging French Doors
Inspired by French architects in the 17th century, French doors have two panels that are made out of glass. In most cases, they're hinged on the side and swing open and close. They are similar to windows and allow plenty of light to shine in.
Pros of French Doors
Versatile: Compared to standard sliding patio doors, French doors usually have more decorative options. You'll be able to find a variety of styles that match your home's particular design and aesthetic.
Ease of Use: There's no learning curve with French doors. They open and close, just like standard doors.
Low Maintenance: French doors are fairly low maintenance thanks to their hinged design. There are no tracks that might get jammed or sliding mechanisms that may fail.
Security: French doors are a solid choice if security is your top priority. They usually have deadbolts, like other hinged exterior doors.
Cons of French Doors
Standard Size: French doors are typically designed to fit average-size homes. You may require a custom design if you have a larger home or patio.
Limited Entry Space: French doors have a much smaller opening than bifold doors. This can be an issue if you entertain often and people frequently go in and out.
2.   Sliding Patio Doors
As their name suggests, sliding patio doors are made of glass panels that slide open horizontally. Since they don't swing open, you don't need floor space to open and close them. Sliding patio doors are considered the most practical option because they create large openings to tie your indoors with your outdoors.
Pros of Sliding Patio Doors
Affordable: Sliding patio doors are usually very affordable. While higher-end models exist, this style is ideal if you're working with a smaller budget.
Minimal Space: Swinging doors require a much larger space. If you have a smaller space, sliding patio doors, which move back and forth along the track, are sure to fit.
Energy Efficiency: Due to the panel overlap, sliding patio doors may be more energy efficient than other types of doors, like French doors.
Screen Door Feature: Many sliding patio doors also include a standard screen door which you won't have to pay extra for.
Cons of Sliding Doors
​Less Entry Space: You'll have less room to enter and exit the door. This may become an annoyance if you entertain often and guests are always coming in and going out of your house.
Problems with Tracks: Eventually, sliding doors may become more difficult to slide. They might also get stuck as a result of poor alignment, debris in the tracks, or malfunctioning rollers.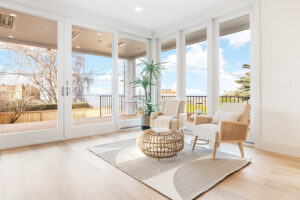 3.   Bifold Patio Doors
Bifold patio doors have multiple glass panels that fold against each other like an accordion. Also known as sliding folding doors or accordion patio doors, they can be totally closed, fully open, or partially open. While bifold doors are popular at restaurants, many homeowners now choose them as patio doors.
Pros of Bifold Doors
Versatile to Configure: You can open a bifold patio door as much or as little as you'd like. Other types of doors don't offer this type of versatility.
Security: Most bifold doors feature laches, deadbolts, and locking points on the tracks to allow for optimal security.
Large Opening: The large opening on a bifold door makes it a breeze for family members and guests to enter and exit.
Low Maintenance: All you have to do to maintain bifold patio doors is wipe them down and occasionally lubricate the hinges.
Cons of Bifold Doors
No Screen Option: Bifold doors don't allow for screens. This means pets, children, and bugs can easily go in and out of them.
Expensive: In most cases, bifold doors are pricey and can cost you thousands of dollars.
Require a Large Space: To install a bifold door properly, you need a large wall that's free of furniture or other structures.
4.   Pocket Sliding Doors
Pocket sliding doors are sliding doors that disappear into a compartment in the adjacent wall when they're fully opened. Since pocket doors won't be visible when they're open, they make the most out of small spaces. Popular in the Victorian era, pocket sliding doors are commonly seen in new builds.
Pros of Pocket Sliding Doors
Space Efficient: If you have a smaller space, you'll likely be pleased with a pocket sliding door because it will slide away into a hidden cavity or "pocket" in the wall.
No Floor Track Required: Pocket doors hang from a ceiling-mounted track, so a floor track isn't necessary. This allows them to create room boundaries with ease.
Cons of Pocket Sliding Doors
Don't Close Very Tightly: Pocket doors don't close as tightly as standard swinging doors. Therefore, they may allow noise, smells, and light to travel from one room to another.
Can Be Difficult to Open: If you or a family member or guest has arthritis or another condition, opening a pocket sliding door may be challenging.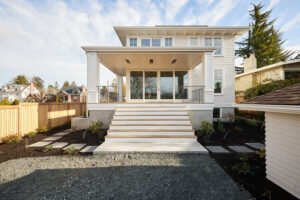 5.   Telescoping Patio Doors
Telescoping patio doors usually feature three or more glass panels that all slide open. Typically, they have a stacking configuration and stack on top of each other. Also known as multi-slide doors, telescoping patio doors are more versatile than standard sliding doors.
Pros of Telescoping Doors
Customizable:​ You can choose the height, width, and number of panels to meet your unique needs and budget.
Energy-Efficient: The glass on telescoping patio doors is typically energy efficient and can help keep your energy bill down.
More Natural Light: Since telescoping doors let more natural flow into your home, you can enjoy a more comfortable interior that puts you and your loved ones in a good mood.
Cons of Telescoping Doors
Expensive:​ Telescoping doors typically cost more than French or sliding doors.
​Raised Threshold:​ Most telescoping doors have a lip for the track, which may be difficult for people in wheelchairs or those with limited mobility to step over.
In summary, creating an indoor/outdoor living space can be achieved with a variety of different door types. Swinging French doors are great for homeowners desiring a classic and traditional appearance, while sliding patio doors provide a more sleek, modern feel. Bifold patio doors allow for stunning panoramic views, and pocket sliding doors maximize space in smaller rooms. Lastly, telescoping doors let ample sunlight in, perfect for those who wish to curate a bright and airy space. Whatever your specific needs are, all these door styles result in an indoor-outdoor living environment that anyone in the Pacific Northwest is sure to love.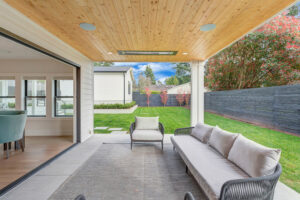 Contact Alair Kirkland, a Kirkland Custom Home Builder
If you're ready to choose the perfect type of patio doors and build your dream indoor-outdoor living space, Alair Kirkland is here to help. We are a premier custom home builder and remodeler in Kirkland, Washington, and are excited to make your vision a reality. We look forward to hearing from you!