Tips For Creating an Indoor-Outdoor Living Space That Boosts Your Home's Value and Your Mood
The outdoor areas of your property are ‌just as important as the rooms inside. However, when building a custom home, many homeowners lack inspiration or direction for creating the perfect outdoor space. Luckily, Alair Kirkland is here to break down ways you can create an outdoor space that seamlessly integrates indoor & outdoor living, boosts your home's value, and enhances your family's lifestyle. Discover how to construct an indoor-outdoor space that will leave you feeling inspired and fulfilled with these eight tips!
1. Consider The Purpose
Just like a custom home, designing an indoor-outdoor space requires careful consideration and planning. Take some time to compile a list of your needs and wants in an outdoor space as well as its overall purpose. Do you want a spacious flat area for your kids to play safely? Maybe you want ‌your backyard to be entertainment focused with a barbecue and dining area. Or perhaps your main priority is gardening, so you are heavily considering adding a flower garden or greenhouse.
At Alair Kirkland, we recognize the importance of careful planning and thoughtful design. This is why we first explore your existing space and layout and develop an understanding of your unique wants, needs, and intended purpose for the space. Whether you envision a relaxing refuge, a vibrant, entertaining area, or a bright and airy workspace, we can work closely with you to bring your vision to life.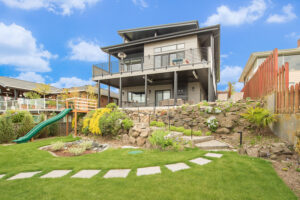 2. Expand Your Living Space
How you design your outdoor area and what you include is going to depend on its square footage ‌and layout. However, don't get discouraged if you have limited outdoor space or think certain areas are unusable. Our skilled team of builders can transform your existing space, effectively expanding your usable living space. Through thoughtful design and construction, we can create a smooth flow between your indoor and outdoor areas, providing a larger, more versatile living environment. This expansion opens up various possibilities, allowing you to entertain guests, relax, or engage in various activities while enjoying the beauty and freedom of the outdoors.
You can expand your living space with an indoor-outdoor area in several ways. By incorporating elements such as folding glass doors, expansive windows, or retractable walls, we can blur the boundaries between your indoor and outdoor spaces, effectively creating a larger, unified area.
Additionally, building covered outdoor patios or decks extends the usable space, providing you with a sheltered area that can be utilized throughout the year. Outdoor kitchens, fireplaces, and seating areas further enhance the functionality and enjoyment of the space. With our expertise and attention to detail, we can optimize the use of your available area, seamlessly integrating indoor and outdoor elements.
3. Create A Seamless Connection
An indoor-outdoor living space offers you the opportunity to connect to the outdoors while reveling in the comforts of the indoors. With Alair Kirkland, you can achieve this harmonious integration through thoughtful design and construction. By incorporating large, panoramic windows, glass sliding doors, or even bifold doors, we can help you create an uninterrupted flow between the indoor and outdoor areas. This allows abundant natural light to fill the space, offering breathtaking views of the surrounding landscape and blurring the boundaries between the interior and exterior realms. Additionally, strategically placing outdoor living amenities such as covered patios, pergolas, or decks can facilitate easy outdoor access, providing a seamless transition for relaxation, entertainment, and enjoyment.
Alair Kirkland understands that a seamless connection between indoor and outdoor spaces is not limited to physical elements alone. Technology integration, such as smart home systems, can further enhance the experience. By incorporating automated controls for lighting, temperature, and sound, you can effortlessly create the desired ambiance and mood, whether you are indoors or outdoors.
4. Enrich Your Lifestyle
Being surrounded by nature profoundly impacts one's well-being and sense of serenity. The soothing sights, sounds, and scents of the Pacific Northwest can reduce stress, brighten your mood, and improve your mental and physical health. This is one of the reasons why making the most out of your outdoor space is so important.
From integrated sound systems that fill the air with soothing melodies to ambient lighting, peaceful waterfalls, and zen gardens, there are many ways to integrate technology and design to enhance your quality of life. Additionally, you can incorporate functional features such as outdoor kitchens, fire pits, or lounging areas, which provide outdoor cooking, relaxation, and entertainment opportunities. With our expertise, Alair Kirkland can help you create an indoor-outdoor living space that enriches and complements your lifestyle.
5. Let The Light In
Indoor-outdoor living spaces can welcome more natural light, which offers numerous benefits to your family's well-being and your home's worth. The presence of natural light can significantly enhance mood, productivity, and overall health by promoting vitamin D synthesis and regulating our circadian rhythm. Moreover, natural light creates a sense of spaciousness and openness, making the living area feel more inviting and connected to the outdoors.
In order to maximize natural light, you can include anything from oversized windows, skylights, or glass doors that seamlessly blend your indoor and outdoor space. By strategically positioning these elements and considering your property's orientation, Alair Kirkland can help you optimize the entry of natural light and create a bright and uplifting environment.

6. Entertain Like A Pro
An indoor-outdoor space provides an exceptional setting for entertaining, merging the indoors and outdoors and creating a captivating environment that your guests will remember.
One way you can amp up your space for entertaining is by incorporating a well-designed outdoor kitchen. Alair Kirkland can create a functional and stylish culinary oasis with high-end appliances, ample countertop space, and comfortable seating. Whether it's a built-in grill, a pizza oven, or a fully equipped bar, we can ensure that the outdoor kitchen becomes the focal point of your backyard, allowing you to prepare and serve delicious meals and entertain guests.
In addition to outdoor kitchens, you can also build an entertainment hub. By incorporating features like fire pits, outdoor heaters, outdoor couches, chairs, and strategic lighting, you can create a  perfect setting for lounging during cooler evenings and nighttime gatherings. With our help, you can ensure that your backyard ‌becomes an extension of your home, providing the perfect backdrop for hosting parties, gatherings, and special occasions.
7. Embrace Water and Nature
Being surrounded by nature has numerous health benefits, including reduced stress levels, improved mood, increased creativity, and enhanced cognitive functioning. Incorporating elements such as lush greenery, gardens, trellises, hanging plants, fountains, and water features into your indoor-outdoor space creates an environment that promotes relaxation and rejuvenation and appeals to your green thumb!
If you love flowers, you can install hanging fuchsias, geraniums, petunias, or ivy in your windows or around your deck area. You can also add some ornamental grass or ferns to add texture around a pathway or spruce up your driveway. If you want something that acts as a bigger focal point, you can create a trellis that grows anything from ivy, morning glory, or climbing roses.
Similar to plants and flowers, water can instantly create a peaceful ambiance in your yard. Even a simple feature is bound to help you relax and forget about the stressors of everyday life. Depending on your yard size and preferences, you may want to include ‌a raised garden pond, a fountain, or a waterfall feature.
8. Implement Sustainable Features
If sustainability is important to you, you'll be happy to know that sustainable building materials are not just for the interior of your home. By utilizing sustainable exterior materials, you can enjoy benefits like greater durability, reduced energy consumption, and a smaller environmental footprint. As a first step, you can invest in LED lighting as it lowersthe demand on power plants and reduces greenhouse gas emissions.
If you have children, a playground made from recycled materials is a great investment. You can also choose native trees and plants and organic mulch, such as bark, wood chips, and pine needles, in your backyard design. Additionally, we can implement rain gardens that improve your yard's aesthetic appeal and filter rainwater. As a PHIUS Certified Home Builder, Alair Kirkland goes above and beyond to maximize your home's sustainability by incorporating elements like these.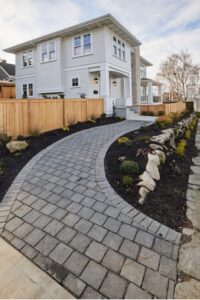 Contact Alair Kirkland, a Kirkland Custom Home Builder
Embarking on the journey of building an indoor-outdoor living space is a rewarding endeavor. By carefully considering your location, materials, and features that align with your vision, we can help you create a space that brings you closer to nature, enriches your lifestyle, and increases your home's value. Whether it's the joy of unwinding outside or hosting unforgettable gatherings, a thoughtfully designed indoor-outdoor living space offers endless opportunities for relaxation, connection, and creative expression. Take the first step to making your dream indoor-outdoor space a reality, and contact Alair Kirkland today.