What is "Green Building"?
A green or sustainable home is a home that can maintain or improve the quality of life for those who live in it as well as poses little to no risk to the environment.  
These high performance homes are built taking into consideration the local and global ecosystem and with an overall mission to conserve energy and resources.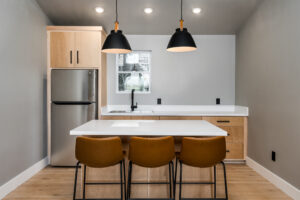 Does Sustainable Design Cost More?
You may have heard the myth that "going green" or building sustainable costs more. While that may have been true many years ago, it is no longer the case today. Sustainable design is actually more accessible than ever and is no longer more expensive to deliver. Cody Byrd, licensed general contractor and Certified Green Professional (CGP), believes the key to affordable green built homes is simply bringing all the experts to the table early on in the process. This allows the homeowner to explore all the options and understand what green built principles are the right fit for their home and their budget.  
"The key to any successful Green Built, LEED built, or simply a High Performance Healthy Home is proper planning. When building a custom home or planning an extensive renovation to achieve a NAHB Green Certification, it starts with creating a roadmap for success. You wouldn't jump in a car and start to drive cross country if you only have a certain amount of time and money(gas) to get there right? You will get there eventually but who knows how long and how many times you will need to stop for fuel.  

To achieve certification on a certified green built home we must follow a strict scorecard that reduces our impact to the environment. This will map out items like saving the topsoil from the lot, restricting machinery access to certain areas of the land to save the existing soil conditions, and utilizing healthy materials with zero/low VOC or Formaldehyde that will impact the air quality of your loved ones.  All of these items and more allows use to gain points towards the certification system. Not every home we build is certified Green, but every home we build has a lot of healthy standards. 

At Alair Homes Hickory, going green doesn't have to cost a lot of Green(money). Every home doesn't have to have spray foam insulation or solar panels. We can use better building techniques like air sealing around windows, doors, and outlets, utilizing local building materials instead of shipping from across the world, and specialty advanced framing techniques for better insulation practices that are the same cost, or less, as a code built home, but will pay dividends for home comfort in the future. Just remember that every great project starts with proper planning to achieve success!" -Cody Byrd 
Why Build Green?
A recent study by the World Green Building Council found that green buildings with LEED certification use 25% less energy and 11-15% less water than those built without green principles.  
Building green is also a smarter investment long term as high-performance homes can be sold at a higher premium. The average green building is worth 7% more than the traditionally built home. Green Built custom homes have lower utility rates than traditional custom homes. 
Other top benefits included to increase comfort:  
Lower Maintenance Costs
Green built homes have much lower long term maintenance and operation costs because they are built using newer construction techniques that preserve water and energy.  It can be as simple as water-saving faucets to conserve water, LED light bulbs to save on energy bills, or a complete Solar power system that produces an off grid home.   
Health Benefits
Sustainably designed homes also benefit the health of the homeowner. These homes use eco-friendly construction which avoids using materials with known toxic substances or plastic byproducts. Healthy Home Air quality can be achieved by using the correct products. 
Environmental Benefits
Sustainable construction reduces waste streams, conserves and restores natural resources and enhances and protects biodiversity and ecosystems. It also improves air and water quality both locally and globally.  Some products can have a smaller carbon footprint just by shopping local.  
Cody and the rest of the Alair Homes Hickory team are certified green professionals. Click here to give them a call today about your building or renovation needs in the Catawba Valley.