When building a new house, it's important that the home is beautiful and appealing. To make it your own, consider the rooms you spend the most time in. One is typically the bathroom. Designing this space so that it fits your lifestyle and meets your design needs is important. If modern and updated is what you are going for, there are a few bathroom trends for 2018 to consider incorporating.
Stone Floor Tiles
Stone floor tiles are the foundation of any minimal setting. They set the tone of a light and airy bathroom in your custom home. Consider using dark gray stone floor tiles that conceal dirt and scuffs while providing contrast to white subway tiles on the walls and neutral color shades. Use larger stones to create fewer lines on the floor for plenty of impact. This look really makes a statement.
Freestanding Tubs
Freestanding tubs have officially made a comeback for their aesthetics and the comfort that they offer when you want to soak in the suds after a long day at work. When choosing one, the tub is typically the focal point of the bathroom in your custom home. To ensure that it does not go hidden, consider placement carefully. Place it under a window or in the center of the room to show off its sculptural shape. Freestanding tubs are a popular feature because they work well in both small and large bathrooms without overpowering the space.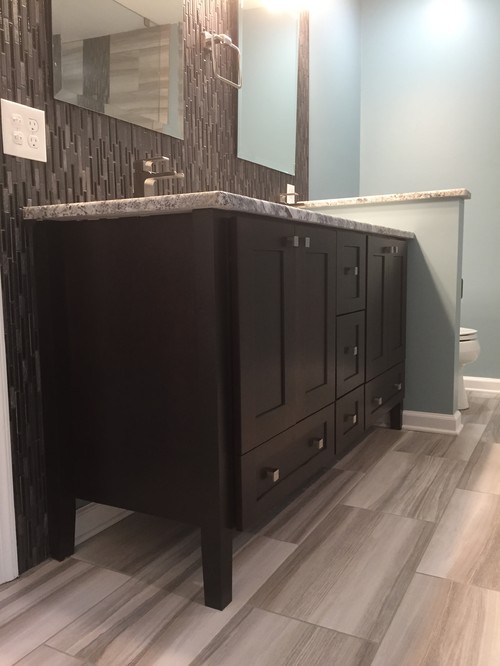 Wood Vanities
Wood vanities create a cozy interior setting. They look similar to furniture and create a rustic environment in the home. The beautiful texture and color of the wood make the space appear welcoming. Most clients choose a vanity that has a light to mid-tone stain. Pair the feature with an over-sized mirror to make a statement and feel right at home while getting ready each day.
Engineered Quartz Countertops
If you value the appearance and look of marble countertops but budget is a factor in purchasing them, opt for quartz countertops in your Alair Homes Greensboro property. They look regal and clean. Engineered-quartz countertops are more cost-effective. They are also extremely durable and stain-resistant. These countertops pair well with metallic fixtures like brass and gold.
Integrated Technology
Technology does not have to be limited to other rooms of the home. It can also enhance the functionality and convenience offered in the bathroom. Consider using smart controls in the shower that allow you to preset the temperature before stepping under the water. You can also consider installing a television or radio inside the shower or near your pedestal bath to enjoy spending more time relaxing while you bathe.
Undermount Sinks
Undermount sinks are a trend again after sink vessels had their moment. The undermount sink is popular because it does not need to fight for attention against a beautiful vanity, brass fixtures, and stunning wallpaper. Undermount sinks are easy to maintain and keep clean without exceeding most budgets.
The style and look of your bathroom ultimately determine how much time you want to spend in the room each day. By adding specific touches and keeping an eye on the latest trends, you can show off the space to your guests and feel more at home while you bathe or shower.
Share: