The National Association of the Remodeling Industry (NARI) recently named Alair Homes Arlington the National Contractor of the Year (CotY) winner in the Basement Under $100,000 category for our recent Washington, DC basement renovation project. 
What is the significance behind this award? Each year, NARI presents CotY Awards to members who have demonstrated outstanding work through their remodeling projects. The CotY Awards are the highest form of recognition by industry leaders and peers. 
We are thrilled to have been selected as the National winner for this category! Let's take a closer look at the award-winning project we completed last year. 
Our Client's Challenge: Complete Basement Renovation

The homeowners came to us looking for a complete basement renovation for their Washington DC home. They wanted a clean, safe space for their kids to play that could also double as a guest room for visiting grandparents. Their existing basement was last updated sometime in the 1950's. "Dark, smelly and scary" were how they described it and it was our job to create a bright, safe space that "didn't feel like a basement," within their tight budget. Challenge accepted!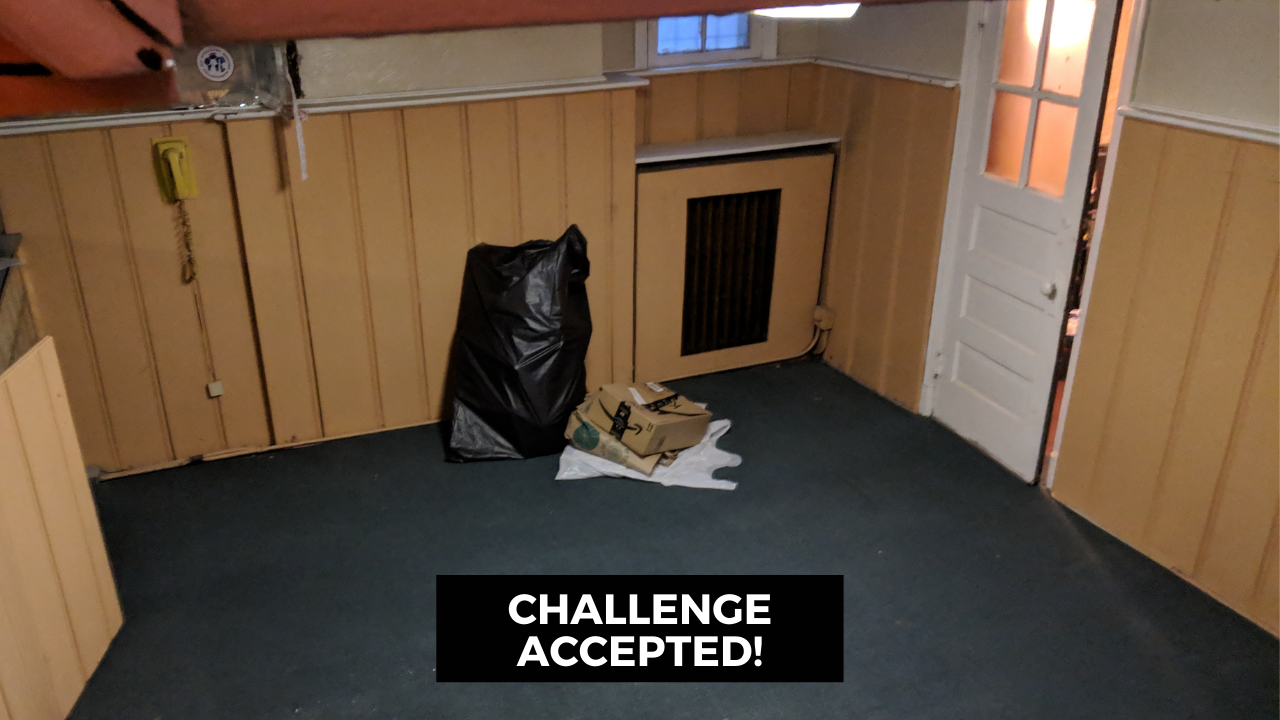 The Alair Homes Solution
The basement space was only 500 sq ft so we needed to make use of every square inch. We removed an old bar and closets in order to open up more usable space. But during demolition, we encountered a few surprises. 
First, instead of finding the expected drywall and paneling, there was paneling on top of the drywall, on top of the plaster. Which meant, the homeowners actually gained 6" of space in the rooms and 3" of ceiling height – score!
We also found a fireplace underneath the layers of walls that the homeowners decided to incorporate into the final design for their basement renovation.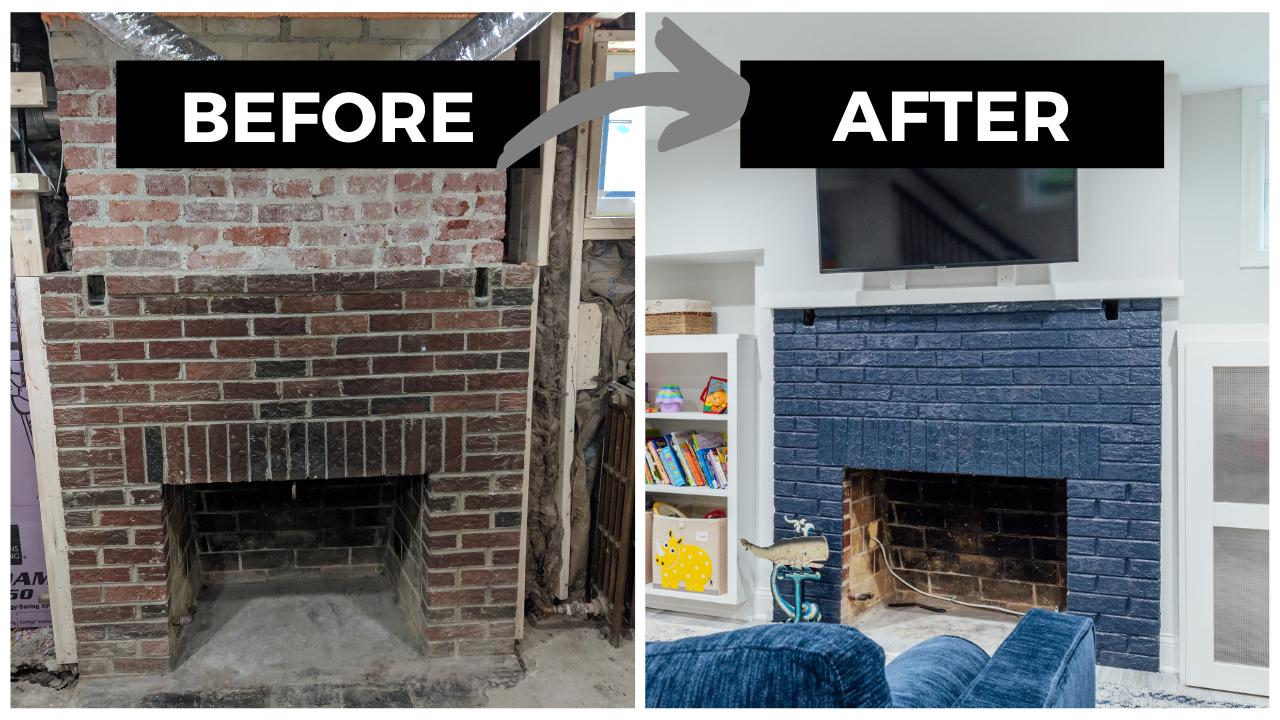 Unfortunately, with the expanded space and hidden fireplace, also came mold and water damage. It is important for homeowners to understand that issues like these often arise, particularly in older homes. Alair Homes Arlington has extensive experience working on homes built before 1950, like this one, so we know what extra costs are often associated with these types of home renovations. We work with our clients to anticipate these costs when creating their initial budget so that unplanned expenses don't derail the entire project.
We added interior drainage along the perimeter and a sump pump to keep water out of the foundation. Those items, together with the mold remediation, accomplished our mission of making the basement a safe space. 
After updating the plumbing and insulation, we then used the newly available space to convert the half bathroom into a full – perfect for guests!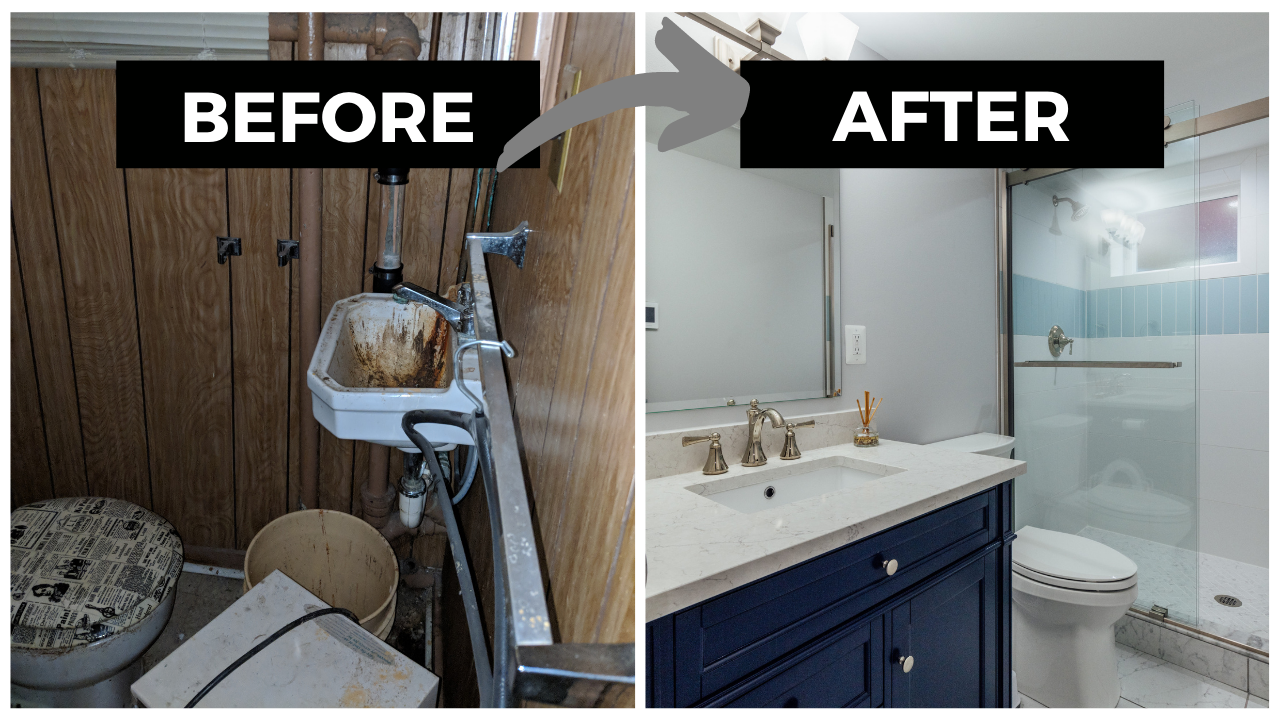 Since this house is heated by a radiator system and the owners didn't want the added expense of installing new radiators, we installed radiant heat pads underneath the ceramic tile floors & a gas insert fireplace. Goodbye, cold and drafty basement!
Additionally, we reconfigured the laundry area to make space for side-by-side machines (a must-have item for the homeowners!)
The finished basement space is multi-functional, with a children's play area, TV viewing space, and custom cabinetry to stow away toys, including the owner's cherished childhood dollhouse. We even found space under the stairs to create a stage for their budding actors.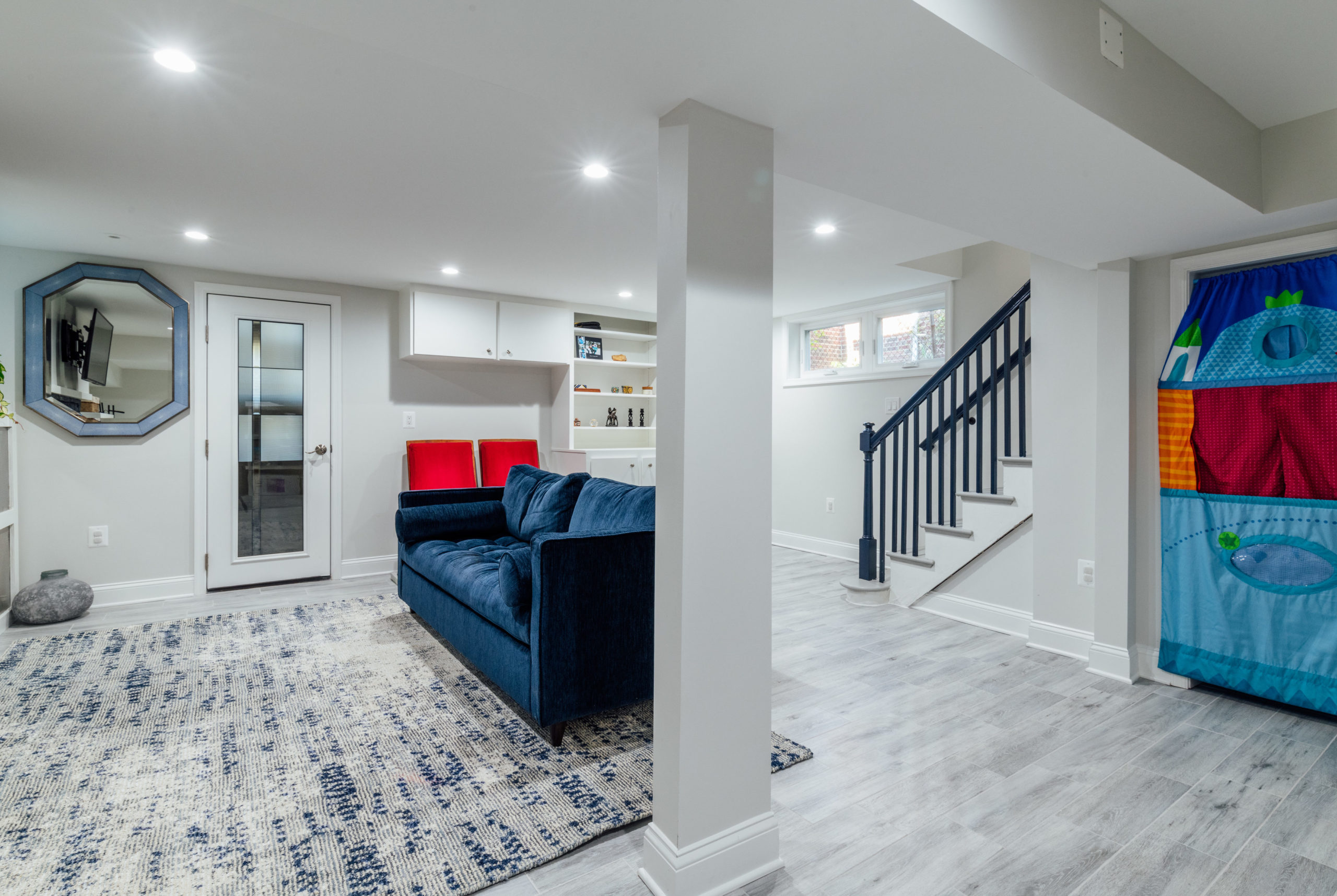 But our work didn't stop on the inside! Outside the home, we had discovered that the existing concrete was actually funneling water towards the house. We removed the concrete, regraded, and rerouted the downspout drainage with underground piping to eliminate future water infiltration. This was another unexpected expense, but it provided our homeowners with a new side yard. We also replaced crumbling steps and the rotting windows for safety and security.
The $80K basement renovation project took 11 months from start to completion due to a break in the middle of the project for the homeowners to welcome a new baby. This type of renovation typically only takes our team 2-3 months, however, we will work with you to build a project timeline that fits your family's needs.

The homeowners are thrilled with their new basement and with the addition of a new sleeper sofa, they now have the space they need for guests to stay and kids to play. Plus, it's light, bright, and safe inside – and outside. Challenge complete.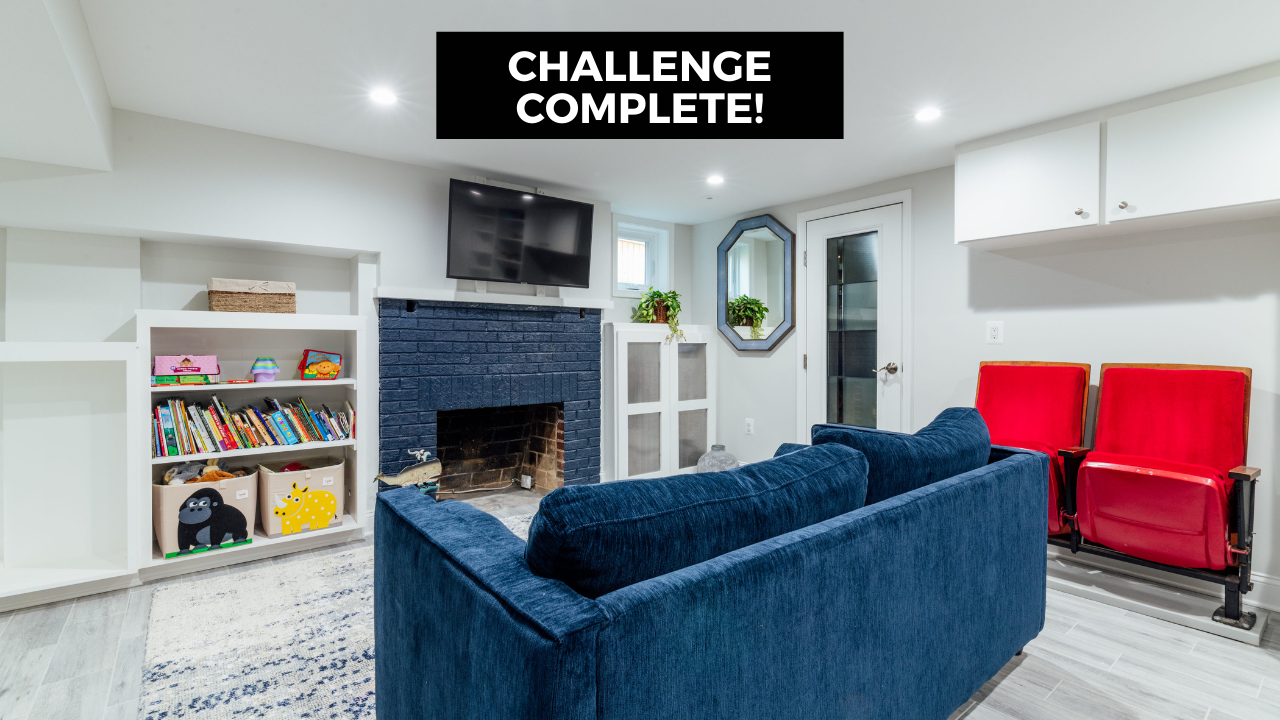 The Award
This is the first National CotY award our office has received. Last year we were awarded two Grand Prize Capital CotY awards for Kitchen ($30,00- $60,000) and Residential Home Addition ($100,000-$250,000).